21 Players Remain at Hard Rock Poker Open
Published on:
Aug/26/2013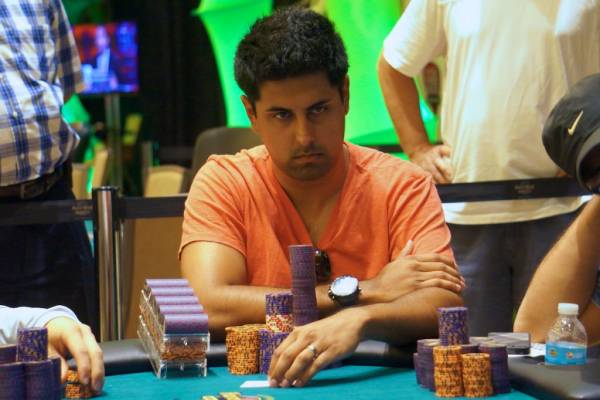 David "Doc" Sands was among the big names still alive at the 2013 Seminole Hard Rock Poker Open in Hollywood, Florida.

21 players remain with Mukul Pahuja leading the pack. Pahuja has $375,900 in total winnings on the live circuit.  The New York State native also has 38 cashes.
Big name poker pro Justin Bonomo  was also among the 21 remaining players. 
Day 3 Top Ten Chip Counts
Mukul Pahuja – 8,125,000
Blair Hinkle – 6,550,000
Ryan Olisar – 5,745,000
Derrick Cutler – 5,345,000
Jeremy Kottler – 5,275,000
Amir Lehavot – 4,895,000
Griffin Benger – 4,670,000
Justin Bonomo – 4,215,000
Mark Radoja – 2,930,000
David "Doc" Sands – 2,850,000
TABLE 1
Seat 1.
Seat 2.
Seat 3.  Griffin Arnold  -  1,600,000  (26 bb)
Seat 4.  Mukul Pahuja  -  8,125,000  (135 bb)
Seat 5.  Griffin Benger  -  4,670,000  (77 bb)
Seat 6.  Larry Klur  -  2,600,000  (43 bb)
Seat 7.  Dan Dyke  -  1,140,000  (19 bb)
Seat 8.  Chris Johnson  -  1,050,000  (17 bb)
Seat 9.  Samuel Bernabeau Guilabert  -  2,295,000  (38 bb)
TABLE 2
Seat 1.  Amir Lehavot  -  4,895,000  (81 bb)
Seat 2.  Greg Lehn  -  1,490,000  (24 bb)
Seat 3.  Krystal Seiling  -  1,315,000  (21 bb)
Seat 4.  Panagiotis Nifakos  -  2,625,000  (43 bb)
Seat 5.  Ryan Olisar  -  5,745,000  (95 bb)
Seat 6.
Seat 7.  Blair Hinkle  -  6,550,000  (109 bb)
Seat 8.
Seat 9.  Mark Radoja  -  2,930,000  (48 bb)
TABLE 3
Seat 1.  Zach Zaffos  -  2,135,000  (35 bb)
Seat 2.  Justin Bonomo  -  4,215,000  (70 bb)
Seat 3.  Jacob Viccellio  -  1,495,000  (24 bb)
Seat 4.
Seat 5.
Seat 6.  Ray Qartomy  -  2,580,000  (43 bb)
Seat 7.  David Sands  -  2,850,000  (47 bb)
Seat 8.  Derrick Cutler  -  5,345,000  (89 bb)
Seat 9.  Jeremy Kottler  -  5,275,000  (87 bb)

- Patrick Flanagan, Gambling911.com