2011 SCOOP Schedule Changed: Prize Money Slashed Nearly in Half
Published on:
Apr/27/2011
The 2011 SCOOP schedule sponsored by PokerStars.com has been changed.  SCOOP is short for Spring Championship of Online Poker.  The changes reflect the recent crackdown on Internet poker operator PokerStars and two of its competitors in the United States.
All events have been moved up three hours in order to better accommodate European players. 
One of the most noticeable changes to the 2011 SCOOP is not so much the time changes but the steep reduction in pot size.  Initially $45 million in guaranteed prize money was to be given away.  Now that number is being reduced to $25 million.
PokerStars was forced to exit the US market on April 15 after the US Justice Department seized funds from the company (as well as the PokerStars.com domain).  On Tuesday April 27, PokerStars monies were being returned to affected players.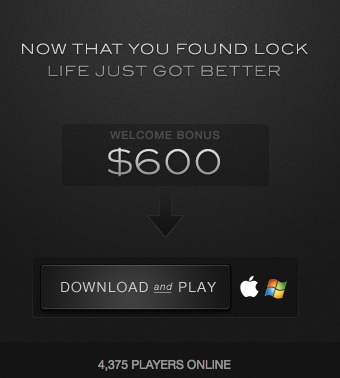 Sunday, May 8th
Event #1: 10:00 ET
Low: $22 No Limit Hold'em Six-Max ($200,000 Guaranteed)
Mid: $215 No Limit Hold'em Six-Max ($500,000 Guaranteed)
High: $2,100 No Limit Hold'em Six-Max ($500,000 Guaranteed)
Event #2: 14:00 ET
Low: $22 No Limit Hold'em ($200,000 Guaranteed)
Mid: $215 No Limit Hold'em ($1,000,000 Guaranteed)
High: $2,100 No Limit Hold'em ($1,000,000 Guaranteed)
Monday, May 9th
Event #3: 11:00 ET
Low: $5.50 No Limit Hold'em Six-Max Rebuy ($200,000 Guaranteed)
Mid: $55 No Limit Hold'em Six-Max Rebuy ($300,000 Guaranteed)
High: $530 No Limit Hold'em Six-Max Rebuy ($400,000 Guaranteed)
Event #4: 14:00 ET
Low: $16.50 Badugi ($15,000 Guaranteed)
Mid: $162 Badugi ($20,000 Guaranteed)
High: $1,575 Badugi ($35,000 Guaranteed)
Event #5: 17:00 ET
Low: $11 No Limit Hold'em Turbo Rebuy ($75,000 Guaranteed)
Mid: $109 No Limit Hold'em Turbo Rebuy ($200,000 Guaranteed)
High: $1,050 No Limit Hold'em Turbo Rebuy ($350,000 Guaranteed)
Tuesday, May 10th
Event #6: 11:00 ET
Low: $11 Pot Limit Five Card Draw ($25,000 Guaranteed)
Mid: $109 Pot Limit Five Card Draw ($40,000 Guaranteed)
High: $1,050 Pot Limit Five Card Draw ($50,000 Guaranteed)
Event #7: 14:00 ET
Low: $16.50 No Limit Hold'em Heads-Up ($75,000 Guaranteed)
Mid: $162 No Limit Hold'em Heads-Up ($150,000 Guaranteed)
High: $1,575 No Limit Hold'em Heads-Up ($300,000 Guaranteed)
Event #8: 17:00 ET
Low: $11 No Limit Hold'em ($750,000 Guaranteed)
Mid: $109 No Limit Hold'em ($150,000 Guaranteed)
High: $1,050 No Limit Hold'em ($300,000 Guaranteed)

Wednesday, May 11th
Event #9: 11:00 ET
Low: $22 Mixed Hold'em Six-Max ($75,000 Guaranteed)
Mid: $215 Mixed Hold'em Six-Max ($150,000 Guaranteed)
High: $2,100 Mixed Hold'em Six-Max ($250,000 Guaranteed)
Event #10: 14:00 ET
Low: $33 Seven Card Stud High ($20,000 Guaranteed)
Mid: $320 Seven Card Stud High ($30,000 Guaranteed)
High: $3,150 Seven Card Stud High ($40,000 Guaranteed)
Thursday, May 12th
Event #11: 11:00 ET
Low: $22 Pot Limit Omaha Heads-Up ($40,000 Guaranteed)
Mid: $215 Pot Limit Omaha Heads-Up ($75,000 Guaranteed)
High: $2,100 Pot Limit Omaha Heads-Up ($150,000 Guaranteed)
Event #12: 14:00 ET
Low: $27 No Limit Hold'em Knockout ($125,000 Guaranteed)
Mid: $265 No Limit Hold'em Knockout ($200,000 Guaranteed)
High: $2,600 No Limit Hold'em Knockout ($250,000 Guaranteed)
Friday, May 13th
Event #13: 11:00 ET
Low: $16.50 No Limit Hold'em Ante Up ($75,000 Guaranteed)
Mid: $162 No Limit Hold'em Ante Up ($150,000 Guaranteed)
High: $1,575 No Limit Hold'em Ante Up ($200,000 Guaranteed)
Event #14: 14:00 ET
Low: $55 Omaha High/Low ($40,000 Guaranteed)
Mid: $530 Omaha High/Low ($75,000 Guaranteed)
High: $5,200 Omaha High/Low ($100,000 Guaranteed)
Event #15: 17:00 ET
Low: $16.50 No Limit Hold'em 2X Chance Turbo ($100,000 Guaranteed)
Mid: $162 No Limit Hold'em 2X Chance Turbo ($225,000 Guaranteed)
High: $1,575 No Limit Hold'em 2X Chance Turbo ($400,000 Guaranteed)
Saturday, May 14th
Event #16: 11:00 ET
Low: $22 No Limit Hold'em Quadruple Shootout 10-Max ($80,000 Guaranteed)
Mid: $215 No Limit Hold'em Triple Shootout 10-Max ($90,000 Guaranteed)
High: $2,100 No Limit Hold'em Double Shootout 10-Max ($100,000 Guaranteed)
Event #17: 14:00 ET
Low: $16.50 Pot Limit Omaha Six-Max Rebuy ($75,000 Guaranteed)
Mid: $162 Pot Limit Omaha Six-Max Rebuy ($150,000 Guaranteed)
High: $1,575 Pot Limit Omaha Six-Max Rebuy ($200,000 Guaranteed)
Event #18: 17:00 ET
Low: $22 Triple Stud Turbo ($20,000 Guaranteed)
Mid: $215 Triple Stud Turbo ($30,000 Guaranteed)
High: $2,100 Triple Stud Turbo ($50,000 Guaranteed)
Sunday, May 15th
Event #19: 10:00 ET
Low: $22 No Limit Hold'em ($200,000 Guaranteed)
Mid: $215 No Limit Hold'em ($500,000 Guaranteed)
High: $2,100 No Limit Hold'em ($500,000 Guaranteed)
Event #20: 14:00 ET
Low: $22 No Limit Hold'em ($200,000 Guaranteed)
Mid: $215 No Limit Hold'em ($1,000,000 Guaranteed)
High: $2,100 No Limit Hold'em ($1,000,000 Guaranteed)
Monday, May 16th
Event #21: 114:00 ET
Low: $16.50 No Limit Hold'em/Pot Limit Omaha ($50,000 Guaranteed)
Mid: $162 No Limit Hold'em/Pot Limit Omaha ($100,000 Guaranteed)
High: $1,575 No Limit Hold'em/Pot Limit Omaha ($175,000 Guaranteed)
Event #22: 14:00 ET
Low: $33 No Limit Hold'em Four-Max ($75,000 Guaranteed)
Mid: $320 No Limit Hold'em Four-Max ($150,000 Guaranteed)
High: $3,150 No Limit Hold'em Four-Max ($325,000 Guaranteed)
Event #23: 17:00 ET
Low: $11 Pot Limit Omaha Turbo Cubed ($50,000 Guaranteed)
Mid: $109 Pot Limit Omaha Turbo Cubed ($100,000 Guaranteed)
High: $1,050 Pot Limit Omaha Turbo Cubed ($175,000 Guaranteed)
Tuesday, May 17th
Event #24: 11:00 ET
Low: $11 Triple Draw 2-7 ($15,000 Guaranteed)
Mid: $109 Triple Draw 2-7 ($25,000 Guaranteed)
High: $1,050 Triple Draw 2-7 ($50,000 Guaranteed)
Event #25: 14:00 ET
Low: $22 Seven Card Stud High/Low ($20,000 Guaranteed)
Mid: $215 Seven Card Stud High/Low ($40,000 Guaranteed)
High: $2,100 Seven Card Stud High/Low ($80,000 Guaranteed)
Event #26: 17:00 ET
Low: $11 No Limit Hold'em ($75,000 Guaranteed)
Mid: $109 No Limit Hold'em ($150,000 Guaranteed)
High: $1,050 No Limit Hold'em ($300,000 Guaranteed)
Wednesday, May 18th
Event #27: 11:00 ET
Low: $22 Razz ($25,000 Guaranteed)
Mid: $215 Razz ($45,000 Guaranteed)
High: $2,100 Razz ($75,000 Guaranteed)
Event #28: 14:00 ET
Low: $11 No Limit Hold'em Big Antes Rebuy ($175,000 Guaranteed)
Mid: $109 No Limit Hold'em Big Antes Rebuy ($250,000 Guaranteed)
High: $1,050 No Limit Hold'em Big Antes Rebuy ($375,000 Guaranteed)
Thursday, May 19th
Event #29: 11:00 ET
Low: $33 Eight Game ($50,000 Guaranteed)
Mid: $320 Eight Game ($75,000 Guaranteed)
High: $3,150 Eight Game ($100,000 Guaranteed)
Event #30: 14:00 ET
Low: $11 Pot Limit Omaha High/Low ($30,000 Guaranteed)
Mid: $109 Pot Limit Omaha High/Low ($75,000 Guaranteed)
High: $1,050 Pot Limit Omaha High/Low ($100,000 Guaranteed)
Friday, May 20th
Event #31:11:00 ET
Low: $22 No Limit Hold'em Cubed ($250,000 Guaranteed)
Mid: $215 No Limit Hold'em Cubed ($325,000 Guaranteed)
High: $2,100 No Limit Hold'em Cubed ($400,000 Guaranteed)
Event #32: 14:00 ET
Low: $55 Limit Hold'em Six-Max ($50,000 Guaranteed)
Mid: $530 Limit Hold'em Six-Max ($750,000 Guaranteed)
High: $5,200 Limit Hold'em Six-Max ($100,000 Guaranteed)
Event #33: 17:00 ET
Low: $22 No Limit Omaha High/Low Turbo ($20,000 Guaranteed)
Mid: $215 No Limit Omaha High/Low Turbo ($40,000 Guaranteed)
High: $2,100 No Limit Omaha High/Low Turbo ($75,000 Guaranteed)
Saturday, May 21st
Event #34: 11:00 ET
Low: $55 Pot Limit Omaha Six-Max ($75,000 Guaranteed)
Mid: $530 Pot Limit Omaha Six-Max ($150,000 Guaranteed)
High: $5,200 Pot Limit Omaha Six-Max ($250,000 Guaranteed)
Event #35: 12:30 ET
Low: $270 No Limit Hold'em Heads-Up ($150,000 Guaranteed)
Mid: $2,600 No Limit Hold'em Heads-Up ($200,000 Guaranteed)
High: $25,500 No Limit Hold'em Heads-Up ($250,000 Guaranteed)
Event #36: 14:00 ET
Low: $22 HORSE ($25,000 Guaranteed)
Mid: $215 HORSE ($50,000 Guaranteed)
High: $2,100 HORSE ($100,000 Guaranteed)
Sunday, May 22nd
Event #37: 10:00 ET
Low: $22 No Limit Hold'em Six-Max ($200,000 Guaranteed)
Mid: $215 No Limit Hold'em Six-Max ($500,000 Guaranteed)
High: $2,100 No Limit Hold'em Six-Max ($500,000 Guaranteed)
SCOOP Main Event: 14:00 ET
Low: $109 No Limit Hold'em ($750,000 Guaranteed)
Mid: $1,050 No Limit Hold'em ($1,500,000 Guaranteed)
High: $10,300 No Limit Hold'em ($2,500,000 Guaranteed)
- Ace King, Gambling911.com
Follow breaking headlines around the clock at Gambling911.com Twitter Here