2008 World Series of Poker Final: Dennis Phillips Interview
Published on:
Nov/08/2008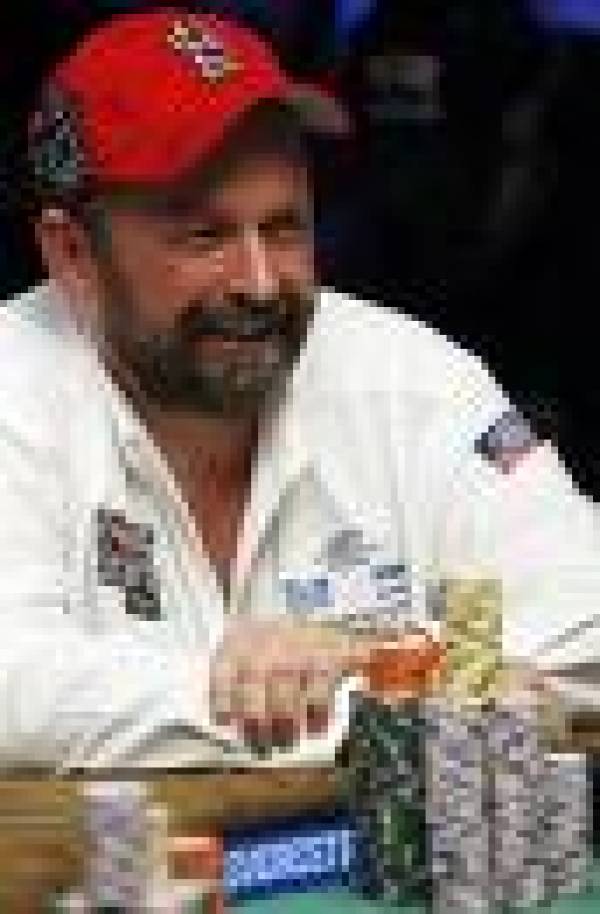 Gambling911.com Senior Correspondent, Jenny Woo, had an opportunity to sit down with 2008 World Series of Poker chip leader who coming into this week's delayed final had $26,296,000 in chips.
----
I sat down with easy going  Dennis Phillips to discuss what he's been doing these past 4 months to his opinion on the UIGEA.  Surprisingly, he hasn't put much thought in what he would do with the $9 million; but did admit to me that the purchase of a big toy or two could be in the near future....and Jenny loves toys. 
I really enjoyed talking to him as he seemed so passionate and humbled about his past and future involvement to several charities.  Read my full interview with this WSOP Final chip leader ($26,296,000) and get to know a little part of Dennis Phillips.
JENNY:  What's your opinion on the WSOP final table being pushed to November this year?
DENNIS:  Just for pure playing purposes - you don't like it.  Obviously I was doing quite well at the final table.  I didn't want it to end.  I had a good feeling on the people.  The counterpart of that is for a 117 days you have a chance to go out and get sponsorships, to meet people, and to do things.  I've had a blast!  So actually looking back at it, I'm kind of glad they had the break.  This has been fun.
JENNY:  What have you been doing these past 3 months?  
DENNIS:  You're the 151st interview I've done. (Haha) I've been keeping a log of them; I just got off the phone with Dan English, he's the 150th and you're 151.  
JENNY:  I'll have to apologize for the repetitive questions then. (Haha)
DENNIS:  (Haha) Yes, it's sometimes the same question only shuffled around.  But it's still okay.
DENNIS:  I've been able to travel around a lot, playing some poker.  I've been over to London, been down to Biloxi, Atlantic City and have done a lot of things that way.  And I've had a chance to get involved and in depth with some of the charities that I've been working with for years.  And that's fun.
JENNY:  Have you been doing anything to prepare yourself for the final table?
DENNIS:  Oh yeah, absolutely.  And I'm sure the other 8 have too.  There's a nice little group of very very good players here in St. Louis that have helped me out doing some sit and go's, doing some head's up, things like that.  Worked with a couple of coaches that have done everything from videotapes to again - individually analyzing the game at all aspects of it.  I'm trying to do my due diligence.  Hopefully it'll work out.    
JENNY:  Who do you see as the weakest and strongest player at this year's final table?
DENNIS:  I don't want to get into specific names but I will tell you that I almost have them ranged from 1 to 8; it's going to make a big difference in where they sit at the table and what changes have happened.  In 117 days, you can change your game a lot.  So this is almost going to be like starting over a brand new tournament with one little difference, I have a few more little round things then anybody else.
JENNY:  Does Russian Ivan Demidov intimidate you at all?  The guy just made the final table of the WSOPE (World Series of Poker Europe) and here he is in the WSOP final table with you.
DENNIS:  No, different word - intimidate not a chance.  Have respect for his game?  Yes I do.  He is a very good player.  Absolutely.  He was a good player in July and looks like he stepped it up some.  So yes, he's a very good player.  I have a lot of respect for his game.   
JENNY:  Do you feel any pressure with being the oldest player at the final table?  Especially since the players seem to get younger over the years.
DENNIS:  No, that should be to my advantage.  Playing a more aggressive "wild style" does help you in some cases.  But when we're sitting down, there are only 9 of us at the table; it's going to be for a short term.  I'll definitely match against any of those guys any day.
JENNY:  I heard you're nickname was "Fordman".  Is this true?  I have to know, where did you get that nickname?
DENNIS:  (Haha) Yeah that is true.   
DENNIS:  I have for years and years selling commercial trucks.  I don't sell to the general public; I put different units for different companies around here.  I would literally walk into a company - that might not remember my name - and they would holler back "hey the Fordman is here".  Sorry that's how it came.  (Haha)  
JENNY:  How have you coped with the popularity that you've gained in the last few months?
DENNIS:  It hasn't really been that big of a problem because it's almost been all positive.  Everybody's congratulating me and wishing me well.  I met some great people from some of these different charities; they're doing some great work.  I got to throw out the first pitch at the ball game.  I have no right to complain.  I've had a blast for 4 months.
JENNY:  How did your family accept poker in the beginning and how do they accept it now?
DENNIS:  It has not been a problem.  They've always trusted my judgment.  I have two great parents growing up and they instilled in me a lot of qualities that I can't thank them enough for.  They trust my judgment; if playing poker is fun, enjoyable and I can do something positive with it - go for it.
JENNY:  Is there anyone specific in the industry that you admire?
DENNIS:  There are a number of them that I admire for specific things they do.  One of the nice things I was able to do was I went to Walter Reed Hospital a few weeks ago to visit the troops coming back.  And let me tell you, I have nothing but respect for these guys.  These guys are unbelievable.  I was humbled by going over there.  I was there with Phil Gordan, Howard Lederer, Victor Ramdin and Andy Bloch; we sat around and talked about the different works we've done.  Victor went back to home country (Guyana) and trying to some of the health work over there.  We talked about different things we were able to do.  It was fabulous.     
JENNY:  Do you play online?  And if so, what rooms are your favorites?
DENNIS:  I play online and I play at PokerStars.com.  And it's the only one I play.  In fact, I'm going to be playing a tournament this weekend (Nov. 1st-2nd) on it.  I still prefer person to person.  I like sitting across the table and analyzing a person.  But when I play online, it's with PokerStars.  And I'll tell you what - I also did the Bad Beat on Cancer (http://www.preventcancer.org) with Phil Gordon.  When I went to PokerStars and said, "I pledge my 1%", and they said, "no problem, whatever you give we'll match".   Dollar for dollar everything I give they are going to match.  I thought that was fabulous.     
JENNY:  Do you believe the game is more luck or is it more skill?
DENNIS:  There's obviously an element of both in it.  But I think the skill level plays a lot more then most people realize.  If you took the same 7000 people out there, there would probably be 9 different people at the final table.  But I think you'd be amazed how many of the same people make the money that are in that top 600.
JENNY:  What will you do with the $9 million?
DENNIS:  Honestly, I don't know a whole lot about that. (Haha) I've been busy enough to where I didn't have to worry about it.  The guys are always asking me, "What was the first thing you bought or what are you going to buy"?  I brought the money back, handed it to the banker and has sat there the whole time.  I haven't spent a dime of it.   
JENNY:  Will there be more charity in the future?
DENNIS:  Yes.  We're looking into a lot of things.  I may set up a charity fund.  Basically a foundation is what we're looking at.  I have a guy that's doing some tax research on that.  If things work out and I do end up winning this thing, I can set up the foundation to benefit a lot of things.  I won't have time to go through all of these because it's been pretty hectic the last four months.  But if I can set up something like that, that would be great.   
JENNY:  You've got buy yourself a big toy at least.  What toy would a grown man buy with $9 million?   
DENNIS:  (Haha) I work with a dealership up here so I get vehicles to drive for free.  I'm not married and I don't have any kids.  I'm really not sure what I would do with it.  But I will probably find something.  I can be a big boy too (haha).
JENNY:  Well if you need any help just let me know.
DENNIS:  (Haha) Okay, I'll give you a call.  
JENNY:  What have you been doing when you're not playing tournaments?
DENNIS:  I'm an avid sports fan.  I go to a lot of ball games.  The Cardinals are a favorite team; but I also follow the Rams, the Blues, and the rest of them around here.  I really like to be involved with my family. My brothers, my sisters, my nephews, my nieces, I can spoil the hell out of them now.  My sister has a farm and I've been getting involved with that.   
JENNY:  Are you familiar with the UIGEA (Unlawful Internet Gambling Enforcement Act)?  What are your thoughts on the UIGEA?  Doesn't the UIGEA actually prevent new talent (competition) from entering the poker arena?
DENNIS:  I'm not exactly for it, that's for sure.  I'm what they call "old fashioned".  I think people should be able to make their own decisions.  I don't like anything regulating it.  I think it's a little over the top.  And I think some of things that have come out lately, such as the gentleman in Kentucky, are a little hypercritical.  He runs on a campaign to get elected to protect the horseracing, the lottery and all the gambling there.  But he's going against online gambling sites.  Now on a basic level that doesn't make a lot of sense.  Does it to you?  So I think it's a bit hypercritical when it's self-serving for himself and his political gains.  I just don't think that's the way it should be done.   
JENNY:  Doesn't the UIGEA actually prevent new talent (competition) from entering the poker arena?
DENNIS:  Preventing new talent from entering it.  That's a good way to put it and actually it could restrict it on some.  But I don't like it for a lot of other reasons.  Any kind of regulatory agency that they're trying to set up to stop the people from having free choices is wrong.  Besides, this is a skill game.  It has a lot of skill on it and it's a lot of fun.  They brought poker out of the smoke filled back rooms where all the shenanigans use to reportedly go to.  They brought it into the main light and you can actually see what's going on.  You can have it regulated well; you can have it taxed; you can have it taken care of.  I don't understand the restrictions these guys are trying to put on it.  It's almost like they want to stuff it back into the backrooms and turn it into the image that it use to have.  Why would you do that?   
JENNY:  Will you be voting this election year?
DENNIS:  Yes I already have.
JENNY:  May I ask who you voted for?
DENNIS:  Haha.  That's kind of private thing.  But I do think it's a citizen's duty to do that.    
JENNY:  What's after this...vacation, more poker, or perhaps will you buy your own farm?
DENNIS:  Haha.  There is a chance of that actually.  The immediate thing is that I'm going to be playing in a tournament in Canada after this.  I have that scheduled.  I will be back to work at my regular job down here at Broadway Truck Centers.  I'll have to admit, I might find a toy or two to buy.  
JENNY:  Thank you so much for taking the time to talk with me.
Jenny Woo, Gambling911.com Senior Correspondent