With almost three weeks of super-sized tournament action and exciting events around the clock, Americas Cardroom has launched its OSS XL, featuring a little something for everyone during these tough times.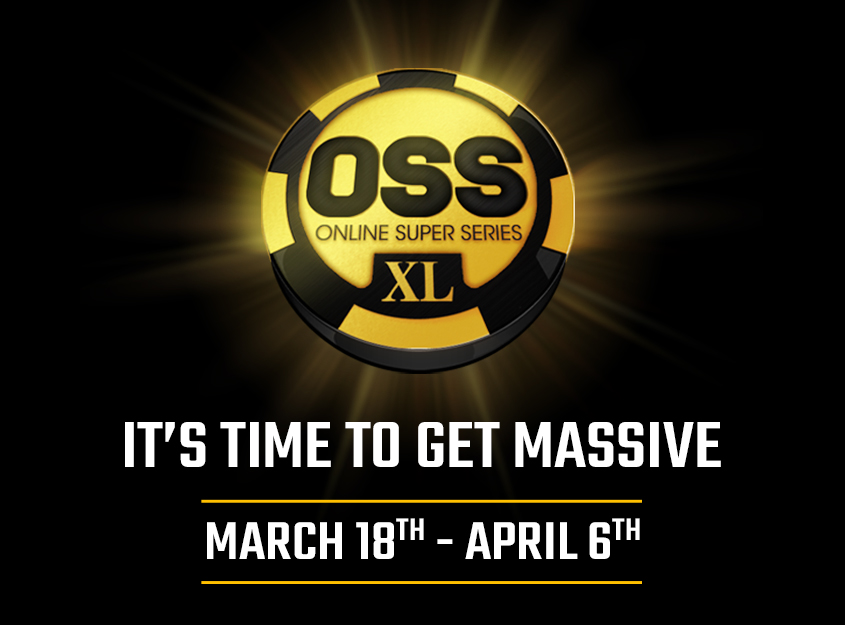 Take advantage of over 110 tournaments with $12 Million in total guarantees, including four $1 Million events.
Buy your seats directly or qualify for as little as $0.25 by taking advantage of our Cyclones Blitz Poker Satellites.
* 12 Million GTD in prize pools
* Almost 3 weeks of tournament action
* Four $1 Million GTD Tourneys
TAKE PART IN THIS TOURNAMENT WHILE STUCK IN YOUR HOME HERE
FULL SCHEDULE APPEARS BELOW
Date    Time (ET)    Tournament Name    Buy - In + Fee    GTD
Wednesday, March 18, 2020    12:00 PM    OSS XL #1 - $4,000 GTD    $1.50 + $0.15    $4,000.00
    2:15 PM    OSS XL #2 - $85,000 GTD    $100 + $9    $85,000.00
    3:30 PM    OSS XL #3 - $10,000 GTD    $15 + $1.50    $10,000.00
    4.30 PM    OSS XL #4 - $25,000 GTD - PLO 6-Max    $200 + $15    $25,000.00
    5:30 PM    OSS XL #5 - $100,000 GTD - High Roller 8-Max    $600 + $30    $100,000.00
    6:30 PM    OSS XL #6 - $120,000 GTD - Super High Roller 8-Max    $5,000 + $150    $120,000.00
    7:30 PM    OSS XL #7 - $8,000 GTD    $6 + $0.60    $8,000.00
    8:30 PM    OSS XL #8 - $25,000 GTD    $50 + $5    $25,000.00
    10:00 PM    OSS XL #9 - $15,000 GTD - Turbo Super Stack    $50 + $5    $15,000.00
Thursday, March 19, 2020    11:30 AM    OSS XL #10 - $3,500 GTD 8 Max    $6 + $0.60    $3,500.00
    2:00 PM    OSS XL #11 - $85,000 GTD    $200 + $15    $85,000.00
    3:15 PM    OSS XL #12 - $12,000 GTD - 6-Max    $15 + $1.50    $12,000.00
    4:45 PM    OSS XL #13 - $7,500 GTD    $6 + $0.60    $7,500.00
    5:30 PM    OSS XL #14 - $5,000 GTD - Turbo Mega Stack PLO8 6-Max    $50 + $5    $5,000.00
    6:15 PM    OSS XL #15 - $50,000 GTD - 8-Max    $300 + $20    $50,000.00
    7:00 PM    OSS XL #16 - $20,000 - High Roller PLO 8-Max    $600 + $30    $20,000.00
    7:15 PM    OSS XL #17 - $10,000 GTD - 6-Max    $15 + $1.5    $10,000.00
    8.30 PM    OSS XL #18 - $500 GTD - Hyper Turbo SS    $1.5 + $0.15    $500.00
    10.00 PM    OSS XL #19 - $15,000 GTD - Hyper Turbo SS    $50 + $5    $15,000.00
Friday, March 20, 2020    12:00 PM    OSS XL #20 - $10,000 GTD    $15 + $1.5    $10,000.00
    2:00 PM    OSS XL #21 - $50,000 GTD - 6-Max    $50 + $5    $50,000.00
    3:30 PM    OSS XL #22 - $10,000 GTD    $15 + $1.5    $10,000.00
    4:30 PM    OSS XL #23 - $20,000 GTD - 8-Max    $80 + $8    $20,000.00
    5:30 PM    OSS XL #24 - $50,000 GTD - 6-Max    $1000 + $50    $50,000.00
    7:25 PM    OSS XL #25 - $6,000 GTD - 6 Max    $6 + $0.6    $6,000.00
    8:45 PM    OSS XL #26 - $1,000 GTD - PLO 6-Max    $1.5 + $0.15    $1,000.00
    9:30 PM    OSS XL #27 - $2,000 GTD - 6-Max Turbo Mega Stack    $6 + $0.6    $2,000.00
Saturday, March 21, 2020    11:00 AM    OSS XL #28 - $5,000 GTD 8 Max    $6 + $0.6    $5,000.00
    12:00 PM    OSS XL #29 - $30,000 GTD - Mini Saturday Warm Up 8-Max    $15 + $1.5    $30,000.00
    2:00 PM    OSS XL #30 - $100,000 GTD - Saturday Warm Up 8-Max    $100 + $9    $100,000.00
    3:20 PM    OSS XL #31 - $25,000 GTD - PLO8 8-Max    $50 + $5    $25,000.00
    4:40 PM    OSS XL #32 - $15,000 GTD    $15 + $1.5    $15,000.00
    5:00 PM    OSS XL #33 - $20,000 GTD - Saturday Special PLO    $200 + $15    $20,000.00
    7:45 PM    OSS XL #34 - $25,000 GTD - Mega Stack    $50 + $5    $25,000.00
    8:00 PM    OSS XL #35 - $2,500 GTD - NLO8 8-Max    $6 + $0.6    $2,500.00
    9:25 PM    OSS XL #36 - $8,000 GTD - Turbo Super Stack    $80 + $8    $8,000.00
Sunday, March 22, 2020    12:00 PM    OSS XL #37 - $1,000,000 GTD - Two Day Event    $600 + $30    $1,000,000.00
    2:00 PM    OSS XL #38 - $60,000 GTD    $15 + $1.5    $60,000.00
    2:30 PM    OSS XL #39 - $250,000 GTD - Sunday Special    $200 + $15    $250,000.00
    3:00 PM    OSS XL #40 - $150,000 GTD - 8 Max    $50 + $5    $150,000.00
    5:15 PM    OSS XL #41 - $60,000 GTD - Mega Stack    $150 + $10    $60,000.00
    6:00 PM    OSS XL #42 - $125,000 GTD    $1000 + $50    $125,000.00
    6:30 PM    OSS XL #43 - $20,000 GTD - PLO8 8-Max    $50 + $5    $20,000.00
    7:45 PM    OSS XL #44 - $1,000 GTD - PLO 6-Max    $1.5 + $0.15    $1,000.00
    8:45 PM    OSS XL #45 - $30,000 GTD - Hyper Turbo Super Stack    $100 + $4.5    $30,000.00
Monday, March 23, 2020    12:00 PM    OSS XL #46 - $4,000 GTD 6 Max    $6 + $0.6    $4,000.00
    1:00 PM    OSS XL #47 - $30,000 GTD    $50 + $5    $30,000.00
    2:00 PM    OSS XL #48 - $80,000 GTD - 6-Max    $100 + $9    $80,000.00
    3:30 PM    OSS XL #49 - $4,000 GTD - FT Experience    $50 + $5    $4,000.00
    5:00 PM    OSS XL #50 - $15,000 GTD    $15 + $1.5    $15,000.00
    6:00 PM    OSS XL #51 - $1,000 GTD - 7 Card Stud    $6 + $0.6    $1,000.00
    7:15 PM    OSS XL #52 - $30,000 GTD - 6-Max    $50 + $5    $30,000.00
    7:45 PM    OSS XL #53 - $30,000 GTD - PLO8 6-Max    $200 + $15    $30,000.00
    9:00 PM    OSS XL #54 - $2,000 GTD - Hyper Turbo Super Stack    $3 + $0.15    $2,000.00
Tuesday, March 24, 2020    12:00 PM    OSS XL #55 - $6,000 GTD - KO    $15 + $1.5    $6,000.00
    1:30 PM    OSS XL #56 - $40,000 GTD - KO    $75 + $7.5    $40,000.00
    3:30 PM    OSS XL #57 - $5,000 GTD - PLO8    $15 + $1.5    $5,000.00
    4:15 PM    OSS XL #58 - $50,000 GTD    $200 + $15    $50,000.00
    5:00 PM    OSS XL #59 - $15,000 GTD    $30 + $3    $15,000.00
    6:15 PM    OSS XL #60 - $125,000 GTD - 8-Max    $1000 + $50    $125,000.00
    7:45 PM    OSS XL #61 - $25,000 GTD - 6-Max KO    $150 + $10    $25,000.00
    8:00 PM    OSS XL #62 - $8,000 GTD - PLO 8-Max    $50 + $5    $8,000.00
    8:45 PM    OSS XL #63 - $6,000 GTD - Mega Stack    $6 + $0.6    $6,000.00
    9:00 PM    OSS XL #64 - $60,000 GTD - Turbo Super Stack 8-Max    $300 + $20    $60,000.00
Wednesday, March 25, 2020    12:00 PM    OSS XL #65 - $1,500 GTD    $1.5 + $0.15    $1,500.00
    1:30 PM    OSS XL #66 - $40,000 GTD    $15 + $1.5    $40,000.00
    2:30 PM    OSS XL #67 - $120,000 GTD - 8-Max    $200 + $15    $120,000.00
    3:30 PM    OSS XL #68 - $7,500 GTD - PLO8 KO    $50 + $5    $7,500.00
    4:45 PM    OSS XL #69 - $5,000 GTD - NLO 6-Max    $25 + $2.5    $5,000.00
    5:20 PM    OSS XL #70 - $100,000 GTD - High Roller 8-Max    $600 + $30    $100,000.00
    6:00 PM    OSS XL #71 - $10,000 GTD - 6-Max    $6 + $0.6    $30,000.00
    7:00 PM    OSS XL #72 - $30,000 GTD - 8-Max Mega Stack    $50 + $5    $30,000.00
    8:45 PM    OSS XL #73 - $30,000 GTD - Hyper Turbo Super Stack    $150 + $5    $30,000.00
    9:25 PM    OSS XL #74 - $4,000 GTD - Turbo Mega Stack PLO8    $25 + $2.5    $4,000.00
Thursday, March 26, 2020    11:30 AM    OSS XL #75 - $1,000 GTD 6-Max KO    $1.5 + $0.15    $1,000.00
    12:30 PM    OSS XL #76 - $15,000 GTD 8 Max    $15 + $1.5    $15,000.00
    2:00 PM    OSS XL #77 - $50,000 GTD    $50 + $5    $50,000.00
    3:30 PM    OSS XL #78 - $20,000 GTD    $15 + $1.5    $20,000.00
    4:45 PM    OSS XL #79 - $80,000 GTD - High Roller 8-Max    $600 + $30    $80,000.00
    6:00 PM    OSS XL #80 - $60,000 GTD - 6 Max KO    $200 + $15    $60,000.00
    7:00 PM    OSS XL #81 - $30,000 GTD - 8-Max    $50 + $5    $30,000.00
    8:00 PM    OSS XL #82 - $10,000 GTD - PLO    $80 + $8    $10,000.00
    9:10 PM    OSS XL #83 - $20,000 GTD - Hyper Turbo Super Stack    $100 + $4.5    $20,000.00
Friday, March 27, 2020    12:30 PM    OSS XL #84 - $5,000 GTD - 8-Max    $10 + $1    $5,000.00
    2:00 PM    OSS XL #85 - $50,000 GTD - 8-Max    $15 + $1.5    $50,000.00
    3:00 PM    OSS XL #86 - $1,500 GTD    $0.5 + $0.05    $1,500.00
    4:30 PM    OSS XL #87 - $20,000 GTD - 6-Max    $50 + $5    $20,000.00
    6:00 PM    OSS XL #88 - $25,000 GTD - PLO8 6-Max    $75 + $7.5    $25,000.00
    7:00 PM    OSS XL #89 - $12,000 GTD    $6 + $0.6    $12,000.00
    8:15 PM    OSS XL #90 - $30,000 GTD - SuperStack Turbo    $100 + $9    $300,000.00
    9:25 PM    OSS XL #91 - $5,000 GTD - Turbo Super Stack    $15 + $1.5    $5,000.00
Saturday, March 28, 2020    2:00 PM    OSS XL #93 - $200,000 GTD    $50 + $5    $200,000.00
    3:00 PM    OSS XL #94 - $40,000 GTD    $30 + $3    $40,000.00
    3:30 PM    OSS XL #95 - $75,000 GTD - 8 Max    $300 + $20    $75,000.00
    4:00 PM    OSS XL #96 - $100,000 GTD    $1000 + $50    $100,000.00
    6:00 PM    OSS XL #97 - $50,000 GTD - 6-Max Mega Stack    $100 + $9    $50,000.00
    7:00 PM    OSS XL #98 - $25,000 GTD - 8-Max    $15 + $1.5    $25,000.00
    7:30 PM    OSS XL #99 - $12,000 GTD    $6 + $0.6    $12,000.00
    8:00 PM    OSS XL #100 - $3,000 GTD - Hyper Turbo Mega Stack    $4 + $0.2    $3,000.00
Sunday, March 29, 2020    7:00 AM    OSS XL #101 - $10,000 GTD - Early Special    $15 + $1.5    $10,000.00
    12:00 PM    OSS XL #102 - $1,000,000 GTD - Two Day Event    $600 + $30    $1,000,000.00
    1:00 PM    OSS XL #103 - $20,000 GTD    $6 + $0.6    $20,000.00
    1:00 PM    OSS XL #104 - $300,000 GTD - Warm Up 8-Max    $100 + $9    $300,000.00
    2:30 PM    OSS XL #105 - $150,000 GTD - Super High Roller 8-Max    $2500 + $150    $150,000.00
    2:30 PM    OSS XL #106 - $50,000 GTD - Sunday Special PLO    $200 + $15    $50,000.00
    5:00 PM    OSS XL #107 - $40,000 GTD - 6-Max    $15 + $1.5    $40,000.00
    7:00 PM    OSS XL #108 - $125,000 GTD - High Roller 8-Max    $600 + $30    $125,000.00
    8:15 PM    OSS XL #109 - $8,000 GTD - PLO 6-Max    $50 + $5    $8,000.00
    9:25 PM    OSS XL #110 - $25,000 GTD - 8-Max Turbo Super Stack    $50 + $5    $25,000.00
Monday , March 30, 2020    3:30 PM    OSS XL #111 - $125,000 GTD    $100 + $9    $125,000.00
    3:30 PM    OSS XL #112 - $60,000 GTD    $200 + $15    $60,000.00
    4:45 PM    OSS XL #113 - $150,000 GTD - High Roller    $600 + $30    $150,000.00
    5:30 PM    OSS XL #114 - $60,000 GTD - 8-Max    $150 + $10    $60,000.00
    6:20 PM    OSS XL #115 - $80,000 GTD - High Roller 8-Max    $1000 + $50    $90,000.00
    7:45 PM    OSS XL #116 - $60,000 GTD - Mega Stack    $200 + $15    $60,000.00
Tuesday , March 31, 2020    3:00 PM    OSS XL #117 - $200,000 GTD - 6-Max    $200 + $15    $200,000.00
    3:45 PM    OSS XL #118 - $50,000 GTD    $150 + $10    $50,000.00
    4:15 PM    OSS XL #119 - $50,000 GTD - PLO 6-Max    $200 + $15    $50,000.00
    5:30 PM    OSS XL #120 - $150,000 GTD - 8-Max    $2500 + $150    $150,000.00
    6:15 PM    OSS XL #121 - $150,000 GTD - High Roller    $600 + $30    $150,000.00
    7:15 PM    OSS XL #122 - $80,000 GTD - 8-Max    $300 + $20    $80,000.00
Wednesday , April 01, 2020    12:30 PM    OSS XL #123 - $5,000 GTD - PLO8    $15 + $1.5    $5,000.00
    3:30 PM    OSS XL #124 - $75,000 GTD    $100 + $9    $75,000.00
    3:45 PM    OSS XL #125 - $3,500 GTD - 8-Max    $1.5 + $0.15    $3,500.00
    4:20 PM    OSS XL #126 - $120,000 GTD - 6-Max    $300 + $20    $120,000.00
    5:00 PM    OSS XL #127 - $40,000 GTD - PLO KO 6-Max    $600 + $30    $40,000.00
    6:15 PM    OSS XL #128 - $5,000 GTD - Mega Stack    $6 + $0.6    $5,000.00
    6:30 PM    OSS XL #129 - $150,000 GTD - High Roller 8-Max    $600 + $30    $150,000.00
    8:05 PM    OSS XL #130 - $40,000 GTD - Hyper Turbo Super Stack    $200 + $7.5    $40,000.00
    8:15 PM    OSS XL #131 - $15,000 GTD - Hyper Turbo Super Stack    $80 + $4    $15,000.00
    8:25 PM    OSS XL #132 - $6,000 GTD - Hyper Turbo Super Stack    $10 + $0.5    $6,000.00
Thursday , April 02, 2020    12:45 PM    OSS XL #133 - $20,000 GTD    $200 + $15    $20,000.00
    3:00 PM    OSS XL #134 - $150,000 GTD - 8-Max    $200 + $15    $150,000.00
    4:00 PM    OSS XL #135 - $30,000 GTD - Mega Stack    $50 + $5    $30,000.00
    4:15 PM    OSS XL #136 - $150,000 GTD - 8-Max    $1000 + $50    $150,000.00
    5:00 PM    OSS XL #137 - $5,000 GTD - PLO8 8-Max Turbo Mega Stack    $30 + $3    $5,000.00
    6:30 PM    OSS XL #138 - $1,500 GTD - PLO 8-Max    $3 + $0.3    $1,500.00
    7:20 PM    OSS XL #139 - $50,000 GTD    $250 + $20    $50,000.00
    8:00 PM    OSS XL #140 - $3,500 GTD - 7 Card Stud Hi/Lo    $15 + $1.5    $3,500.00
    8:30 PM    OSS XL #141 - $25,000 GTD - Turbo Super Stack    $75 + $7.5    $25,000.00
Friday , April 03, 2020    3:00 PM    OSS XL #142 - $25,000 GTD    $15 + $1.5    $25,000.00
    3:30 PM    OSS XL #143 - $50,000 GTD    $200 + $15    $50,000.00
    4:15 PM    OSS XL #144 - $7,500 GTD - PLO8 6-Max    $30 + $3    $7,500.00
    4:20 PM    OSS XL #145 - $35,000 GTD - 8-Max    $100 + $9    $35,000.00
    5:30 PM    OSS XL #146 - $50,000 GTD - KO    $1000 + $50    $50,000.00
    6:00 PM    OSS XL #147 - $80,000 GTD - High Roller 8-Max    $600 + $30    $80,000.00
    6:30 AM    OSS XL #148 - $20,000 GTD - 8-Max    $50 + $5    $20,000.00
    8:30 PM    OSS XL #149 - $2,000 GTD - Turbo Super Stack    $4 + $0.4    $2,000.00
    8:30 PM    OSS XL #150 - $40,000 GTD - Turbo Super Stack    $300 + $20    $40,000.00
Saturday , April 04, 2020    3:30 PM    OSS XL #151 - $60,000 GTD    $150 + $10    $60,000.00
    3:30 PM    OSS XL #152 - $50,000 GTD - 8-Max    $200 + $15    $50,000.00
    4:30 PM    OSS XL #153 - $40,000 GTD - 6-Max    $200 + $15    $40,000.00
    6:00 PM    OSS XL #154 - $50,000 GTD - PLO8 KO 6-Max    $600 + $30    $50,000.00
    8:15 PM    OSS XL #155 - $30,000 GTD - Hyper Turbo Super Stack    $150 + $5    $30,000.00
Sunday , April 05, 2020    12:00 PM    OSS XL #156 - $1,000,000 GTD - Two Day Event    $600 + $30    $1,000,000.00
    1:00 PM    OSS XL #157 - $300,000 GTD - Warm Up 8-Max    $100 + $9    $300,000.00
    1:30 PM    OSS XL #158 - $1,000,000 GTD - Two Day Event    $2500 + $150    $1,000,000.00
    2:30 PM    OSS XL #159 - $80,000 GTD - Sunday Special PLO    $200 + $15    $80,000.00
    2:30 PM    OSS XL #160 - $300,000 GTD - Sunday Special    $200 + $15    $300,000.00
    3:00 PM    OSS XL #161 - $75,000 GTD    $150 + $10    $75,000.00
    4:30 PM    OSS XL #162 - $30,000 GTD - NLO8 8-Max    $100 + $9    $30,000.00
    6:30 PM    OSS XL #163 - $200,000 GTD - High Roller 8-Max    $600 + $30    $200,000.00
    9:00 PM    OSS XL #164 - $150,000 GTD    $200 + $15    $150,000.00
    9:00 PM    OSS XL #165 - $25,000 GTD - Hyper Turbo Super Stack    $100 + $4.5    $25,000.00
Monday, April 6, 2020    12:00 PM    OSS XL #166 - $3,000 GTD - Closer    $1.5 + $0.15    $3,000.00
    1:30 PM    OSS XL #167 - $15,000 - 8-Max Closer    $6 + $0.6    $15,000.00
    3:00 PM    OSS XL #168 - $30,000 GTD - Closer    $15 + $1.5    $30,000.00
    4:30 PM    OSS XL #169 - $50,000 GTD - 8-Max Closer    $50 + $5    $50,000.00
    5:30 PM    OSS XL #170 - $80,000 GTD - 8-Max Closer    $200 + $15    $80,000.00
    6:30 PM    OSS XL #171 - $100,000 GTD - 8-Max Closer    $600 + $30    $100,000.00
- Ace King, Gambling911.com