Online gamblers in the UK have the opportunity to play immersive roulette through licensed software providers the likes of Evolution Gaming.

Their live casino platform is among the most popular in the world today and readily available to those players in Great Britain as well. 
Immersive roulette online allows players to interact with professional dealers while enjoying their favorite casino game with features that include high quality casino tables, multi-camera views, slow motion shot of the ball dropping into the pocket providing what is best described as a cinematic feel, 200 frames per second HD video and more.
Scroll Down...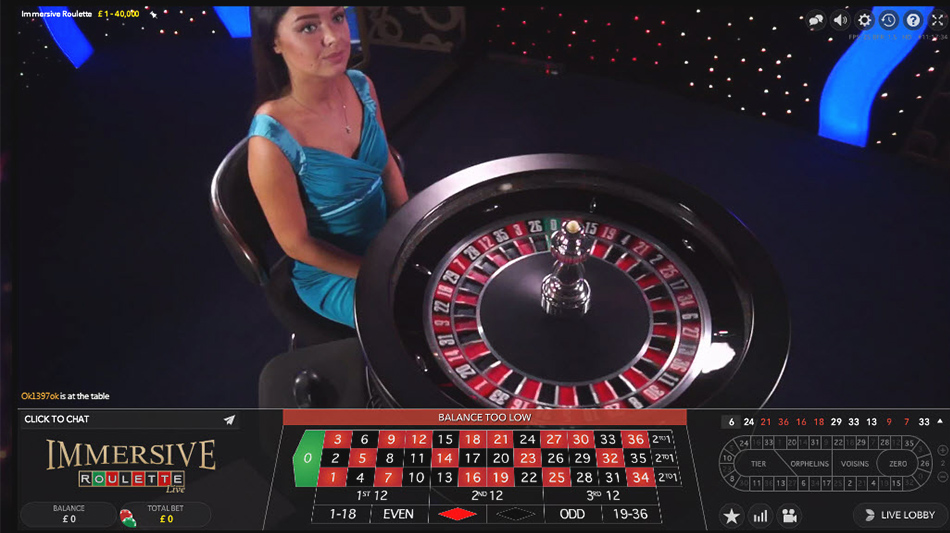 The Evolution Gaming immserive live casino platform is widely regarded as among the best in the industry
Award Winning Immersive Roulette
Backing up that Evolution Gaming's immersive roulette deserves a look, the live casino game recently was awarded Game Of The Year' at EGR Awards at the EGR Awards.
Commenting on the award, Helen Hedgeland, Managing Director of Evolution UK said: "With Immersive Roulette our team created a world first – a uniquely innovative and different game that has a real 'wow factor' – and we are delighted that the award recognises this. As a result, Immersive Roulette adds considerable marketing value for our licensees. Because it's so different, the game attracts the broadest spectrum of players – Live Roulette enthusiasts,casino RNG game players and also new players and customers from areas such as online sportsbook and bingo."

She added: "Immersive Roulette is a standout, premium-quality game unlike any Live Casino game available. As the world's most advanced online Live Roulette game it has proved to be both a top revenue-earner in its own right and a powerful acquisition, retention and cross-selling tool."
Growing Popularity of Roulette in the UK
The nation's largest casino operator, Genting, began capitalising on the growing popularity of Roulette by organising and hosting a national tournament across its venues.
Jimmy Howard, Head of Casino Marketing, Home Markets at Genting told TotallyGaming.com: "This is the UK's first national Roulette tournament and kicked off in April 2016, with contests held in Genting casinos across the entire length and breadth of the UK, from Edinburgh to Torquay and from Margate to Blackpool. A minimum of one competitor in every Genting Casino won seats at the national final, with 75 people taking part in the hotly contested event at Genting International Casino."
TotallyGaming.com notes that, while many in the casino sector rue the existence of Fixed Odds Betting Terminals in the UK's betting shops, there's no hiding from the fact that it has made Roulette more accessible and more popular with the gaming public. Genting's first Roulette tournament appears to have tapped into this popularity to such an extent that it will not be the last the firm holds.
- Aaron Goldstein, Gambling911.com