40-Something Enters Senior Tournament By Accident, Crushes the Old Folk
Published on:
Jun/04/2023
There has been a lot of talk lately of men entering women's events and vice versa.  But the concept has now made its way into other aspects of life apparently, including young people wanting - or accidentally - becoming part of a senior poker event.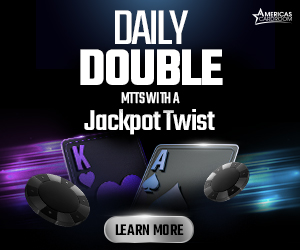 That's what happened this weekend at the ARIA Resort & Casino seniors tournament as relayed by one Marsha Wolak-Barnett via Facebook.
Ms. Wolak-Barnett stressed that the individual in question meant no harm and believed he did not realize the tournament was supposed to be for seniors only.  The general age for someone to be deemed a "senior citizen" is 55.  At least that is the age one must be in most states to qualify for senior living.  The AARP is dedicated to those 50 and over.  The later age typically applies to seniors tournaments.
Ms. Wolak-Barnett relayed what transpired.
"Playing the seniors tournament at the ARIA Resort & Casino and guy next to me is crashing everyone and is the tourney chip leader.  I mention about how great it is playing in the senior tournaments and he said he has a few years to go as he is 47!!!!  WTF!  He didn't realize he entered a senior tournament, which is 50 and older and they didn't confirm his ID at the age when he bought in.  The tournament director said the can't restrict anyone from playing just like men playing in ladies events so there is nothing can do.
"It was an honest mistake, but shouldn't the cage be instructed to check the birth date of entrants? He said he would have played elsewhere if he knew it was a senior tournament and I believe him. 
"I was at a final table once of a seniors tournament in Hollywood FL and a player got taken off the table and his chips removed out of play as he entered knowing it was a senior tournament and he was not 50.  What is the rule?"
According to one respondent, the World Series of Poker last Wednesday removed two individuals for a similar occurrence. 
"They took their chips out of play and refunded them i was told."
When it comes to senior living facilities at least, there is a carve-out that allows for what some may see as a discriminatory practice.
Many such communities were already established when the Fair Housing Act was passed in 1968 and that's where the exceptions were made, provided the by-laws and original property deeds contained such explicit language.
The Fair Housing Act prohibits discrimination due to race, color, religion, sex, handicap, familial status or national origin. In Florida Chapter 760 of the Florida Statutes is dedicated to discrimination issues that expand the protection to age and marital status.
Sweeney Law explained how the law works in Florida, which is hope to more senior citizens than any other US state.
A 1988 amendment to the Fair Housing Act created an exception for housing for adults age 55 and over as long as it offered facilities and services intended to meet the physical and social needs of the elderly. However, the Housing for Older Persons Act (HOPA) of 1995 eliminated this requirement and instead necessitated that certain criteria must be met. Florida adopted and reiterated these criteria in Federal Register 24 CFR Part 100; section 760.24-760.37 (4a), Florida Statutes as:
At least 80% of the occupied units are occupied by at least one person 55 years of age or older;
The facility or community publishes and adheres to policies and procedures that demonstrate its intent to in fact be a provider of housing for older persons; and
The facility or community complies with rules established by the U.S. Department of Housing and Urban Development (HUD) for verification of occupancy.
It's interesting to note that, when it comes to employment, The Age Discrimination in Employment Act (ADEA) forbids age discrimination against people who are age 40 or older but typically does not protect workers under the age of 40.  Some states have laws that protect younger workers from age discrimination however.
It remains to be seen whether under-50 people participating in senior poker tournaments becomes an issue down the road.  We can certainly see a legal quagmire in the situation illustrated by Wolak-Barnett, moreso if an individual is removed once they are crushing the other opponents.
- Ace King, Gambling911.com