Jared Goff Longest Completion Prop Bet Payout Odds
Published on:
Sep/26/2023
You can find Detroit Lions QB Jared Goff longest completion prop bets courtesy of BetUS.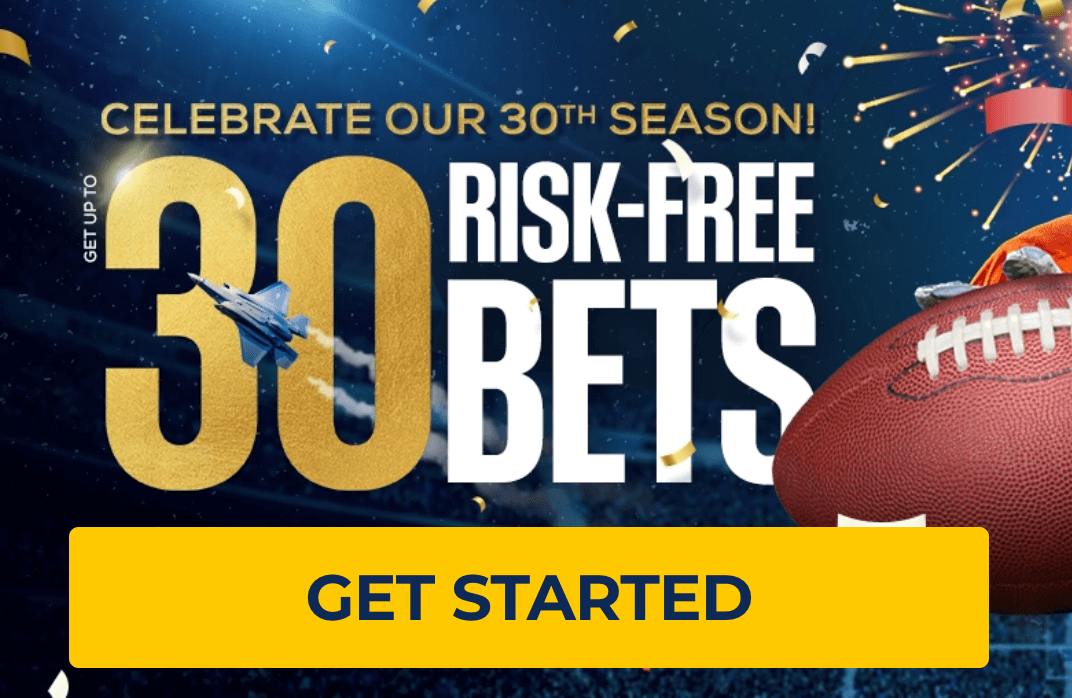 Jared Goff Longest Completion Prop Bet Payout Odds vs. Green Bay Packers
Jared Goff was listed at OVER/UNDER 36.5 for the longest completion in the Week 4 game against Green Bay Thursday night.
From PrideofDetroit:
What a difference a year makes. At this time last season, many were wondering if Jared Goff was truly a "throw-in" for the Matthew Stafford trade. While he had finished 2021 with a relatively strong effort, the Lions offense was largely inefficient—particularly the passing game.
But, surprise surprise, invest in some weapons and your quarterback looks better! Of course, to only credit his supporting cast for Goff's success would be a disservice to the quarterback himself.
Goff completed 22-of-33 passes for 243 yards, a touchdown, and an interception in the Lions' 20-6, Week 3 win over the Falcons.
He completed 28-of-35 passes for 323 yards with three touchdowns and an interception in Week 2 vs Seattle.  It was another game he played well in, leading Detroit on a six-play drive that set up a field goal to send the game into overtime.  Goff never got to see the ball again as Tyler Lockett scored in OT.
More Jared Goff Prop Bets
Rot     Jared Goff (DET) Total Passing Yards     Moneyline
1001     Over  259½  Passing Yards     -115
1002     Under  259½  Passing Yards     -115
Must Start for action.
Rot     Jared Goff (DET) Total Touchdown Passes     Moneyline
1007     Over  1½  TD Passes     -125
1008     Under  1½  TD Passes     -105
Must Start for action.
Rot     Jared Goff (DET) Total Interceptions     Moneyline
1011     Over  ½  Interceptions     +115
1012     Under  ½  Interceptions     -145
More Lions @ Packers Props
Rot     First Scoring Play Of The Game     Moneyline
3007     Lions TD         +180
3008     Lions FG         +370
3009     Lions Any Other Score         +5000
3010     Packers TD         +195
3011     Packers FG         +370
3012     Packers Any Other Score         +5000
Rot     Double Result     Moneyline
3035     Lions/Lions         +150
3036     Lions/Tie         +4000
3037     Lions/Packers         +750
3038     Tie/Lions         +1400
3039     Tie/Tie         +4000
3040     Tie/Packers         +1600
3041     Packers/Lions         +600
3042     Packers/Tie         +4000
3043     Packers/Packers         +185
Rot     Winning Margin     Moneyline
3089     Lions to win by 1-6 pts         +300
3090     Lions to win by 7-12 pts         +475
3091     Lions to win by 13-18 pts         +775
3092     Lions to win by 19-24 pts         +1400
3093     Lions to win by 25-30 pts         +2800
3094     Lions to win by 31-36 pts         +4500
3095     Lions to win by 37-42 pts         +7500
3096     Lions to win by 43 or More pts         +9000
3097     Packers to win by 1-6 pts         +320
3098     Packers to win by 7-12 pts         +550
3099     Packers to win by 13-18 pts         +900
3100     Packers to win by 19-24 pts         +1800
3101     Packers to win by 25-30 pts         +3000
3102     Packers to win by 31-36 pts         +5500
3103     Packers to win by 37-42 pts         +9000
3104     Packers to win by 43 or More pts         +11000
3105     Tie         +5000
- Mary Montgomery, Gambling911.com