Shackleford Kentucky Derby Odds
Published on:
May/06/2011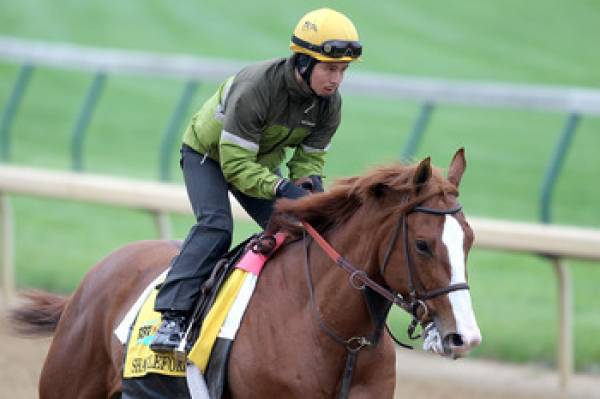 Shackleford Kentucky Derby odds were coming in at +1350, closing in on single digits.
Trainer Dale Romans said of his number 14 spot: "It's a great spot for us at 14. Most of the speed is inside us, especially Comma to the Top, who is probably quicker than we are. That's the horse you want to be outside of most of all. If we can get a clean break with the extra space (from the auxiliary gate), the hope is to sit second. Being outside of Comma to the Top gives us options."
One of the biggest things to consider when you look at Shackleford's odds is that he nearly beat the Derby favorite Dialed In at the Florida Derby.  He has made three straight starts at 1 1/8 miles and is familiar with the Churchill Downs surface.
Some wonder if Shackleford is capable of winning the Kentucky Derby's fast pace since he tends to race on the lead or close to it.   The sentiment, however, is that he is more inclined to hang around for the end.
"I think he's going to run his race," said trainer Dale Romans. "Obviously, you'd like to see him relax and really get into a nice stride, and hopefully they can avoid going all that fast. I love the way he's been doing in the mornings. There's always the chance that the crowd and everything might get him keyed up, but he's a pretty smart horse. I just hope he settles and goes on with it."
All 2011 Kentucky Derby betting odds appear below and can be wagered at Bookmaker.com here. 
Odds to Win The 137th Kentucky Derby

 

 

 

 

 

 

Dialed In

+250

-

-

 

Much Macho Man

+1000

-

-

 

Soldat

+1100

-

-

 

Stay Thirsty

+2500

-

-

 

Santiva

+2500

-

-

 

Decisive Moment

+2350

-

-

 

Pants on fire

+2700

-

-

 

Animal Kingdom

+2000

-

-

 

Archarcharch

+1400

-

-

 

Twice the appeal

+2600

-

-

 

Midnight Interlude

+1200

-

-

 

Comma to the top

+2700

-

-

 

Nehro

+450

-

-

 

Shackleford

+1350

-

-

 

Brilliant Speed

+2000

-

-

 

Master of Hounds

+1600

-

-

 

Twinspired

+3200

-

-

 

Watch Me Go

+5500

-

-
Dan Shapiro, Gambling911.com