Preakness Stakes 2011 Payouts
Published on:
May/18/2011
One thing we learned from the Kentucky Derby is that SBG Global will likely have some of the best Preakness Stakes 2011 payouts on the Net, and that will also go for the upcoming Belmont Stakes race, which you can sign up to bet on now and receive your FREE CASH BONUS (restrictions do apply). 
What we found with the Preakness is that in many instances, SBG was offering payout potentials that were $100 to sometimes $400 better than the competition based on a $100 bet. 
At SBG Global, Animal Kingdom's odds were coming in at +200 for a payout potential of $200 on every $100 bet or $20 for every $10 bet.
We're not quite sure why Dialed In was such short odds after his poor performance at the Derby, but he was available at +400 or 4/1.
Mucho Macho Man was promising a payout of $150 more than some of the competition at $550 for every $100 bet coming into this race if he were to win.
All Preakness Stakes payout odds appear below.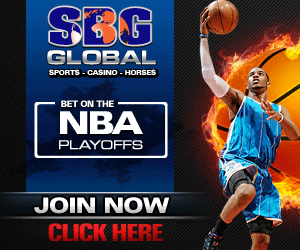 Preakness Stakes 2011 potential payouts courtesy of SBG Global (lock these odds in now as they are subject to change)

 

7101  

Animal Kingdom

NA

NA

$200 for every $100 bet

7102  

Dialed In

NA

NA

$400

7104  

Mucho Macho Man

NA

NA

$550

7105  

Shackleford

NA

NA

$750

7106  

Astrology

NA

NA

$1000

7107  

Concealed Identity

NA

NA

$2200

7108  

Dance City

NA

NA

$800

7109  

King Congie

NA

NA

$1800

7110  

Mr Commons

NA

NA

$1800

7111  

Norman Asbjornson

NA

NA

$1300

7112  

Sway Away

NA

NA

$1300

7113  

Flashpoint

NA

NA

$1200

7114  

Isn't He Perfect

NA

NA

$3500

7115  

Midnight Interlude

NA

NA

$1800

7116  

Ruler On Ice

NA

NA

$2700

7117  

Saratoga Red

NA

NA

$4000
- Dan Shapiro, Gambling911.com