Payout for a 2015 Triple Crown Still Good With American Pharoah
Published on:
May/31/2015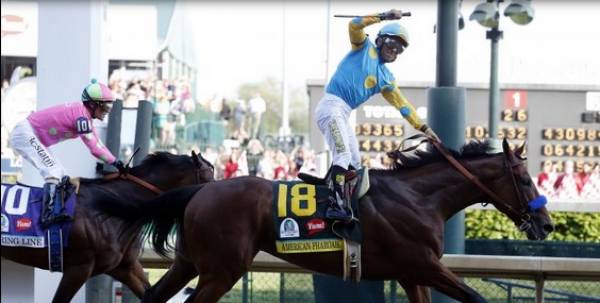 The payout odds on American Pharoah winning the Triple Crown at the upcoming Belmont Stakes were right around even or -125 at AceSportsbook.com.
If it happens it would be the first time a horse has won the Triple Crown since Affirmed did it in 1978.
Last year California Chrome came close after winning both the Kentucky Derby and Preakness Stakes, only to succumb to a newcomer with fresh legs.
American Pharoah is not slated to take on Firing Line, who performed well in both the Kentucky Derby and Preakness Stakes.  Frosted, who sat out the Preakness, had the next shortest odds close to 5-1.
After seeing how well the Belmont Stakes favorite ran in the mud during the Preakness, many will be monitoring weather forecasts for the New York City area Saturday.  Early forecast models indicate a 50% chance of scattered thunderstorms the day of the race so stay tuned.
BELMONT STAKES 2015 (TO WIN)

Lines From:05-31-2015 18:27:30

 

Cut Off

#

Type

Description

Odds

BELMONT STAKES ODDS TO WIN

BELMONT STAKES 2015 (TO WIN) - Jun 06

 

Jun 06 - 12:00 PM

5001

BELMONT STAKES ODDS TO WIN

AMERICAN PHAROAH

-125 

 

Jun 06 - 12:00 PM

5002

BELMONT STAKES ODDS TO WIN

CARPE DIEM

+1200 

 

Jun 06 - 12:00 PM

5005

BELMONT STAKES ODDS TO WIN

FRAMMENTO

+4000 

 

Jun 06 - 12:00 PM

5006

BELMONT STAKES ODDS TO WIN

FROSTED

+450 

 

Jun 06 - 12:00 PM

5007

BELMONT STAKES ODDS TO WIN

KEEN ICE

+2250 

 

Jun 06 - 12:00 PM

5008

BELMONT STAKES ODDS TO WIN

MADEFROMLUCKY

+1850 

 

Jun 06 - 12:00 PM

5009

BELMONT STAKES ODDS TO WIN

MATERIALITY

+650 

 

Jun 06 - 12:00 PM

5010

BELMONT STAKES ODDS TO WIN

MUBTAAHIJ

+1400 

 

Jun 06 - 12:00 PM

5011

BELMONT STAKES ODDS TO WIN

TALE OF VERVE

+2000 

 

Jun 06 - 12:00 PM

5012

BELMONT STAKES ODDS TO WIN

THE TRUTH OR ELSE

+3800-
- Tyrone Black, Gambling911.com