Odds of a Triple Crown Winner in 2017
Published on:
May/05/2017
BetOnline was offering odds on whether there will be another Triple Crown in 2017.
The last Triple Crown? 
Well, that was….uhhh….two years ago when American Pharoah stunned the racing world.
But before that, it took 37 years since Affirmed won the Triple Crown in 1978.  Amazingly there was a Triple Crown win the year before that with Seattle Slew and four years before with Secretariat. 
The payout this year would be $75 for every $10 bet with a Triple Crown win. 
The payout would be EVEN odds should a horse win two of the Triple Crown races (that includes a Kentucky Derby and Belmont Stakes win or the Preakness Stakes and Belmont Stakes or Kentucky Derby and Preakness)  
Scroll Down For All 2017 Kentucky Derby Odds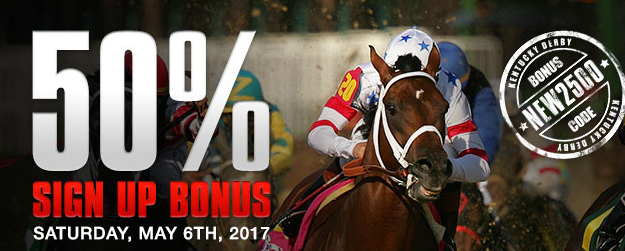 KENTUCKY DERBY FUTURES - May 06 
Odds to win Kentucky Derby 2017

88101

Looking at Lee

+1619

88102

Thunder Snow

+2560

88103

Fast and Accurate

+6050

88104

Untrapped

+3064

88105

Always Dreaming

+550

88106

State of Honor

+6050

88107

Girvin

+2042

88108

Hence

+1615

88109

Irap

+3269

88110

Gunnevera

+825

88111

Battle of Midway

+3020

88112

Soneteer

+3269

88113

J Boys Echo

+2056

88114

Classic Empire

+565

88115

McCracken

+705

88116

Tapwrit

+1571

88117

Irish War Cry

+785

88118

Gormley

+2560

88119

Practical Joke

+1973

88120

Patch

+3572
Kentucky Derby 2017 - To Finish Last

88021

Lookin at Lee

+3550

88022

Thunder Snow

+1615

88023

Fast and Accurate

+525

88024

Untrapped

+1415

88025

Always Dreaming

+2550

88026

State of Honor

+725

88027

Girvin

+1615

88028

Hence

+2550

88029

Irap

+705

88030

Gunnevera

+3050

88031

Battle of Midway

+1215

88032

Sonneteer

+1815

88033

J Boys Echo

+1615

88034

Classic Empire

+2550

88035

McCracken

+2550

88036

Tapwrit

+1615

88037

Irish War Cry

+2550

88038

Gormley

+1015

88039

Practical Joke

+1215

88040

Patch

+1015
Kentucky Derby 2017 - Top 3 Finish

88041

Looking at Lee

+543

88042

Thunder Snow

+736

88043

Fast and Accurate

+1529

88044

Untrapped

+887

88045

Always Dreaming

+167

88046

State of Honor

+1529

88047

Girvin

+480

88048

Hence

+437

88049

Irap

+887

88050

Gunnevera

+292

88051

Battle of Midway

+647

88052

Sonneteer

+757

88053

J Boys Echo

+428

88054

Classic Empire

+130

88055

McCracken

+210

88056

Tapwrit

+587

88057

Irish War Cry

+231

88058

Gormley

+736

88059

Practical Joke

+432

88060

Patch

+1077
Kentucky Derby 2017 Prop Bets
Saturday, May 06, 2017

91-Will horse win 2 or more Triple Crown races?

04:15 PM

901

YES

 

+100

 

902

NO

 

-130

 

92-Will there be a Triple Crown winner in 2017?

04:15 PM

903

YES

 

+750

 

904

NO

 

-1040

 

93-Will Irish War Cry finish at least second?

04:15 PM

905

YES

 

+240

 

906

NO

 

-310

 

94-Will McCraken hit the board?

04:15 PM

907

YES

 

+170

 

908

NO

 

-220

 

95-Will KY Derby Winner be Even or Odd Number?

04:15 PM

909

EVEN

 

+130

 

910

ODD

 

-165

 

96-Kentucky Derby Margin of Victory:

04:15 PM

911

GREATER THAN 1 1/2 LENGTHS

 

-125

 

912

LESS THAN OR EQUAL TO 1 1/2 LENGTHS

 

-105

 

97-$2 KY Derby Win Mutuel Payoff:

04:15 PM

913

GREATER THAN $19.80

 

-125

 

914

LESS THAN OR EQUAL TO $19.80

 

-105

 

- Don Shapiro, Gambling911.com