Odds of California Chrome Winning the Triple Crown Now Pay Out $210
Published on:
May/17/2014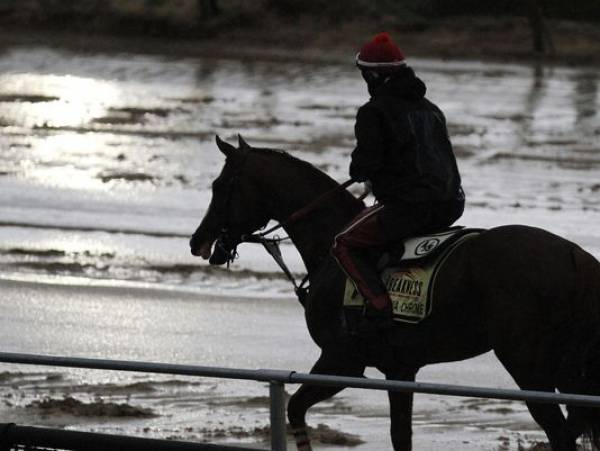 Some books had begun to offer odds of California Chrome winning the Triple Crown at +150, paying $15 for every $10 bet.  AceSportsbook.com has risen the bar somewhat, offering a $21 payout on every $10 bet.
>
It's interesting to note that the odds of a Triple Crown occurring in 2014 were initially set at 10-1 prior to California Chrome wowing us all at the Kentucky Derby two weeks ago.  A horse hasn't won the Triple Crown in over three decades. Since 1911, there have only been 11 Triple Crown winners. The last was Affirmed in 1978.
California Chrome doesn't have a whole lot of competition at this weekend's Preakness Stakes, at least not on paper.  Social Inclusion is widely seen as the only contender that can actually match up.
"We all hold our breath and say Please come out of that gate good," said California Chrome trainer Art Sherman. "And every time he has, he's run big races and won."
Most experts believe that a flubbed start means "gonners" for California Chrome, though that's probably the only thing that will prevent him from winning this race.
"I think if he runs his race, we're all in trouble," said Terry Finley.  He is president of the West Point Thoroughbreds syndicate that owns Ring Weekend.  "You put together his races in California and the one in Kentucky. But how many horses have we just given them the black-eyed susans to before they run?"
30% at 3X roll

60% at 6X roll

90% at 9X roll

120% at 12X roll

40% at 4X roll

70% at 7X roll

100% at 10X roll

130% at 13X roll

50% at 5X roll

80% at 8X roll

110% at 11X roll

140% at 14X roll

150% at 15X roll

200% at 20X roll
PREAKNESS STAKES (MATCHUPS) - May 17

139TH PREAKNESS STAKES - SATURDAY, MAY 17TH

@ PIMLICO RACE TRACK - BALTIMORE, MD

 

May 17

3701

DYNAMIC IMPACT

-120

 
 
 

6:15 PM

3702

BAYERN

EV

 
 
 

May 17

3703

DYNAMIC IMPACT

+130

 
 
 

6:15 PM

3704

SOCIAL INCLUSION

-150

 
 
 

May 17

3705

DYNAMIC IMPACT

+120

 
 
 

6:15 PM

3706

RIDE ON CURLIN

-140

 
 
 

May 17

3707

GENERAL A ROD

-185

 
 
 

6:15 PM

3708

RING WEEKEND

+165

 
 
 

May 17

3709

GENERAL A ROD

-200

 
 
 

6:15 PM

3710

RIA ANTONIA

+180

 
 
 

May 17

3711

GENERAL A ROD

+105

 
 
 

6:15 PM

3712

KID CRUZ

-125

 
 
 

May 17

3713

GENERAL A ROD

-185

 
 
- Dan Shapiro, Gambling911.com