Frosted Odds to Win the Kentucky Derby 2015
Published on:
Apr/29/2015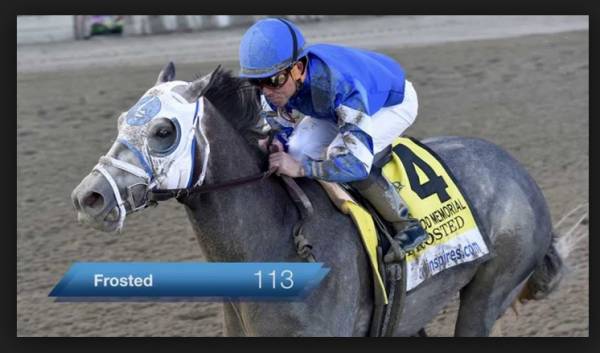 Wood Memorial winner Frosted odds to win the Kentucky Derby Saturday were set at 10-1.
His final Kentucky Derby drills were recorded at five furlongs in 1:01.10, almost identical to last Thursday's workout.
"We had a great racetrack today," trainer Kiaran McLaughlin said of Frosted. "We wanted to see a maintenance work, and we're all systems go. He worked great – went in 1:01 – and it was very similar to last week. We're very happy with it."
"We didn't want to see any changes, and we're just happy to keep seeing the same, seeing him work well and within himself," he added. "He's gone perfect."
Frosted's other accomplishments included a 2nd place finish at Gulfstream's Holy Bull (G2) and a 4th place finish at Fountain of Youth (G2).
Scroll down for early odds...
HORSES FUTURES - Apr 28

04/28/2015 08:00:01

 

ODDS TO WIN THE KENTUCKY OAKS 2015 - ALL IN

 
 

88701

ANGELA RENEE

+1300

 

88702

BIRDATTHEWIRE

+800

 

88703

CALLBACK

+2000

 

88704

CONDO COMMANDO

+400

 

88705

CRISTINA'S JOURNEY

+5500

 

88706

EKATI'S PHAETON

+5500

 

88707

ESKENFORMONEY

+1300

 

88708

FANTASTIC STYLE

+5500

 

88709

FEATHERED

+3500

 

88710

FOREVER UNBRIDLED

+1500

 

88711

I'M A CHATTERBOX

+275

 

88712

LADY TAPIT

+5000

 

88713

LIGHT THE CITY

+6500

 

88714

LOVELY MARIA

+600

 

88715

LUMINANCE

+1000

 

88716

MAJESTIC PRESENCE

+5500

 

88717

OCEANWAVE

+1800

 

88718

PAULASSILVERLINING

+2500

 

88719

PERCHANCE

+2500

 

88720

PUCA

+1200

 

88721

SARAH SIS

+2500

 

88722

SENSITIVELY

+2500

 

88723

SHOOK UP

+1500

 

88724

STELLAR WIND

+300

 

88725

SWEET CORINE

+3000

 

88727

WONDER GAL

 
 

88728

PEACE AND WAR

+5000

 

88729

WILD AT HEART

+2000

 

88730

LASSOFTHEMOHICANS

+3500

 

88731

WEST COAST BELLE

+4000

 

88732

GLORY

+5000

 

88733

ACHIEVER'S LEGACY

+2500

 

88734

INCLUDE BETTY

+1800

HORSES FUTURES - Apr 29

04/29/2015 14:00:00

 

ODDS TO WIN THE KENTUCKY DERBY 2015 - ALL IN

 
 

88501

AMERICAN PHAROAH

+150

 

88502

BLOFELD

 
 

88503

CALCULATOR

 
 

88504

CARPE DIEM

+400

 

88505

CLASSY CLASS

 
 

88507

DAREDEVIL

 
 

88508

DORTMUND

+300

 

88509

EAGLE

 
 

88510

EL KABEIR

+3000

 

88511

FROSTED

+1000

 

88514

INTERNATIONAL STAR

+2000

 

88515

KEEN ICE

 
 

88516

LEAVE THE LIGHT ON

 
 

88517

LORD NELSON

 
 

88518

LUCKY PLAYER

 
 

88519

MR. Z

+6500

 

88520

OCHO OCHO OCHO

+6500

 

88521

PUNCTUATE

 
 

88523

SOUPER COLOSSAL

 
 

88524

TEXAS RED

 
 

88525

THE GREAT WAR

 
 

88527

UPSTART

 
 

88528

BOLD CONQUEST

 
 

88529

TIZNOW R J

 
 

88530

FIRING LINE

+1000

 

88531

BLUEGRASS SINGER

 
 

88532

WAR STORY

+6500

 

88534

FAR RIGHT

+2500

 

88537

PROSPECT PARK

 
 

88539

MADEFROMLUCKY

 
 

88540

GORGEOUS BIRD

 
 

88541

ITSAKNOCKOUT

+5000

 

88546

BOLO

+4000

 

88547

DANZIG MOON

+2000

 

88551

THE TRUTH OR ELSE

 
 

88552

AMI'S FLATTER

 
 

88553

MATERIALITY

+800

 

88554

CONQUEST TYPHOON

 
 

88555

DUBAI SKY

 
 

88556

MUBTAAHIJ

+800

 

88557

STANFORD

+4500

 

88558

ONE LUCKY DANE

 
 

88559

TENCENDUR

+5500

 

88560

FRAMMENTO

+4500
- Don Shapiro, Gambling911.com