Far Right Odds to Win the Kentucky Derby
Published on:
Apr/30/2015
Far Right had 30-1 odds to win the 2015 Kentucky Derby.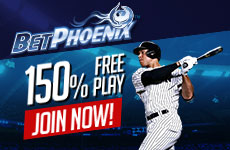 The Miami Herald provided a low down on Far Right.  There is a reason why he's a long shot.
Pros - Stout closer could get a piece of the pie if the pace is extremely quick. Has finished out of the money just once in nine lifetime starts. Consistent ridgling already has won at Churchill Downs
Cons - Ran once against a top colt (American Pharoah) and was blasted by eight lengths. Seems a cut below the higher echelon 3-year-olds. Sold for just $2.500 as a yearling.
His starting position at 20 hasn't produced a whole lot of winners.
"For us it is actually OK because our running style won't be affected," trainer Ron Moquett  said. "We'll let everybody do that voodoo that they do and we're just going to sit behind and watch them and come get them later."

TO WIN THE 2015 KENTUCKY DERBY

KENTUCKY DERBY 2015 (TO WIN) - Apr 30

 

Apr 30 - 6:15 PM

6001

TO WIN THE 2015 KENTUCKY DERBY

AMERICAN PHAROAH

+200

 

Apr 30 - 6:15 PM

6002

TO WIN THE 2015 KENTUCKY DERBY

CARPE DIEM

+400

 

Apr 30 - 6:15 PM

6003

TO WIN THE 2015 KENTUCKY DERBY

DORTMUND

+350

 

Apr 30 - 6:15 PM

6004

TO WIN THE 2015 KENTUCKY DERBY

MUBTAAHIJ

+750

 

Apr 30 - 6:15 PM

6005

TO WIN THE 2015 KENTUCKY DERBY

MATERIALITY

+850

 

Apr 30 - 6:15 PM

6006

TO WIN THE 2015 KENTUCKY DERBY

INTERNATIONAL STAR

+1300

 

Apr 30 - 6:15 PM

6007

TO WIN THE 2015 KENTUCKY DERBY

FIRING LINE

+1200

 

Apr 30 - 6:15 PM

6008

TO WIN THE 2015 KENTUCKY DERBY

UPSTART

+1300

 

Apr 30 - 6:15 PM

6009

TO WIN THE 2015 KENTUCKY DERBY

FAR RIGHT

+3000

 

Apr 30 - 6:15 PM

6010

TO WIN THE 2015 KENTUCKY DERBY

FROSTED

+1400

 

Apr 30 - 6:15 PM

6012

TO WIN THE 2015 KENTUCKY DERBY

EL KABEIR

+2400

 

Apr 30 - 6:15 PM

6013

TO WIN THE 2015 KENTUCKY DERBY

BOLO

+3000

 

Apr 30 - 6:15 PM

6014

TO WIN THE 2015 KENTUCKY DERBY

ITSAKNOCKOUT

+2500

 

Apr 30 - 6:15 PM

6015

TO WIN THE 2015 KENTUCKY DERBY

KEEN ICE

+3000

 

Apr 30 - 6:15 PM

6017

TO WIN THE 2015 KENTUCKY DERBY

DANZIG MOON

+3000

 

Apr 30 - 6:15 PM

6018

TO WIN THE 2015 KENTUCKY DERBY

WAR STORY

+3500

 

Apr 30 - 6:15 PM

6019

TO WIN THE 2015 KENTUCKY DERBY

MR Z

+5000

 

Apr 30 - 6:15 PM

6020

TO WIN THE 2015 KENTUCKY DERBY

STANFORD

+5500

 

Apr 30 - 6:15 PM

6023

TO WIN THE 2015 KENTUCKY DERBY

OCHO OCHO OCHO

+3500

 

Apr 30 - 6:15 PM

6024

TO WIN THE 2015 KENTUCKY DERBY

TENCENDUR

+6500

 
KENTUCKY DERBY PROPS

Lines From:04-29-2015 21:10:55

 

Cut Off

#

Description

Odds

KENTUCKY DERBY PROPS - Apr 30

Apr 30 - 6:15 PM

WILL A HORSE WIN THE 2015 TRIPLE CROWN

 
 

6501

YES

+750

 
 

6502

NO

-1000

Apr 30 - 6:15 PM

KENTUCKY DERBY - WINNING SADDLECLOTH NUMBER

 
 

9507

NUMBERS 1 -10

-115

 
 

9508

NUMBERS 11- 20

-115

Apr 30 - 6:15 PM

KENTUCKY DERBY - WINNING TIME

 
 

6507

OVER 2:02.50

+105

 
 

6508

UNDER 2:02.50

-135

Apr 30 - 6:15 PM

KENTUCKY DERBY - WINNING SADDLECLOTH NUMBER

 
 

6503

ODD

-115

 
 

6504

EVEN

-115

Apr 30 - 6:15 PM

KENTUCKY DERBY - WINNING HORSE NAME BEGINS WITH

 
 

6505

LETTERS A E I O U

+160

 
 

6506

ANY OTHER LETTER

-220

 
2015 TRIPLE CROWN WINNER

Lines From:04-29-2015 21:10:55

 

Cut Off

#

Description

Odds

2015 TRIPLE CROWN WINNER - Apr 30

ALL BETS ARE ACTION

Apr 30 - 6:15 PM

TO WIN THE 2015 TRIPLE CROWN BY A SPECIFIC HORSE

 
 

8001

AMERICAN PHAROAH

+850

 
 

8002

CARPE DIEM

+1550

 
 

8003

DORTMUND

+950

 
 

8004

EL KABEIR

+12500

 
 

8005

FAR RIGHT

+12500

 
 

8006

FIRING LINE

+6500

 
 

8007

FROSTED

+5000

 
 

8008

INTERNATIONAL STAR

+5000

 
 

8009

ITSAKNOCKOUT

+17500

 
 

8010

KEEN ICE

+17500

 
 

8011

MADEFROMLUCKY

+17500

 
 

8012

MATERIALITY

+5500

 
 

8013

MUBTAAHIJ

+3500

 
 

8014

UPSTART

+5000

 
 

8015

WAR STORY

+17500

 
 
 
 
 
 
 
- Mary Montgomery, Gambling911.com