Christie Approves American Palio Horse Racing on the Beach in Atlantic City
Published on:
Sep/09/2013
Good news for those horse racing fans and bettors residing in the Garden State.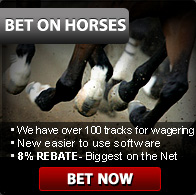 New Jersey Governor Chris Christie has just approved a measure that would allow horse racing to be hosted on the beach of Atlantic City.
The bill (A-4149) would enable Atlantic City to host the American Palio Celebration, a series of horse races conducted on the beach in Atlantic City on Friday, Oct. 11 and Sunday, Oct 13.  This move was likely to help in further boosting the casino resort town's struggling economy.  Atlantic City has already been approved to host online gambling firms operating in the state.  
The event is being imported from Siena, Italy, where it has been run for the past 700 years.  The American version will have horses competing in the American classic distance of three-quarters of a mile on the Atlantic City beach.  In Italy, the race is run around the town square.
"This has all the making of a fun and great event, the type of which we've been trying to lure to Atlantic City to highlight it as a top-flight entertainment destination," said Burzichelli (D-Gloucester/Salem/Cumberland) in a press release. "This will attract horse fans, sports fans, families and those simply looking to see a unique event on the beach in the autumn. Changing state law to allow for this great promotion is the least we can do as we continue striving to make Atlantic City a great place to visit and spend time."
- Gilbert Horowitz, Gambling911.com