Betting on the Travers Stakes 2011 has been quite substantial with plenty of traffic coming to the Gambling911.com website in search of the latest odds.
Those odds were as follows but subject to change:
Coil and Stay Thirsty were dead heat favorites at 3/1, though odds varied between race books, both in the US and in Europe.  TwinSpires.com legally operates inside the US, is owned by Churchill Downs and takes bets from US citizens (plus get a FREE $100 cash).
Bob Balfert believes his horse Coil has a shot at beating both the Belmont Stakes winner (Ruler On Ice) and the Preakness Stakes winner (Shackleford). 
 
Bet From Your Mobile Phones at TwinSpires.com Here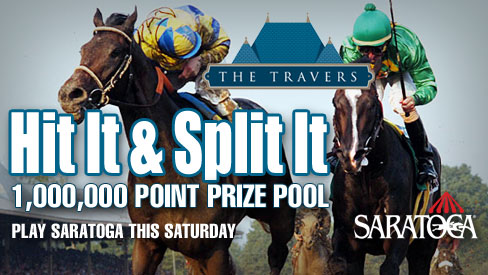 "I think he's going to get better as he gets older," Baffert saidof the Haskell Invitational winner. 
"Point Given had more of a foundation where this horse really doesn't have the foundation," Baffert said following Coil's final prerace workout earlier in the week. "He's doing things right now because of raw talent. He's fast, he's rateable and you can shut him off, which is good. So it's not like he's one dimensional. His daddy won it and I don't know why he can't."
Ruler On Ice had odds anywhere from 7/1 to 10/1.
Other betting odds for the Travers Stakes 2011 had Raison dEtat at 8/1 to 11/1.
Rattlesnake Bridge was at 10/1 to 12/1 depending on the book.
Bowmans Causeway was listed with betting odds of 16/1.
Moonshine Mullin was at 16/1 to 20/1 odds.
JW Blue was at 33/1 odds.
Malibu Glow was also at 33/1 odds.
Open an Online Betting Account Today to Watch the Travers Stakes and Other Horse Races Live on Your Computer Here
The biggest name among the Travers Stakes contenders is not even racing in the big one.  Uncle Mo (13/8 odds) is getting the most attention but he's back in the barn when Stay Thirsty, Coil and the rest will be running.  Uncle Mo is set to participate in the $250,000 King's Bishop race.
Uncle Mo, however, is the marquee name here even though he will be back in the barn when the wannabe Big Horses take the gate for the 142nd running of the $1 million Travers Stakes on Saturday. Uncle Mo is competing in the race before the Travers, the $250,000 King's Bishop, a seven-furlong sprint.
- Dan Shapiro, Gambling911.com