American Pharoah Preakness Competition – What Are His Chances of Winning
Published on:
May/10/2015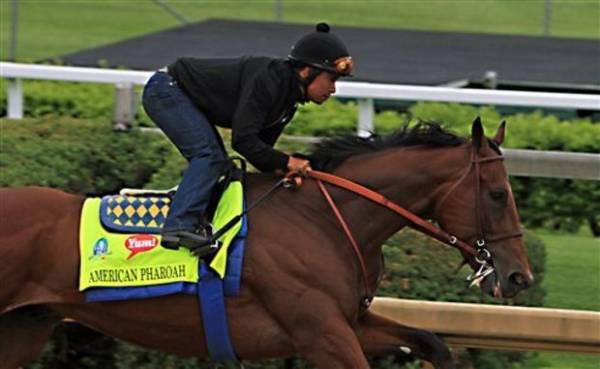 As long as Dortmund and Firing Line are slated to run this year's Preakness Stakes, American Pharoah will have some serious competition.  But his chances of winning were still quite good with oddsmakers listing American Pharoah at -140 for a payout potential of $14 for every $10 bet.
American Pharoah trainer Bob Baffert has an untarnished record when it comes to winning the Preakness Stakes following a Kentucky Derby victory.  He's 3-1 when it comes to Derby-Preakness wins, though Baffert has had to wait more than ten years in hopes of going 4-0.
Silver Charm in 1997, Real Quiet in 1998 and War Emblem in 2002 each rewarded the successful trainer with the double victories.  
"To me, the Preakness is the easiest of the three legs," Baffert said this week, a few days after American Pharoah's hard-fought, one-length Derby victory over Firing Line. "The Derby is the hardest. Once you get through there, you know your horses are in top form. It's a two-week turnaround. It's just a matter of getting there."
American Pharoah's stiffest competition may very well be another Baffert-trained horse, Dortmund (5/1 odds).
He has no qualms about the possibility his own horse could end his Derby winner's chance to go for the Triple Crown.
"I think he deserves another chance," the trainer said, adding that Dortmund might like the shorter Preakness distance (a 16th-of-a-mile shorter). "In my barn, everyone gets an equal shot."
Kentucky Derby 2nd place finisher Firing Line also poses a threat to American Pharoah.
"He's showing us positive vibes since the race," Firing Line's trainer Simon Callaghan said. "He's a horse that just takes these races in stride. I think we have a really good chance of turning the tables."
All early odds to win the Preakness Stakes appear below.  The race is typically the 2nd most trafficked only after the Kentucky Derby at Gambling911.com. 
06:00 PM

801

American Pharoah

 

-140

 

802

Bodhisattva

 

+6000

 

803

Carpe Diem

 

+1500

 

805

Danzig Moon

 

+1500

 

806

Divining Rod

 

+2200

 

807

Dortmund

 

+475

 

808

Firing Line

 

+425

 

809

Materiality

 

+900

 

811

Mr. Z

 

+5000

 
- Don Shapiro, Gambling911.com