Gambling911.com has your morning odds for Saturday's Wood Memorial with the Chad Brown-trained Risk Taking having enjoyed success at Aquadect and the 1 1/8 miles (dirt).  He's the morning favorite and offers a payout potential of $50 on every $20 bet. 
Weyburn has the second shortest odds at 9-2.
Prevalence comes in at 3-1.
The winner receives automatic entry into next month's Kentucky Derby.  The second place finisher is well positioned to gain entry as well.
Weyburn has already secured his spot in the Kentucky Derby with a victory four weeks ago at the Gotham, though he is likely to be absent from the first leg of the Triple Crown.
"We really weren't wanting to go that way unless he runs incredible in the Wood Memorial and then some of the others look like they're not going up to it the right way," said Weyburn's trainer, Jimmy Jerkens, who is looking to skip the Kentucky Derby in favor of the Belmont Stakes. "We're looking a little past there, to be honest with you. We didn't want to stay out of the Wood Memorial because it's right here, it's a month later, it's around two turns, get him some experience. We were pretty sure we wanted to do that instead of waiting for something else like the Peter Pan. But we haven't really looked to the Derby with a whole lot of seriousness, to be honest with you. But that could change."
Prevalence posted a half-mile breeze in :47 3/5 at Palm Meadows Training Center in South Florida for his final work on March 28 ahead of Saturday's Wood Memorial.
Trainer Brendan Walsh said he's been pleased with Prevalence's training.
"He worked here this morning at Palm Meadows and it went very well and he's flying up there on Wednesday," Walsh said. "It looks like he's going into the race in good shape. It's another step now, so we'll find out if he can go the two turns as well. This will answer our questions and be a good test for him."
Crowded Trade also has decent odds and a nice payout of $40 for every $10 bet.  But he's Brown's "other" horse.
Brooklyn Strong captured his first track-and-distance Remsen (G2) in December but has encountered various setbacks along the way.
The Wood Memorial's top four finishers will earn Kentucky Derby qualifying points of 100-40-20-10, respectively.
Date: Saturday, April 3, 2021
Where: Aqueduct Racetrack, Queens, NY
Post Time: 5:40 pm ET
Distance: 1 1/8 miles (dirt)
Kentucky Derby Points: 100-40-20-10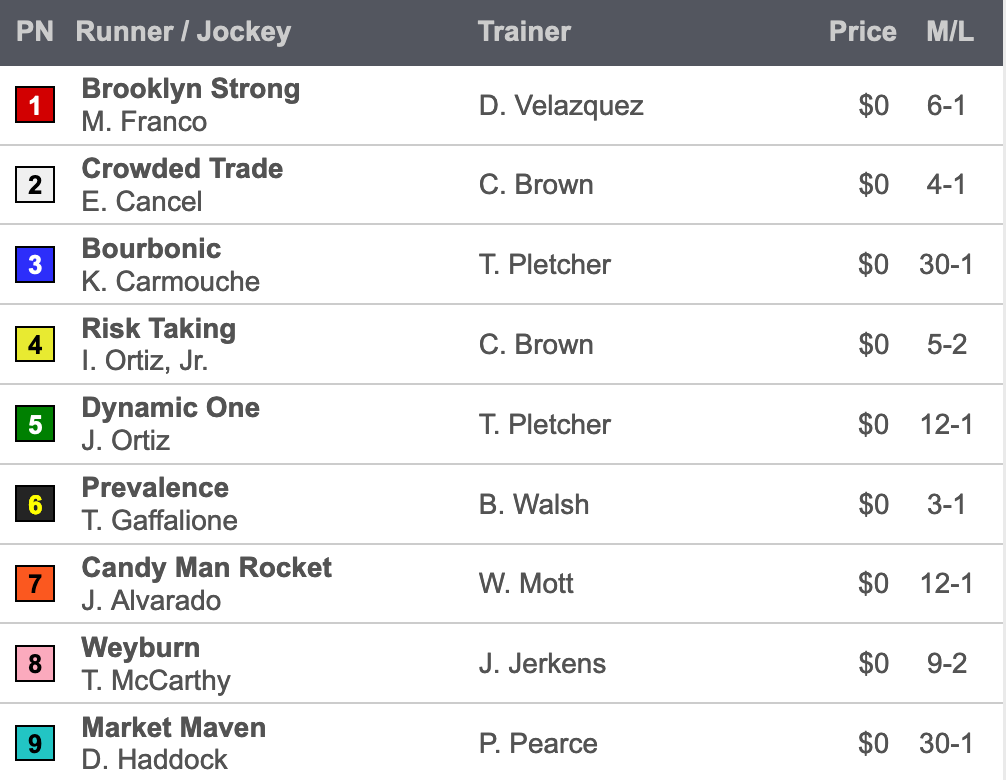 - Don Shapiro, Gambling911.com