2011 Preakness Stakes Contenders
Published on:
May/17/2011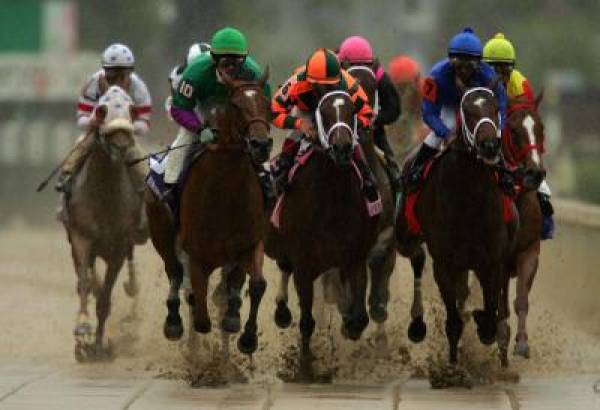 Sportsbook.com has provided us with an amazing 2011 Preakness Stakes contenders, all their breakdowns, and the potential payouts.  Be sure to check out Sportsbook.com's latest Preakness Stakes odds here. 
Saturday, May 21
Pimlico Race Course – Balitmore, MD
ANIMAL KINGDOM
OWNER: Team Valor International
TRAINER: H. Graham Motion
JOCKEY: John Velazquez
RECORD: 5-3-2-0
Sportsbook.com Odds: 5-2
UPSIDE
Animal Kingdom ran over his rivals at Churchill Downs after racing many lengths behind the slowest Derby pace in a quarter-century. With Flashpoint, Dance City and others expected to start, the Preakness pace is likely to be much quicker. Such front-runners as Shackleford should be coming back more quickly, which will help mitigate the shorter stretch run at Pimlico. Not that a short stretch beats Animal Kingdom. At Turfway, where the stretch run is brief, Animal Kingdom had taken the lead more than a furlong from the finish of the Spiral. He looks like a horse with a ton of stamina who is a real athlete.
DOWNSIDE
Animal Kingdom started at Churchill after a six-week break and made only one other start in 2011, and now has only 13 days to bounce back from one the most testing races of the season. Given his limited racing foundation, skeptics might wonder if his Derby effort will lead to a bounce.
BOTTOM LINE
While double-digit Derby odds have evaporated, he may still offer value at 4-1 or even 7-2, but not at 3-1 or 5-2. The word "fluke" is certain to be employed.
NEHRO
OWNER: Zayat Stables, LLC
TRAINER: Steven Asmussen
JOCKEY: Corey Nakatani
RECORD: 6-1-3-0
Odds: 5-1
UPSIDE
He ran well in the Kentucky Derby, finishing second to Animal Kingdom. He was closer early on than many expected, and he made a nice middle move on the turn and continued well to the wire, gamely holding off a closing Mucho Macho Man to save the place. Nehro's strong late run in the Arkansas Derby was visually impressive, and it verified his solid effort in the Louisiana Derby, where he put himself on the map with a second-place finish. Nehro is likely to get a quick pace in the Preakness and should be picking off horses late if given a clean trip.
DOWNSIDE
He still has only a maiden win to his credit. He did well to finish second in the Kentucky Derby, but he had no real excuse not to beat Animal Kingdom, and he of course meets that rival again in the Preakness. Eligible for a first-level allowance, he has never beaten a stakes-quality field.
BOTTOM LINE
No better than second choice behind Animal Kingdom, and that's no real bargain, considering he has never beaten winners. He is obviously capable of again cracking the exacta, but the price may be light.
DIALED IN
OWNER: Robert V. LaPenta
TRAINER: Nicholas Zito
JOCKEY: Julien Leparoux
RECORD: 5-3-1-0
Odds: 6-1
UPSIDE
Dialed In was consistent, with three wins and a close second from his first four races. He was last early behind a slow pace in the Kentucky Derby, and gained 9 1/2 lengths while finishing eighth of 19. That wasn't the race his supporters were hoping to see from him as the mild 5-1 favorite, but it wasn't a terrible performance either, considering the disadvantageous pace scenario, and the ground loss a closer is likely to experience in a 19-horse field. He should be more effective if he encounters faster fractions in the Preakness.
DOWNSIDE
Dialed In enjoyed the benefit of a lively pace to chase in all three of his wins—his good performances in those races should have been discounted a bit. He disappointed as the 1-5 favorite in the race in which he finished second, unable to overcome a slow pace despite being the heavy favorite in a soft field. An unexpected defeat is always cause for concern, especially when the probable reason for it has the potential to occur again. That weakness was exposed a second time in the Kentucky Derby.
BOTTOM LINE
His eighth-place finish in the Kentucky Derby, and the introduction of a number of new contenders in the Preakness, might combine to make his odds somewhere around the same 5-1 price in this smaller field. Factor in the chance of a faster pace, and his supporters should consider that to be a reasonable price.
MUCHO MACHO MAN
OWNER: Reeves Thoroughbred Racing
TRAINER: Katherine Ritvo
JOCKEY: Rajiv Maragh
RECORD: 8-2-3-2
Odds: 6-1
UPSIDE
Although he was not in the same class as Animal Kingdom in the Kentucky Derby, Mucho Macho Man was definitely getting to runner-up Nehro at the finish line. The signs of late-stretch life he showed at Churchill Downs feel like a positive sign going forward, and his race pattern suggests a horse who is not all that likely to regress on a short turnaround. He is a very late foal who still has not reached the third anniversary of his birth. Long and tall, he may be a horse who continues improving through the summer.
DOWNSIDE
One potential takeaway from the Kentucky Derby is that Mucho Macho Man may just not be good enough to beat Animal Kingdom. And while he is a June foal, he has gotten in more starts than most—if not all—of the Preakness field. His strengths and limitations, therefore, may be more exposed than a horse like Animal Kingdom, who has gotten fewer racing opportunities.
BOTTOM LINE
Mucho Macho Man might be overlooked in the Preakness. His supporters could end up finding their horse at a bargain price, perhaps in the 10-1 range.
SHACKLEFORD
OWNER: Michael Lauffer and Bill Cubbedge
TRAINER: Dale Romans
JOCKEY: Jesus Castanon
RECORD: 6-2-1-0
Odds: 8-1
UPSIDE
Shackleford led a pack of 19 horses from the start until inside the eighth pole in the Kentucky Derby—more than 90 percent of the race—before tiring late to be fourth. That followed another fine front-running effort, albeit another losing one, when he set taxing fractions in the Florida Derby before being caught on the wire by Dialed In, the eventual Kentucky Derby favorite. He is hitting his peak, and his progress hasn't been so dramatic that a bounce would seem probable.
DOWNSIDE
With more speed in the Preakness, he is going to have to set or press quicker fractions, and, given his racing history, there is no taking back. All of his best races have come when he has either been on the lead or within a half-length of the leader.<br>
BOTTOM LINE
He closed at 23-1 in the 19-horse Derby, and his odds will probably be half that in the Preakness. As long as Derby winner Animal Kingdom gets hammered at the betting windows, Shackleford could represent value.
ASTROLOGY
OWNER: Stonestreet Stables and George Bolton
TRAINER: Steven Asmussen
JOCKEY: Mike Smith
RECORD: 7-3-2-2
Odds: 15-1
UPSIDE
Classy and consistent, Astrology has never been out of the money in seven career starts at five tracks at five distances. Though he had sufficient earnings to make the Kentucky Derby field, his connections felt he wasn't ready for the race and decided to use the Jerome as a bridge to the Preakness. In the Jerome, Astrology was close up in third down the backstretch, lost ground on the turn, and finished well enough to edge stablemate
Justin Phillip for second.
DOWNSIDE
Sent to Southern California for the winter, Astrology got sick upon his arrival and was set back for about a month. Along with prospective starters Flashpoint, Mr. Commons and Sway Away, he is among four Preakness hopefuls yet to win beyond a mile. He was outfinished at odds-on in the 1 1/16-mile Kentucky Jockey Club and made the lead in the stretch of the 1 1/8-mile Sunland Park Derby before being run down by Twice the Appeal, who was subsequently a distant 10th in the Kentucky Derby.
BOTTOM LINE
After being favored in all five starts as a 2-year-old and going off in the 5-2 neighborhood in both of his starts this year, his price will be considerably higher in the Preakness. Anything better than a 15-1 price makes a wager worth considering.<P>
DANCE CITY
OWNER: Estate of Edward P. Evans
TRAINER: Todd A. Pletcher
JOCKEY: Ramon Dominguez
RECORD: 4-2-1-1
Odds: 15-1
UPSIDE
This lightly raced Virginia-bred showed that he can handle an off track when he graduated over a sloppy/sealed strip at Gulfstream. Then, he took his show on the road to Oaklawn, where he was a prominent third in the Grade 1 Arkansas Derby, from which Nehro exited to finish second in the Kentucky Derby. His only other loss came when he ran second to future Wood Memorial runner-up Arthur's Tale in his debut.
DOWNSIDE
He has done all of his running on or near the front end, and there should be a lively pace in the Preakness, something that may soften him up. He has yet to win a stakes and is eligible for a second-level allowance. His accomplished trainer has won a Kentucky Derby and a Belmont, but not a Preakness.
BOTTOM LINE
Bettors shouldn't accept anything less than 15-1 on him, unless some of the other speed doesn't show up. Among those who are expected to run in the first flight, he might be the most likely to be in contention at the finish, so he should be used underneath in the trifecta and superfecta.
MIDNIGHT INTERLUDE
OWNER: Arnold Zetcher
TRAINER: Bob Baffert
JOCKEY: Martin Garcia
RECORD: 5-2-1-1
Odds: 15-1
UPSIDE
Midnight Interlude hails from one of the hottest stables in the nation. Trainer Bob Baffert entered the middle of May second in earnings ($5.2 million), thanks to an outstanding 30 percent win rate and 12 graded stakes from 10 horses, including Kentucky Oaks winner Plum Pretty. As for lightly raced (five starts) Midnight Interlude, his conspicuous upward pattern came to a screeching halt when he finished 16th in the Kentucky Derby. If that race somehow can be discounted, he fits on figures.
DOWNSIDE
Midnight Interlude apparently was exposed when he finished in front of only three others in the Kentucky Derby. His Santa Anita Derby victory falls short under scrutiny. He was fully extended to win that slow-paced race, which was run without favorites Premier Pegasus and Jaycito. Midnight Interlude has yet to prove he can cope with legitimate fractions, which he is likely to face in the Preakness. The bottom line is that Midnight Interlude is not good enough, at least not yet.
BOTTOM LINE
A case might be made that Midnight Interlude is worth backing at 20-1 or higher purely on the hot-trainer angle. After all, Baffert won the Preakness a year ago with Lookin At Lucky, who also was off the board in the Derby.
FLASHPOINT
OWNER: Peachtree Stable
TRAINER: Richard Dutrow, Jr.
JOCKEY: Cornelio Velasquez
RECORD: 3-2-0-0
Odds: 20-1
UPSIDE
His Hutcheson victory over the winter at Gulfstream ranks as one of the top efforts by a 3-year-old this year. Making the second start of his career, Flashpoint hounded favored Travelin Man on the lead, ran that one into defeat, and pulled away to score by 7 1/4 lengths in fast time. He enters the Preakness as a fresh horse, not having raced since April 3.
DOWNSIDE
He lost by eight lengths to Dialed In in the Florida Derby. He is also by a sprinter in Pomeroy and out of Two Punch Lil, a Two Punch mare whose best distance was six furlongs. Those bloodlines suggest his lungs could be on fire in the late stages of the 1 3/16-mile Preakness. He also has a new trainer for the Preakness, with Wesley Ward replacing Rick Dutrow, who is dealing with licensing issues in Kentucky and New York—it's a tough task for anyone to start a horse for the first time in a race as demanding as the Preakness.
BOTTOM LINE
Those with faith will be offered a price, given the presence of other Preakness speed, the inexperience of Flashpoint and a shortage of stamina in his pedigree. But it's hard to consider this horse a bargain, even at 20-1.
KING CONGIE
OWNER: West Point Thoroughbreds
TRAINER: Thomas Albertrani
JOCKEY: Robby Albarado
RECORD: 6-2-0-2
Odds: 20-1
UPSIDE
King Congie crossed the wire first in three consecutive races, including two stakes, but was disqualified and placed third in the Hallandale Beach two starts ago. He lost a three-horse photo by a head last time, in the Grade 1 Blue Grass. If he is asked to do so, he can stay within comfortable striking distance of the leaders, but he can also be effective as a deep closer, as he was in the Blue Grass.
DOWNSIDE
It is a concern that he finished eighth on dirt at Saratoga in his debut, and that he was a well-beaten fourth on dirt at Belmont in his second start. But 14 1/4 of the 20 1/2 lengths he lost by at Saratoga belonged to Uncle Mo, in his maiden win. And he missed second behind Fort Hughes by only 5 1/2 lengths second time out. Dirt may not be his preferred surface.
BOTTOM LINE
Although he is a talented, improving horse, bettors will probably be very sensitive to the fact that his early dirt form was much less impressive than his subsequent turf and Polytrack form. If you believe he deserves the benefit of the doubt, you'll be getting the right price around 20-1.
MR. COMMONS
OWNER: St. George Farm Racing LLC
TRAINER: John Shirreffs
JOCKEY: Victor Espinoza
RECORD: 4-2-0-1
Odds: 20-1
UPSIDE
The pressing style of Mr. Commons generally leads to a comfortable trip. He improved rapidly this winter in California and continued his improving pattern by finishing third against a watered-down field in the Santa Anita Derby. He should be positioned within striking range of the pacesetters and in front of the deep closers. Having skipped the Kentucky Derby, Mr. Commons will arrive in Baltimore fresh and ready for his first start in six weeks. John Shirreffs's record with longshot 3-year-olds in Grade 1's suggests he should not be taken lightly: Giacomo ($102.60) won the 2005 Kentucky Derby and Tiago ($60.60) won the 2007 Santa Anita Derby.
DOWNSIDE
It is doubtful Mr. Commons is good enough to compete with the nation's top main-track 3-year-olds. Neither start he made on dirt this winter indicates otherwise. His narrow win Feb. 26 in a slow-early/fast-late allowance was over an undistinguished field; the Santa Anita Derby was exposed when one-two finishers Midnight Interlude and Comma to the Top returned to finish 16th and 19th in the Kentucky Derby. Mr. Commons is best-suited for grass. His turf pedigree—by Breeders' Cup Mile winner Artie Schiller—and slow-early/fast-late running style suggest his future will be on something other than dirt.
BOTTOM LINE
Anything lower than 25-1 would be an underlay; anything higher might tempt bettors on the trainer angle. Based on traditional handicapping, however, Mr. Commons is not good enough to win the Preakness at any price.
SWAY AWAY
OWNER: Batman Stable
TRAINER: Jeff Bonde
JOCKEY: Garrett Gomez
RECORD: 5-1-2-0
Odds: 20-1
UPSIDE
Sway Away was entered in the Kentucky Derby but excluded on graded earnings, and as a result is a fresh horse coming into the Preakness. He last raced in the Arkansas Derby, and showed improved speed in what was his first start in blinkers. He  shows some strong recent works and will go Saturday for a hot barn, as Jeff Bonde has compiled a 5-for-13 record in graded stakes since Jan. 1.
DOWNSIDE
Sway Away's biggest question mark might be distance, as he has never won beyond five furlongs. In the 1 1/8-mile Arkansas Derby, he took the lead into the stretch after advancing four wide on the final turn, but was overtaken by three rivals in the late stages. Sway Away also lacks racing experience, with just five starts.
BOTTOM LINE
Sway Away's price in the Preakness could be driven down some by the fact that he will be reuniting with jockey Garrett Gomez. If he goes off in the 20-1 range, he merits a saver win bet and must also be used in the exotics.
CONCEALED IDENTITY
OWNER: Linda Gaudet & Morris Bailey
TRAINER: Edmond Gaudet
JOCKEY: Sheldon Russell
RECORD: 8-4-0-0
Odds: 30-1
UPSIDE
He may well have turned the corner with the addition of more ground. He found stakes foes a bit too much to handle to start the year going six furlongs, seven furlongs, and a mile, but then came a drop and move to 1 1/16 miles at Pimlico and he flourished, winning smartly. They tossed him into the May 7 Federico Tesio, and he backed it up, winning impressively again. It doesn't hurt in the least that his sire, Smarty Jones, won the Preakness in dazzling fashion in 2004.
DOWNSIDE
He moves into uncharted waters class-wise. While the Tesio win was nice, now he's facing the Kentucky Derby winner and some other proven Grade 1 performers. He has also got some work to do, as he just hasn't run fast enough yet. He earned a Beyer Speed Figure of 86 for his Tesio win. While that's nice and represents a career-topper, Animal Kingdom just earned a 103 Beyer for his Kentucky Derby victory, and the average winning Beyer for the Preakness is 109.
BOTTOM LINE
With the Kentucky Derby winner, the Kentucky Derby third, and beaten favorite in the Kentucky Derby—as well as some well-fancied runners who did not go in the Derby—he figures to get pushed to the sidelines by players. Odds in the vicinity of 30-1 seem in prospect.
NORMAN ASBJORNSON
OWNER: Thomas G. McClay & Harry Nye
TRAINER: Chris Grove
JOCKEY: Julian Pimentel
RECORD: 7-2-1-0
Odds: 30-1
UPSIDE
Each race since his maiden victory last December has been faster than the one before, and he has managed this while taking some significant class jumps. Even if he was soundly beaten by Stay Thirsty, he was a very game second in the Gotham Stakes two starts back. In the process, he finished a length ahead of Toby's Corner, despite having to steady in deep stretch. Toby's Corner, of course, came right back to win the Wood Memorial, handing 2-year-old champion Uncle Mo the first defeat of his career.
DOWNSIDE
He has not yet won a stakes race of any sort and has yet to demonstrate he can be anything more than only moderately competitive with some of the better members of his generation. His most effective running style to date has been being on or right with the early lead in slow-paced routes. He will likely face a much stronger pace scenario in the Preakness, which suggests he will have to come from off the pace. He has not yet shown that he can sustain a closing rally.
BOTTOM LINE
He would have to manage an unforeseen major breakthrough to win, but he wouldn't be the worst bomber to throw in underneath in trifectas and supers if his odds stay around 30-1.
ISN'T HE PERFECT
OWNER: Kharag Stables
TRAINER: DoodnauthShivmangal
JOCKEY: Undecided
RECORD: 12-2-0-1
Odds: 50-1
UPSIDE
His fifth-place finishes in the Grade 1 Wood and Grade 2 Jerome show he is not completely out of his element in these tougher races; he was in the thick of things in mid-stretch in the Wood, running in second before weakening. His sire, Pleasantly Perfect, was a top-class router who won multiple Grade 1 races at 1 ¼ miles, including the Breeders' Cup Classic. His dam, Reciclada, was a Grade 2 route winner, meaning he should handle this longer trip.
DOWNSIDE
Improving Beyer Speed Figures are all well and good, but when you've peaked at 84 you're still a ways away from the type of performance it will take to win the Preakness. The average winning Beyer for the Preakness is around 109, so he will have to run a race he has yet to come close to. While he was not disgraced in the Wood and Jerome, he still hasn't won a stakes and now dives into even deeper water, facing the Kentucky Derby winner and other proven Grade 1 horses.
BOTTOM LINE
Stranger things have happened, but he has his work cut out for him, and it figures to be reflected in his odds. After all, he was 65-1 in the Wood and 39-1 in the Jerome, and this spot figures to be tougher. He is likely to be around 50-1.
SARATOGA RED
OWNER: Robert C. Baker & William L. Mack
TRAINER: D. Wayne Lukas
JOCKEY: Undecided
RECORD: 4-1-0-0
Odds: 50-1
UPSIDE
Saratoga Red has natural speed. His trainer, five-time Preakness winner D. Wayne Lukas, called him a "powerful but quick horse" after his debut win at Oaklawn in February. Saratoga Red was with the pace throughout the one-mile race and fought late to edge Zoebear, the eventual runner-up in the Illinois Derby. he effort earned Saratoga Red a shot in the Rebel, and he was the lone horse to go after front-running winner The Factor. Lukas in 2009 sent out Flying Private, who ran fourth in the Preakness at 25-1.
DOWNSIDE
He did not race as a 2-year-old and, with only four career starts, will give up experience to most of his rivals. He also has not yet won on a fast surface; his maiden score came over a wet track. Saratoga Red is also seeking his first win beyond a mile, although his sire had success at the 1 3/16- mile trip, taking the Pimlico Special and Gulfstream Park Handicap in 2005.
BOTTOM LINE
He will be one of the longer-priced horses in the Preakness, but he did win his maiden at 22-1. He also hails from a barn known for pulling its fair share of upsets in big races. While a win seems unlikely, he is a horse to use in some of the exotics.