Where Can I Bet Sports Near Houston?
Published on:
Mar/27/2021
Houston is nowhere near any retail sportsbook but have no fear, you can still wager over your smart phone or laptop via Jazz Sports.  They offer a generous welcome bonus (max bonus $1000) and are accessible from Texas. Your privacy is important at Jazz Sports.  They will never report your winnings.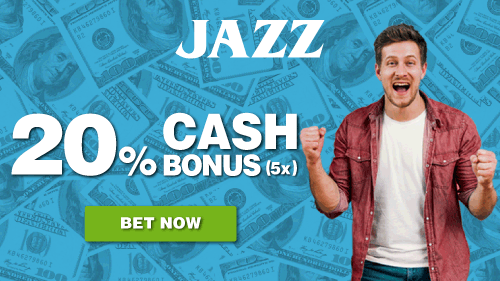 Texas Schools Well Represented in This Year's NCAA Tournament
When it comes to college sports, Texas is no longer just about football.
2021 saw the likes of Baylor and Houston make it to the Sweet 16.  Smaller upset-minded schools like Abilene Christian knocked out the giant, the Texas Longhorns. 
A total of seven schools made the NCAA Tournament.
Texas Tech, North Texas and Texas Southern rounded out the rest of the pack.
The Lone Star state has rich lineage when it comes to sports.  But state lawmakers have zero intention of regulating sportsbooks.
And the Cougars?
Quentin Grimes scored 22 points, Tramon Mark converted a soaring three-point play with 24 seconds left, and Houston beat Rutgers 63-60 on Sunday night to reach the Sweet 16.
Houston was ranked among the top ten best teams in the nation throughout much of the season but came dangerously close to losing against Rutgers.  The Scarlett Knights had lead throughout that game, until the final seconds of play.
Houston was promising a payout of $900 for every $100 bet to win the NCAA Men's Tournament Championship, the 4th shortest odds ahead of the Sweet 16.
- Mary Montgomery, Gambling911.com