Fallen Web Gambling Tycoon Turned 'Rat' Now Grows Hydroponic Herbs
Published on:
Jul/09/2017
Internet entrepreneur playboy turned informant and nearly brought down Internet gambling sector
Now 33-years-old Daniel Tzvetkoff now grows hydroponic herbs and vegetables.
"I've got no interest in getting back to that," he says of his past activities, which included bank fraud and money laundering
"I don't give a s*** about cars or houses anymore or anything like that," Mr Tzvetkoff says today.
Once jailed for bank fraud and money laundering charges in the United States, Australian Internet entrepreneur Daniel Tzvetkoff has one regret: He should have listened more to his parents.

Now 33-year-old, Tzvetkoff's life took a major u-turn on April 16, 2000 when the FBI and US immigration officers swooped at the upmarket Las Vegas casino Encore and charged him with the aforementioned offenses, which could have carried a maximum penalty of 75 years in jail.
Instead, Tzvetkoff opted to turn informant and nearly brought down a multi-million dollar online gambling industry.  Ultimately he served just six months in two US prisons.
Tzvetkoff created highly-profitable Brisbane-based internet payment processing company Intabill and was later deemed the mastermind of a $US540 million internet gambling, money laundering and bank fraud scheme.  He would go on to implicate others in the i-Gaming space, most notably in the lucrative world of Internet poker.
Today Tzvetkoff grows hydroponic herbs and vegetables to keep himself busy.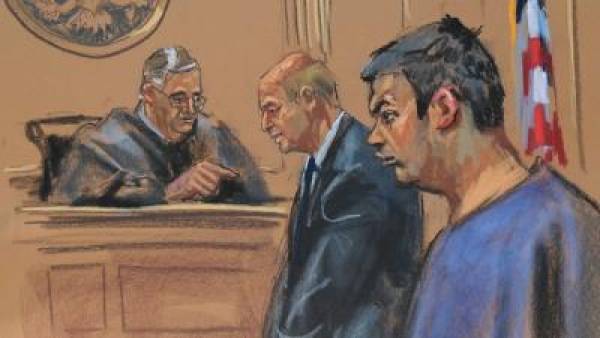 A courtroom rendering of Daniel Tzvetkoff as he appears before a sentencing judge
See: Tzvetkoff Shows Off His Growing Skills
"I've got no interest in getting back to that, " he said of his past activities. "I just want to have a sustainable business where I know there is some sort of income coming in to support my kids all the time and actually be going to be doing something I really enjoy each day."
Tzvetkoff at one point was rumored to be in the witness protection program.  He would eventually help authorities in their quest to charge one Chad Elie for nine offences that include conspiring to commit bank fraud and money laundering as well as John Campos, a 57-year-old former executive of the now defunct SunFirst Bank in St. George, Utah.  Both men were viewed by law enforcement as "bigger fish to fry".  Campos processed funds for online poker websites Full Tilt Poker, Absolute and PokerStars, each of which would later be named in sweeping US Justice Department complaints on April 15, 2011.  Principles running Full Tilt Poker had also been linked to an elaborate ponzi scheme.  In the year prior to its abrupt closure, Full Tilt Poker made just shy of a billion dollars, nearly none of which could be accounted for after it ceased operating. 
Alligator Blood
In James Leighton's book, "Alligator Blood", the early exploits of Tzvetkoff are well documented.
Daniel Tzvetkoff was just another Brisbane teenager working for peanuts at Pizza Hut and spending much of his spare time glued to his computer. When he worked out a new method of payment processing, the online poker companies came running to him for help so they could grow their businesses. Soon he was living the American dream, raking in $3 million a week and revelling in a jet-set lifestyle of fast cars, luxury yachts and VIP nightclubs. His epic rollercoaster ride mirrored the extraordinary world of online poker, where hot-shot college students won millions from the confines of their dorms, and fortunes were won and lost. However, Tzvetkoff's move to the bright lights of Las Vegas would soon see him facing the abyss. Owing millions to the poker companies, and with the FBI hot on his trail, the boy wonder needed to pull an ace from his sleeve to keep from busting out. And when he did, it resulted in a day that sent shockwaves through the world of online poker - and saw him take the blame.
A Changed Man?
While in prison, the Courier News writes that Tzvetkoff's  schoolteacher mum Julie had "probably aged 10 years" when he was on remand in jail because of the stress and sent him about 100 books to read.
"My parents, kids, get together at least one day a week for dinner," Mr Tzvetkoff said. "I talk to my dad and mum more than I ever have in my life now. It probably made me realise the ­importance of family more than anything.
"I've tried to make it up to them as much as I can," he said. "You probably can never make those things right."
Mr Tzvetkoff said he uses his dad as a "bouncing block" in and outside of the business.
"I've got a lot of respect for my Dad."
He has now launched a new business on Australia's Gold Coast called Stacked Farm.
"I don't give a s*** about cars or houses anymore or anything like that," Mr Tzvetkoff said.
"When you are young, to me, I judged how well somebody was doing by those things. Now I kind of prefer to be building something more than living a lavish lifestyle."
- Alejandro Botticelli, Gambling911.com