Casinos Coming to a City Near You, But Some More Open Than Others
Published on:
Nov/29/2022
Two of the three most populous U.S. cities are only now beginning to embrace retail casinos: New York and Chicago while LA, the country's second largest city, has been home to top casinos for years.
Many of Europe's top cities embrace casino gambling.  Casino Estoril in Lisbon Portugal, for example, is known for its James Bond-like persona. The venue was a hiding place for spies during WW2.  It's one of the oldest (established in 1916) and among the largest.
In Northern Europe, Casino Helsinki is a beloved Scandinavian casino located in Finland's largest city that is now celebrating over 30 years in operation. Finns love their poker, online casinos and their online casino bonukset (welcome bonuses). It's only fitting that this nation would be home to one of the most revered land-based casinos in all of Europe.
Casino Helsinki (pictured below) has close to 300 slot machines, over 20 gaming tables and a poker room.  More importantly, it is one of the few where all the profits go towards charity.
The United Kingdom has long maintained a liberal approach when it comes to gambling.  Not surprisingly, Casino at the Empire in London is one of the most popular draws of any casinos throughout Europe.
Resorts World is another biggie located in a major city.  It can be found in Birmingham, UK.
Of course, the granddaddy of them all is Casino de Monte Carlo in Monaco.  The city of Monte Carlo is more associated with casino establishments.
Casino gambling is big in the U.S. but lags when it comes to the major cities.
Rotten Apple
New York City's largest landlord stands in the way of the Big Apple's first land-based casino.
The Broadway League opposes a casino in a Times Square office building.
They don't get much more powerful than the League, which represents theatre owners and producers across the U.S.
"The Broadway League does not endorse a casino in Times Square," a statement reads. "The addition of a casino will overwhelm the already densely congested area and would jeopardize the entire neighborhood whose existence is dependent on the success of Broadway. Broadway is the key driver of tourism and risking its stability would be detrimental to the city."
If you read it in the New York Post, you'll probably be getting a negative perspective of the casino proposal.  The Post has previously published a hit piece opt-ed on these efforts to develop a casino in Times Square.
Here's an excerpt:
They're crime magnets, as predators of all kinds gather to prey on the reckless hordes. One academic study pegged casinos as responsible for 8% of crime in the counties that site them.
For right now, online casino games are available to those living in NYC.  They're just not part of the state-regulated Web gambling ecosystem, which currently consists exclusively of sports betting and horse racing.
But not all those in power disapprove of an NYC casino.
"The proposal from the developer for a Times Square Casino would be a game changer that boosts security and safety in the Times Square neighborhood with increased security staff, more sanitation equipment and new cameras," Performer and stage manager union Actors' Equity Association said in a statement. They are supporting the Caesar's Palace bid. . "We applaud the developer's commitment to make the neighborhood safer for arts workers and audience members alike."
Six separate entities are vying for a casino license in New York City.
Chicago More Accommodating
Bally's was approved to develop a casino in the Windy City.
Representatives for the city and Bally's Corporation will provide updates on the project as they become available.
In May 2022, Mayor Lori Lightfoot approved Bally's Corporation's bid to construct a casino complex that will be located in the city's River West neighborhood near the intersection of Chicago Avenue and Halsted Street.
We won't have to wait long to start playing.  Bally's plans a temporary casino in spring of 2023. 
Before the fantasy of a Downtown Chicago casino started to become reality, gambling was mostly prevelant on the many licensed riverboats existing in and around the Windy City.
Like in New York State, Illinois does not issue online casino licenses.  You can bet sports in Chicago, just not play state-provided online casino games.
Play Casino Games and Poker Near Downtown LA
Unlike New York and Illinois, LA does not offer online gambling of any kind from state-run websites.  This includes sports betting.
The popular Bicycle Casino is located just south of Los Angeles.  It is especially popular among poker players.  The Commerce is also well-patronized.
While the state's tribes mostly have a monopoly over gambling, cardrooms in and around LA are not necessarily run by the tribes.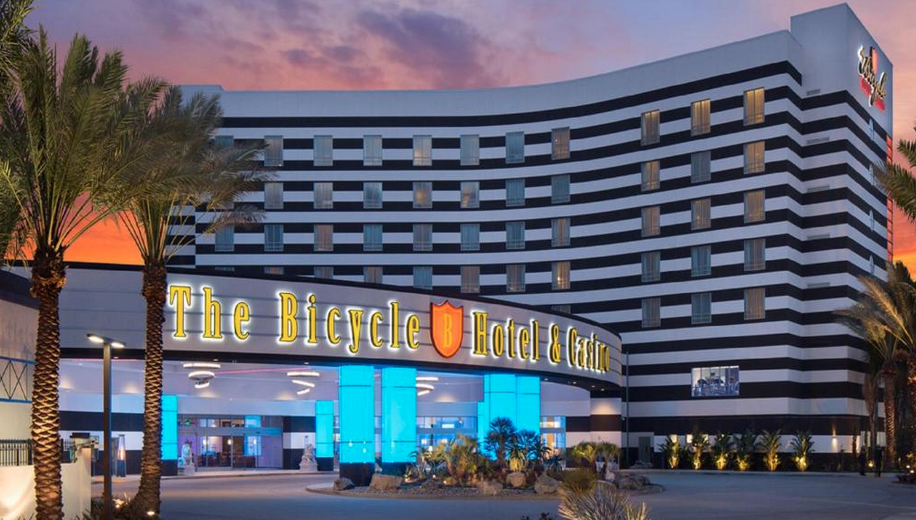 The Hollywood Park Casino in nearby Inglewood used to host a race track.  Games available here include Omaha hold 'em and Mexican Poker, which is is similar to 5-card stud.  The game utilizes a standard deck 'stripped' to 41 cards with numbers 8's, 9's and 10's removed while the Joker remains. Cards are dealt clockwise
The Hustler Casino is also highly regard despite the slightly sleazy image behind its brand.  The sleaze factor came to play a few weeks back when a streaming tournament hosted by the property resulted in accusations that one poker player used an illegal vibrator device to gain an unfair advantage.  Jade Lew won a wad of cash in that tournament, but gave it all back to a male opponent she claims threatened her.  Oh the drama!
Detroit Casinos Bring New Life to Once Dying Cities
For much of our adult lives, Detroit was a city in ruins.
While "Mischief Night" meant toilet paper dangling from trees in most cities and smaller towns, the night before Halloween became known as "Devil's Night" in places like Detroit throughout the 70's, 80's and 90's. Serious vandalism and arson were the name of the game here.
These days Detroit is starting to rise from the ashes.  Its casinos are a major draw, and that is supported by recent revenue numbers.
The three Detroit casinos reported $102.8 million in monthly aggregate revenue this October (2022). Table games and slots alone generated $100.7 million in revenue.
MGM Detroit, in particular, is comparable to a top Vegas casino.
- Aaron Goldstein, Gambling911.com