A California couple charged with holding their 13 children hostage under deplorable conditions face a litany of charges that include 12 counts of torture, seven counts of abuse of a dependent adult, six counts of child abuse, and 12 counts of false imprisonment.

Reports have now surfaced that 49-year-old Louise Turpin routinely drank alcohol, gambled heavily and engaged in sick sexual trysts, this after having apparently abstained from such activities for the first fourty years of her life.
Her sister and Brother, Teresa Robinette and Billy Lambert, spoke to the Daily Mail, claiming Louise had been brainwashed by her husband David, 49.
The siblings told that publication they believe the torture allegedly inflicted on the couple's 13 children could be a result of the couple's experimentation with things they never did in their youth.
"At that same time she started gambling, she started taking trips down to Vegas and she got a totally different hairstyle — dramatically different," sister Teresa said.
Teresa, appearing on the Megyn Kelly Show Monday morning, also claimed her sister began sleeping around with other men with her husband's permission back in 2009.
Scroll Down...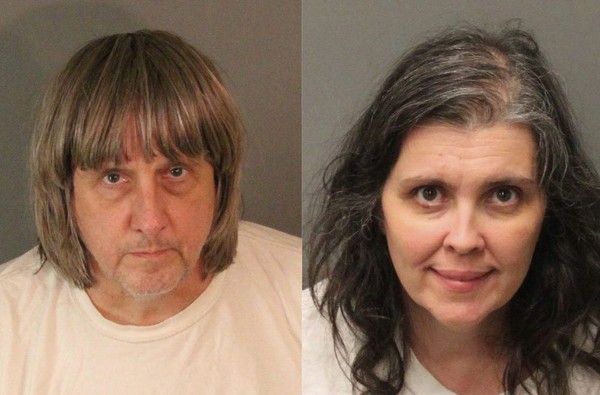 Turpins are charged with committing unthinkable cruelty upon their 13 children
"She told me that her and David had met a man online from Huntsville, Alabama. And they were on their way there to meet him and that she was going to sleep with him. And that David was okay with that,' Robinette said.  
"Getting drunk or going to Vegas, they just didn't do that sort of thing and once they started experimenting I wonder — and I have battled with this ever since I found out what had happened — is that what started this?
"Did she and David get into something? Did they get into some kind of crazy religion? Or did they get into something that messed up their minds? I don't know."
The couple is each being held on $13 million bail and deny all charges.
- Jagajeet Chiba, Gambling911.com