England pace bowler James Anderson has described as "ridiculous" accusations that he was involved in tampering with the ball during the drawn fourth Ashes test against Australia in Melbourne last week, Reuters reported on New Year's Day.

Bookmaker accepts most crypto-currencies
The 35-year-old player was seen on television appearing to try to scruff up the ball with his thumbnail Friday, with commentators seizing on the footage.  This has let to concerns over potential match fixing.
England coach Trevor Bayliss brushed off the allegations while Anderson continued to deny such tampering took place.
"It escalated quite quickly, didn't it?" Anderson said in comments published by Britain's The Telegraph newspaper. "Ridiculous, but what we've come to expect.
"(I was) getting dirt off the ball. They'd watered the square so the footholes on the old wickets had mud.
"We went to the umpires to make sure they were happy with it."
The latest odds to win are here (See Below)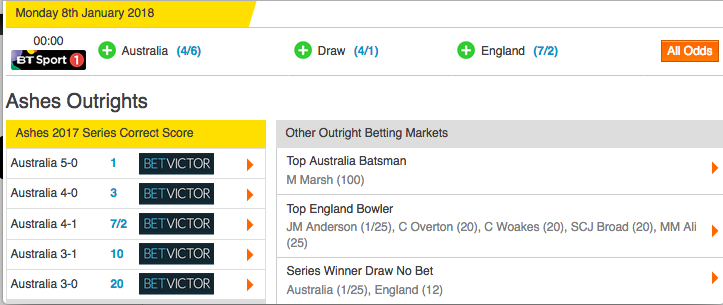 - Alistair Prescott, Gambling911.com