A Very Jenny Christmas From Gambling911.com
Published on:
Dec/24/2016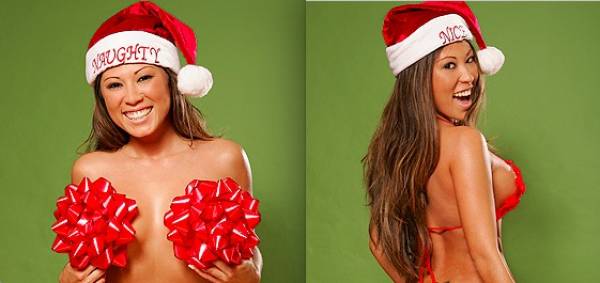 The following is an annual Christmas carol begun by Jenny in 2005.  It is destined to live in the annals of history as a timeless holiday classic the whole family can enjoy much the same as Rudolph, Charlie Brown, the Little Drummer Boy and Heatmeister.   Jenny and the Gambling911.com wish everyone a very Merry Christmas. 
------
'Twas the night  before  Christmas, when all through the house
Not a creature was stirring, except for the one in Jenny Woo's blouse;
The stockings were hung by the mantle with care,
In hopes that St. Nicholas soon would be there (with his elves of course)
Then out on the lawn there arose such a clatter,
Jenny sprang naked from the bed to see what was the matter.
Away to the window she flew like a flash,
Tore open the shutters and threw off her sash.
The moon on her double D breasts of the new-fallen snow
Gave the lustre of mid-day to objects below,
"Who cometh," Jenny harked as the clatter began to grow.
"I don't have a chimney, come in through the do'."
"Now, Dasher! now, Doyle! now, Prancer and Vixen!
On, Comet! on Cupid! on, Ronald and Blitzen!
Oh Johnny, oh Jason, on Gary and Martin.
No Kelvin, no Steven, on Roberto and Will.
Now stop it Spiro and Mickey, you'll all get your thrill.
"Have a very merry Christmas," Jenny Woo let out a holla.
"WHAT'S THIS IN MY STOCKING?  THAT'S IT?  JUST A DOLLA!"
MERRY CHRISTMAS FROM JENNY WOO AND ALL YOUR FRIENDS AT GAMBLING911