Underage Children Learning How to Play Online Poker Via Free Sites Say Researchers
Published on:
Oct/25/2012
WESTBROOK, Conn. (Associated Press) — Online gambling is making regulation more difficult, luring children to gambling and introducing new types of problem gambling, a British researcher told a conference on Thursday.
Mark Griffiths, professor of gambling studies at Nottingham Trent University, told a few hundred participants at a conference sponsored by the Connecticut Council on Problem Gambling that technology will make gambling more accessible as gamblers turn to online sites and avoid casinos.
And children may be too trusting of websites and mistakenly believe that points they win on social network sites can be cashed in for money, he said.
"How do we legislate stopping children from gambling on Facebook from home?" Griffiths asked.
U.S. laws prohibit Internet gambling across state lines. But after the U.S. Justice Department last December narrowed the application of the federal Interstate Wire Act of 1961 only to sports wagering, several states began taking steps to allow online betting.
Chuck Bunnell, chief of staff for external affairs for the Mohegan Tribe, which owns the Mohegan Sun casino in eastern Connecticut, told the conference that a federal approach to regulate online gambling is preferable to a "patchwork of 50 different regulatory systems across the country."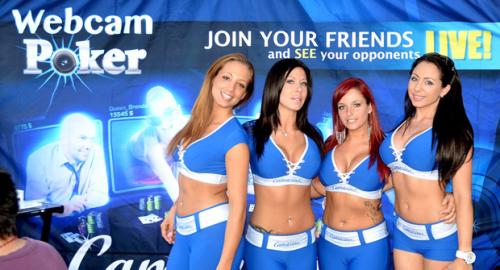 Hundreds of online sites that now operate do not verify a gambler's age or provide other safety features, he said.
Don Feeney, research and planning director at the Minnesota State Lottery, said despite the popularity of online gambling, surveys show reluctance among some players who say they are concerned about the legitimacy of websites, security, the presence of professional players and providing financial information.
Griffiths said underage children are learning to play poker online at free sites and will be accomplished gamblers when they may legally play for money at age 18.
He warned of other developments with growing online gambling sites and the rising use of mobile devices and interactive TV for gambling. Internet gambling is drawing in huge numbers of women, many of whom pretend to be men in a practice known as "gender-swapping" to be taken more seriously by male gamblers and avoid unwanted approaches by men, he said.
"These are gender-neutral environments," he said. "These are environments where females do not feel alienated and stigmatized."
In addition, technology allows gamblers to play at numerous sites at once, increasing their risk of problem gambling, Griffiths said.
Problem gambling is more prevalent online than at casinos because gamblers are not observed, he said. Gambling while drunk, for example, is generally not permitted at casinos but is undetected online and gamblers are more prone to gamble recklessly, he said.
The rising use of technology in gambling also will lead to more technological advertising and marketing of gambling and prod more online help and therapy for problem gamblers, he said.
Technology makes electronic payment in numerous currencies easy, provides attractive and sophisticated gambling software and allows gamblers to avoid regulations such as smoking bans in casinos, Griffiths said. As a result, he said, some studies show that problem gambling is significantly worse among Internet gamblers than among those who do not go online.