Super Bowl Betting Projected to Hit Record $16 Billion
Published on:
Feb/07/2023
It is projected by the American Gaming Association that over 50 million Americans will bet $16 billion on the Super Bowl.  This number does not include those wagering worldwide but it does count those betting with offshore sites and local bookies.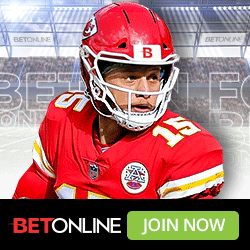 The numbers are up 66% from last year's Super Bowl.
Sunday's game will be first NFL championship played in a state with legalized sports betting, the Wall Street Journal is quick to point out.
"The fact that the Super Bowl is being played in a legal sports-betting state was almost unthinkable five years ago," said Bill Miller, chief executive of the American Gaming Association, in an interview with the Wall Street Journal. "It's a testament to the progress we're making."
Who They Are Rooting For
The map below is based on geotagged twitter data from Sunday Evening (after the matchup was officially set) to now, tracking official fan hashtags in each state to see who is rooting for the Chiefs or Eagles in Super Bowl 57. For example, #ChiefsKingdom and #FlyEaglesFly. Over 217,000 tweets were tracked.  It is compiled by our friends at BetOnline.


As you can see from the map, there's definitely a regional component. The eastern part of the Midwest rooting for the Eagles can be explained by Bengals fans wanting to see their loss avenged, and the Eagles rooting interest out west can be explained by the Chiefs divisional rivalry with the Denver Broncos, Las Vegas Raiders, and Los Angeles Chargers. The middle of the country rooting for the Chiefs is pretty self-explanatory and Texas is definitely rooting for the Chiefs, as Dallas Cowboys fans certainly don't want to see their hated rival, the Eagles, win the Super Bowl.

State breakdown is as follows. Below the Map is the state-by-state breakdown and what percentage of fans from that state are rooting for the Eagles or Chiefs.


Eagles - 28 states are rooting for the Eagles
Chiefs - 22 states are rooting for the Chiefs
These five states have the highest percentage of people rooting for the Eagles: Pennsylvania, Delaware, Connecticut, New Jersey, and Maryland.
These five states have the highest percentage of people rooting for the Chiefs:  Kansas, Missouri, Wyoming, Nebraska, and Texas .
These five states are the most divided: South Carolina, Vermont, North Dakota, Michigan, and Colorado.
- Don Shapiro, Gambling911.com