Paddy Power Places Dennis Rodman in the Line of Fire With North Korea Trip
Published on:
Dec/17/2013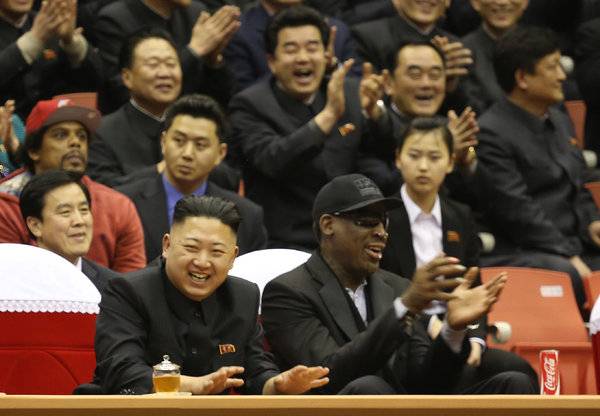 Former NBA star Dennis Rodman is on his way to North Korea where he will meet with his so-called "friend for life", the Supreme Leader Kim Jong-un.  The timing couldn't be any better.  Kim Jong-un, it is believed, just had his uncle executed and his aunt, the one believed to be responsible for the purging and subsequent execution, is reportedly missing.
Rodman is set to coach the North Korean men's basketball team.  His trip is sponsored by none other than Irish powerhouse bookie and marketing geniuses, Paddy Power. 
And oh the irony.
One of the uncle's crimes just happened to be gambling.
Jang Song-thaek, was purged from his leadership post for alleged corruption, drug use, gambling and a long list of other "anti-state" acts.  Jang Song-thaek was considered second in command of the so-called Hermit Empire.
He was described by the North Korean government in an official statement as a "despicable human scum, worse than a dog".
Kim Jong Un's aunt and brother, armed with a pistol, took part in the arrest of Jang Song-thaek with a family affair cited among the causes.
Now that same aunt is nowhere to be found.
Kim's paternal aunt Kim Kyong-hui was not present during a visit to the Kumsusan Palace of the Sun on the second anniversary of the death of his father, former leader Kim Jong Il.  This despite the fact that Kyong-hui serves as a high ranking general in the Korean People's Army.
Rodman, in the meantime, is still planning to depart for North Korea from Beijing on Thursday along with a documentary film crew, even amidst the apparent turmoil that is taking place there.
"We spoke to a lot of experts who said it's safe for foreigners to travel to North Korea," Paddy Power spokesman Rory Scott tells The New York Times. He elaborated on that point to Reuters: "It's certainly safe, even when there is a bit of disruption like there is now — a bit of trouble or chaos — there's even more need for cultural or sporting exchanges."
- Jagajeet Chiba, Gambling911.com