Mort Saltzman of the Sacramento Bee on Wednesday warned not to get overly worked up about legalized online poker in the state of California. It probably won't be happening any time this year.
Well, there is a bill pending in the Legislature called the California Gambling Control/Intrastate Legalization Act, AB 2026, introduced by Assemblyman Lloyd Levine, a Van Nuys Democrat. Originally the bill was intended to study the issue of whether California wanted to comply with a fairly recent federal law which would allow states to legalize gambling on online poker for residents within a state. The bill was amended to actually allow poker, then re-amended, and as it now stands, it remains strictly a study.
Saltzman also said that his Capitol source, Steve Wiegand - a poker player himself - claims the bill to legalize online poker in California is tied up in the Senate Appropriations Committee because "it would cost money to do, and there ain't no money. Bills with price tags aren't moving until there's a budget."
Congress is currently on recess for three weeks and the November Presidential elections all but rules out anything is going to be done with this piece of legislation by year's end.
States like California are running out of money and have become desperate for new revenue streams. Over the past few months, recommendations have been made to consider online gambling as a source of new revenue in the state, one that has been crippled by a looming recession.
"It's silly for the state not to get into the business," said I. Nelson Rose, a professor and attorney at Whittier Law School in Costa Mesa. "Billions of dollars are being spent on the game here, and the state isn't getting one penny."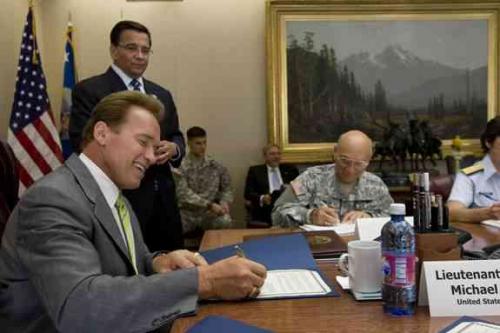 California is the world's online poker capital, analysts believe. The last two World Series of Poker champions come from that state. The government is missing out by not legalizing, regulating and taxing it.
Gov. Arnold Schwarzenegger declared the state had a $20 billion of deficit back in April, and things weren't looking much brighter these days.
Sasha Abramsky of the Guardian UK made quite the bold statement on Wednesday. She declared that "the US housing crisis has hit California hard, causing the worst financial crisis in the state since the Great Depression".
A few months ago, California's analysts believed the state was looking at a deficit of a few billion dollars, a manageable, if unpleasant, phenomenon for a state with an annual budget of over $100bn. But as the economy has hit the skids, the problems have grown exponentially worse. Now that deficit is thought to be nearer $15bn, with some predicting it could rise to $20bn.
Put simply, it means that about one in every five dollars spent by the state is now money it doesn't have. Given California is already spending about 7% of its budget servicing its existing debt - a legacy of the above-mentioned reluctance to countenance adequate tax levels - that's more than merely a nuisance. If governor Arnold Schwarzenegger is to be believed, it threatens to utterly derail state finances.
So far it appears that a slow moving legislative process is the only thing getting in the way of allowing the online poker bill to pass in California. Unfortunately, that remains a massive hurdle. Only the Morongo Band of Mission Indians has registered a formal opposition to the bill thus far.
Get a free $50 when you download Wass Poker Online Poker Room Here plus a massive signup bonus.  US poker players are welcome. 
----
Christopher Costigan, Gambling911.com Publisher