Mobster Whitey Bulger was Able to Cross US Border Into Canada While Still a Fugitive
Published on:
Jul/11/2013
It was confirmed Thursday that mobster James "Whitey" Bulger had crossed the US border into Canada to watch Game 7 of the 2011 Stanley Cup Final at Rogers Stadium in Toronto.  At the time, he was a fugitive and is currently standing trial for racketeering in Boston.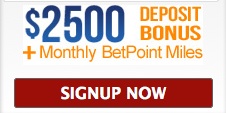 He was reportedly being followed by the FBI at the time and was arrested a few weeks later in California along with his wife.  Bulger had been in hiding for 16 years.
Bulger, 83, is accused of having a role in 19 killings during the 1970s and '80s while he allegedly led the Winter Hill Gang and served as an FBI informant on the rival New England Mafia.
On Thursday, a forensic expert testified that remains found in Boston 13 years ago were those of three people Bulger is accused of killing.
- Gilbert Horowitz, Gambling911.com