Kerry Packer Aussie Legend Live On Via Art And TV
Published on:
Dec/05/2010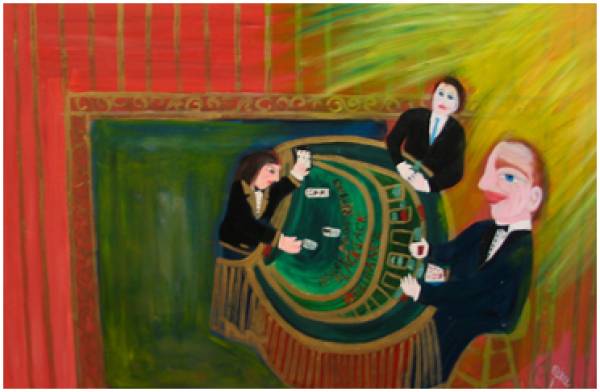 G'day punters, casino and gambling millionaires and billionaires, media magnates, journalists, historians and art lovers. Art lovers?! Yes, today we bring you a special Kerry Packer special. The legend lives on, not only here, but now at an Australian artists exhibition, and of course 'Our James' (James Packer) continues to fly the flag and do the family legacy proud with his Crown Limited empire. Not only that, we also cover the pending return of KP to Australian television in an ABC mini series tipped to hit the jackpot, and Network Nine is bringing back 'Underbelly', complete with gambling themes. Media Man http://www.mediamanint.com and Gambling911 present The Kerry Packer Special...
Kerry Packer & Friends...
Kerry Packer & Friends - NG Art Gallery - 7th Dec - 24th Dec 2010
3 Little Queen Street
Chippendale, NSW Sydney  AUSTRALIA
Tuesday - Saturday 11.00am - 5.30pm
Ok punters, here's the rundown.  The artist - storyteller is Gina Sinozich. She's an 80 year old, Croat, Sydney based artist who paints in order to help recycle memory. Sinozich's latest exhibition, Kerry Packer and Friends, is her first solo commercial effort in Sydney and is tells the story of the legendary Kerry Packer. She covers the unique personality and complexities of a legend who was known for his astronomical wealth, super whale gambling exploits, running his business with an iron fist, and colourful run ins with the Australian government, amongst other things.
Sinozich migrated down under to Australia is 1956 and began to paint at the age of 75, now having work in Australian and New Zealand corporate and public collections. Her show showcases Packer as 'one of us' rather than the untouchable media tycoon. Sinozich was inspired to tell the story on the premise that we often hear bad before good. This tribute to KP is generous and reveals alot of the most powerful men in the world, who in 2004, was estimated to have a net worth of AUD 6.5 billion. The work of Sinozich will be showcased at NG Art Gallery from the 7th-24th of December and is certain to excite audiences, punters, art lovers or both. A fews Aussie commentator think this blows away much of the art that American gambling tycoon Steve Wynn shows off. Maybe Wynn might like to make a purchase of some classic Packer creations.
Sinozich says Packer gave back to society in a meaningful way and the series was intended to stand as a testament for this man's intrinsic goodwill after his death in December 2005. She recites a story that fuelled her initial interest in Packer, "...one lady said that she was on George Street with two little kids behind her and she was running...running to go on the train, and he (Packer) stopped her and said, 'don't you have a car?' and he wrote a cheque for her and said here, 'buy yourself a car'." Sinozich also fondly recalls, "...when he was playing in casino in Perth he won so much money and the girl who was serving wine...he asked her, 'do you have a mortgage on the house?' she said 'yes', then he wrote a cheque for AUD 600,000."
The talented, even cunning, artist worked like a Trojan horse for a fortnight and managed to produce 26 paintings that deeply explore her subject's nature, removing much of the mystic of Packer as an uncompromising media mogul. All the characters in Sinozich's work have a yarn to tell, and most aspects of his life are covered... birth, death, and much of the in between. Make no mistake, the works are smart, and unique, and are tipped to become collectors items.
The work is relatively simple, but full of life, and has been described as "traditional representational painting", which one may argue is a dying art. We think KP would have liked the tribute, and we await word to see what living members of the Packer clan think of the works.
Kerry Packer Legend To Return To Australian TV In Cleo Mini Series...
Packer is to return to life on Aussie TV via new ABC drama Paper Giants: The Birth Of Cleo (not to be confused with the Cleopatra slot game).
Australian readers may recall the public backlash to the introduction of the super sexy womens' title in 1972. There were Cleo lovers and haters, but we're still talking about it today, so it made an impact, which is better than many of today's rags.
Rob Carlton will play a young Packer opposite Asher Keddie as publishing pioneer, the sexy and smart Ita Buttrose.
Rumours of a sexual relationship between Packer and Ita around the time of Cleo magazine's start off, but this won't be a focus on the mini-series, due to air next year.
Buttrose, who first made her mark as the magazine's editor, was a consultant on the production.
"If there was a supposed affair it didn't happen in this timeframe. I have no idea if there was, we didn't raise it with her," Edwards said.
There ABC publicity brief has whet our appetite for lots of Packer classic stuff and enough scandal to keep us coming back for more.
"It's 1972. Skirts are up, pants are down. Girls can have anything: Fabulous careers, fashionable clothes and oral sex," spruiks the promo.
The drama cleverly follows the death of Sir Frank Packer and the rise of his second son, who defies even family expectation to succeed, in a way no one could have expected.
"It was a real turning point in Kerry's career. It was a period when he made his first big move and it was an astonishing success and one against the odds in some respects," Edwards said.
Cleo magazine itself was a fine, yet controversial work, and introduced the nude male centrefold and sexual hits, tips, tricks and more for women. Media Man friend, actor Jack Thompson, is tipped to have his racy centrefold recreated. Something about a 6th finger, down there.
ABC TV by all accounts have taken a calculated risk on the series. Most quarters of society, both insiders and outsiders we've chatted with believe the gamble will pay off with a tidy jackpot, and whispers already circulate as to how many awards the show and actors will pick up.
Nine's David Gyngell Respects Packer History; PBL Becomes Nine Entertainment Co...
KP put Publishing & Broadcasting Media on the map and grew it to become arguably the biggest media brands in Australia.
PBL - the name, is now history, since Bondi Beach based chief executive, David Gyngell, rebranded it with Nine Entertainment Co.
Gyngell, who announced the rebranding at Nine's 2011 program launch in Sydney on Friday, advised the new name would be more recognisable to the public and large and went on to emphasise Nine's broad range of businesses, which sport Nine, ACP Magazines, Ticketek and NineMSN.
The recognition factor is important since the firm is likely to be floated on the Australian Stock Exchange by its private equity owners, CVC Asia Pacific, in the first half of next year.
It's understood that a strong level of support from a host of retail investors will be key to the $5 billion-plus float's chances of a jackpot.
Gyngell wisely acknowledged it was not an easy decision given he is the late Kerry Packer's godson and great mate of James Packer. History buffs, just in case you wondered, PBL was formed way back in 1994 when KP merged Nine with ACP (Australian Consolidated Press).
"PBL has a long association with the Packers so personally I don't take that lightly. But it's modernising a business that needs to be publicly known. We don't have the luxury of having James Packer or another mogul giving the company real gravitas."
Other media updates down under include Network Seven being backed by Kerry Stokes and Network Ten's board now has James Packer, News Corporation director Lachlan Murdoch, mining magnate Gina Rinehart and WIN TV owner Bruce Gordon.
"Nine is the biggest thing that we have and it is also the thing that supports all the other companies in the best possible way," Gyngell said. "It will be a new year. We are starting again.
Nine confirmed its crime drama Underbelly would come back with a series set in the roaring 20s in Sydney as well as 3 Underbelly movies! And, get this, a good spot of gambling will also be featured.
Greg Tingle is a Special Contributor to the Gambling911.com Website and Runs Media Man International