Is Joey Porter Really a Degenerate Gambler Deadbeat
Published on:
Dec/25/2012
TMZ.com this week posted a story on NFL superstar Joey Porter being a degenerate gambler and a deadbeat to boot.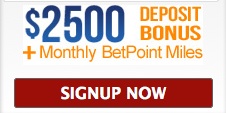 The popular website obtained court documents filed by the state of Nevada that show Porter allegedly wrote 8 checks to the Hard Rock casino between a two month period this past summer.  The checks, however, could not be cashed by the casino as Porter apparently placed a "stop payment" on all eight. 
Porter was later charged with check-bouncing with intent to defraud and theft, both of which are felonies. 
The checks were as follows: 
Check #1 -- $10,000
Check #2 -- $10,000
Check #3 -- $5,000
Check #4 -- $5,000
Check #5 -- $5,000
Check #6 -- $5,000
Check #7 -- $10,000
Check #8 -- $20,000
Porter was taken into custody last Friday during a routine traffic stop as he had a warrant out for his arrest.
- Jagajeet Chiba, Gambling911.com