Icahn Approved to Take Over Trump Taj Mahal
Published on:
Jun/10/2015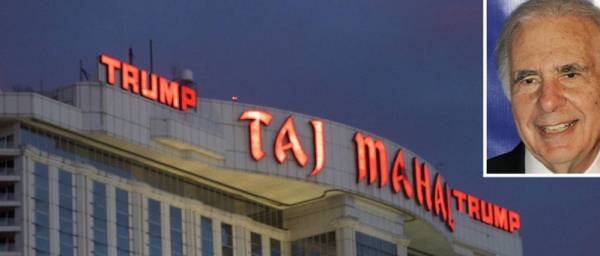 ATLANTIC CITY, New Jersey — (Associated Press) - New Jersey gambling regulators are allowing Carl Icahn to double down on his casino holdings in Atlantic City.
The Casino Control Commission on Wednesday approved the billionaire investor to own the Trump Taj Mahal Casino Resort, which he is acquiring from bankruptcy court. Icahn already owns Atlantic City's Tropicana Casino and Resort.
He has been locked in a battle with the city's main casino workers' union over the elimination of health insurance and pension plans that parent company Trump Entertainment Resorts made last October after a bankruptcy judge allowed them to do so.
Icahn is swapping $292 million worth of the company's debt that he owns in return for ownership of the company. He will invest as much as $100 million to keep the Taj Mahal afloat after bankruptcy.
Trump Entertainment CEO Robert Griffin said once the bankruptcy case is over, the Taj Mahal can face its biggest challenge head-on.
"There is a perception among our customers that we are going to close," he said. "Saturday night, you couldn't move inside the Taj. Customers are playing, but at a lower (level). They don't know if they come back next month whether we'll be open."
Griffin said a quick infusion of $40 million from Icahn will help improve the casino's image.
"We believe when you pull into the Taj Mahal, it's dirty, it's dated, and it needs to be freshened up," he said. "You still see dirt on the side of the building, things that need to be cleaned up. I feel very strongly that the Taj Mahal will do well" after bankruptcy.
He added, "It's a very positive signal that one of the shrewdest investors is willing to put his money into Atlantic City."
But Icahn has promised to shut the casino if Local 54 of the Unite-HERE union succeeds in getting a court to restore the benefits, which he calls unaffordable. His guarantee of future funding enabled the casino to remain open last December when the company had threatened to close it. Icahn said Wednesday he can improve the Taj Mahal, assuming the ruling goes his way.
"Although Local 54 seems fixated at all costs on damaging the Taj, and risking its closure and the loss of almost 3,000 jobs, I am optimistic that we can eventually achieve at the Taj what we've achieved at Tropicana," he said.
A Delaware bankruptcy judge approved the proposed reorganization of Trump Entertainment in March, but the company has yet to exit bankruptcy court. A federal appeals court decision on whether union benefits should be restored is the last major issue to be resolved before the company can emerge from Chapter 11 protection.
Griffin also said no decision has been made on what to do with the shuttered Trump Plaza casino, which it shut down last September.
Icahn will face a daunting challenge in restoring the Taj Mahal to fiscal health. In the first quarter of this year, the casino posted an $8.7 million gross operating loss, the worst performance by far of Atlantic City's eight casinos. Its $35 million in net revenue for the quarter was next to last in the city, and was down by more than 29 percent from the same period last year.
The casino's 2,010 hotel rooms were less than 49 percent full during the first three months of this year, compared with occupancy rates of 70 to 85 percent for the other seven casinos.