Gambling911.com Saves Lives of Online Gambling Execs
Published on:
Feb/03/2009
A lot has been made of our recent reporting of the Casino Affiliate Programs/Gambling Portal Webmasters Association brouhaha.  Commenting on the Gambling911.com website, co-organizer of the CAP Euro event that took place in London this past weekend, Alex Pratt, assured everyone that all the articles you have been reading on the G911 website are completely inaccurate accounts of what has transpired in recent weeks. ...oh wait, that should read MONTHS.
"I would really like to discuss some of the articles you have published over the last 9 months which are usually in accurate or simply dramatized," Alex writes.
Is it me or am I missing something here?
Did our Senior Editor, the honorable Payton O'Brien, not express how much she liked Lou Fabiano
"We know and respect the folks behind CAP," O'Brien stated.  "For whatever the reason there are quite a few people who have it out for CAP, which sometimes makes it difficult to separate facts from fiction."
Gambling911.com Publisher, Christopher Costigan, has made similar comments within the feedback section of our articles.
On the CAP Web Forum, Mr. Pratt accuses the Gambling911.com website of having some type of imaginary vendetta against his organization. 
"They seem to have it in for our events which is funny since it only seemed to begin after we stopped working with them," he posted.
News flash Mr. Pratt:  CAP asked Gambling911 to cover their London event and this site declined only because management already committed to covering the Casino Affiliate Conference in Amsterdam.  London and its brutal pound led to that decision. 
And here's another news flash:  All those articles you are reading on Gambling911.com related to CAP.  We can't MAKE that stuff up!
"We are trying very hard to provide balanced accounts of what is going on in this ordeal," O'Brien insists.  "That has not been an easy task." 
The problem here is that some of those involved in CAP have made some pretty boneheaded decisions in recent months and everything is only now coming to the surface.  None of us here have quite been able to grasp the distain being placed on CAP these days.  To us it's all a bit surreal.  Hey, the folks who run this website like you guys, so maybe you should focus more on the people who don't seem to like you, or - I'll rephrase that - don't like what you've become. 
Now in case you were feeling singled out, DON'T!
Gambling911.com, when not contributing to the moral fiber of the Internet gambling community, has been at the forefront of many online gambling conference buffoonery and covered the escapades of their illustrious founders, all of whom we love immensely.  Let's take a moment to review.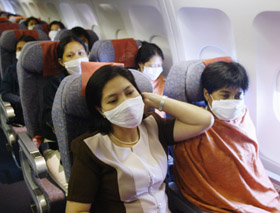 Gambling911.com Saves Lives of Hundreds Heading for GIGSE:
It seems like only yesterday GIGSE (The Global Interactive Gaming Summit and Expo) was the most highly anticipated online gambling event in the world.  Whatever happened to GIGSE anyway? 
Well, it was still the hottest online gambling gathering back in 2003 when Gambling911.com first began reporting on the SARS epidemic taking hold in Toronto. 
The SARS outbreak forced Sue Schneider to move her GIGSE to another venue, though she refused to cancel that year.  Gambling911 was instrumental in helping Schneider to make a wise decision through its vast SARS coverage leading up to the original event.  Hundreds of online gambling execs - fearing for their lives - began to cancel their flights after reading G911's 12 story a day updates to learn of the latest outbreaks.  After Sue moved the conference to Montreal, it was as if she discovered electricity.  Being a much more sexier city than Toronto, more attendees were drawn to the event than ever before and Montreal would eventually become the new home to GIGSE.  Not only did Gambling911.com help prevent a SARS outbreak among online gambling execs, we also made Sue's show bigger and better than ever before and - to this day - she is eternally grateful.....even if she doesn't send us a Christmas card.
Casino Affiliate Convention Organizer Marc Lesnick Eaten by Cougars
While alone in Africa pretending to be Sir Henry Morton Stanley, online gambling's most technocentric figure, Marc Lesnick, organizer of the Casino Affiliate Convention in Amsterdam next month, found himself faced with the most interesting of dilemmas.  When in the pitch dark confronted by cougars do you:
a)     stand still and hope that they determine there is not enough meat on your bones to bother
b)     begin praying
c)     start wondering what would happen if family members read that you've been eaten by cougars on Gambling911.com before the authorities have a chance to notify them.
d)    run to that nearby outhouse and hold on for dear life to the flimsy wooden door.
The correct answer - of course - would be c) - start wondering what would happen if family members read that you've been eaten by cougars on Gambling911.com before the authorities have a chance to notify them....then you make a run for that outhouse and spend the night in there praying and peaking out until those shiny piercing eyeballs finally disappear.
Due to communication issues generating from the African continent, the initial wire reports received by Gambling911 had Lesnick....well....eaten by cougars.   Within two hours of publishing the story, friends of Lesnick began calling.  A revised version of the story included the subtle insertion of the word "not" between "has" and "been eaten alive by cougars in Africa".
The Infamous Jenny Woo Bolt Cutter Incident
It was the waning hours of the Casino Affiliate Convention in Amsterdam two years ago when our shocked publisher received a wake up call from Senior International Correspondent, Jenny Woo, to notify that they had to leave for the airport in another two hours.  But unbeknownst to our publisher, Ms. Woo did not just wake up...she just strolled in.  Trouble:  Woo collapsed on her bed in the posh NH Grand Krasnapolsky Hotel...but not before bolting her door shut. 
NH Grand Krasnapolsky Hotel Security was summoned to her room and had to cut through her door with bolt cutters.  Jenny was comatose when they arrived by her bedside.  After poking her a few times, Jenny awoke to three crazed looking Dutchmen standing over her with bolt cutters.  Ms. Woo recounted the incident:
"I screamed 'bolt cutters!' and thought for sure they were going to have there way with me sexually, then one of the men said he was with security.
"I had missed my flight out of Amsterdam.  Thankfully, Payton (O'Brien) had enough sympathy for my ordeal that she didn't put me up in a hostel for the night."
The best part of the incident was when organizer, Marc Lesnick, reviewed his hotel bill and noticed the "room bolt cutting rescue" charge....quite possibly a first.   
It seems every conference and/or function the folks Gambling911.com attends involves some sort of bizarre incident.  I think there are those on our staff a little disheartened that we could not be a part of this weekend's CAP Brawl at West London's Novotel Hotel, where the son of GPWA organizer Michael Corfman apparently got roughed up by hotel security and a CAP organizer challenged another attendee to a fight.
The Doyle Brunson Toast - The Gambling911.com crew sat with an imposter pretending to be Randy Meisner of the Eagles, and to make things even more bizarre, some of us just happen to know other Eagles members - specifically Don Henley.  This seemed to trouble the imposter - and now we know why.  That same event featured Pamela Anderson storming out after being ridiculed a good hour by the emcee, Brad Garrett. 
"You still have plenty of time to blow the members of Whitesnake," Garrett yelled as she was running out the door with her posse. 
CAP Bahamas featured a shut down of their much anticipated Affiliates World Series of Poker event.  It was later held in some remote castle.  Gambling911.com Cuban transgender reporter, Sparky Collins, spent the only sunny day sporting his new wonder bra in the Atlantis pool, chasing after the homophobic lifeguard and having his picture taken with swarms of small children.  Sparky had sex with a Playboy Playmate in the pool later that night, his shiny blond wig glistening in the moon light.
And who could forget the infamous Calvin Ayre Lifestyles Poker program being filmed in Costa Rica full of celebrities the likes of Cheryl Hines, Chuck Liddell and Shannon Elizabeth.  A van full of police descended upon Ayre's home.  The raid yielded a computer, lots of money and the complaint cited a report on Gambling911.com that "there would be many models wearing little clothing at the establishment".  This was translated by local officials to mean, "prostitution would be occurring".
Our bad!
Alejandro Botticelli, Gambling911.com