Federal Judge Wants Leagues to Show Potential for 'Damage' by NJ Sports Betting
Published on:
Dec/18/2012
A Federal judge will decide Friday (December 21, 2012) whether the professional sports leagues and NCAA have legal standing to bring a suit against the state of New Jersey, which has announced its intention to begin licensing sports betting operations the early part of next month.  New Jersey. Governor Chris Christie earlier in the year signed into law a measure that would legalize sports betting in the Garden State.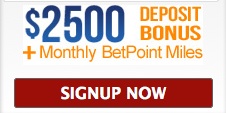 The leagues presented more than an hour of oral argument before U.S. District Judge Michael Shipp on Tuesday.  New Jersey's attorney Ted Olson argued that the leagues must be able to show they will be harmed by sports betting in the state.  Five other US states, including neighboring Delaware, currently offer some form of legalized sports wagering. 
Therein lies the problem as states like Nevada, which allow sports betting for real money, enjoy an "unfair" advantage over states that have yet to be granted such a privilege.  The Professional and Amateur Sports Protection Act of 1992 grants the leagues the right to sue and attempt to stop any of those remaining states from allowing bets on sporting events.
John Brennan of NorthJersey.com writes:
Most of the facts of the case are not in dispute. The question is whether the federal 1992 law is constitutional. New Jersey contends that Congress can't grant some states the right to raise revenues by offering sports betting while barring others from doing so; it is also questioning Congress' right to regulate intrastate commerce, such as New Jersey sports betting.
On Monday, the New Jersey Assembly passed a bill that would allow online gambling, including sports wagering.  The Senate was expected to vote on the bill next.  If passed, the measure would end up on the Governor's desk.  He has 45 days in which to sign or veto such legislation. 
Nearly two years ago, Christie vetoed a similar bill but is widely expected to be on board this go-around following some more favorable opinions from legal experts.
- Chris Costigan, Gambling911.com Publisher