Fantasy Site DailyMVP.com Puts Twist on Fantasy Daily Scoring: Lands Tom Brady
Published on:
Feb/08/2015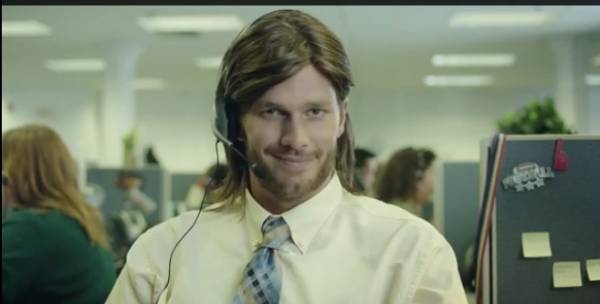 Thomas Somach writes that DailyMVP.com uses a unique golf-like handicapping system to equalize performers.
LOS ANGELES -- There are so many fantasy sports leagues out there these days that the leagues have to do something spectacular to garner attention.
One that is doing just that is DailyMVP (www.dailymvp.com), which uses a unique business model that mimics the dynamics of a player's handicap in golf.
The model is so original that it is about to be patented.
Oh, and by the way, the fellow running things used to run the world's largest fantasy sports operation at Internet giant Yahoo, way back when Yahoo was Yahoo! and still used an exclamation mark in its name (it dropped the ! a few years ago).
So Gambling 911 last week paid a visit to the Left Coast and dropped in on David Geller, the affable chief executive officer of TopLine Games Lab (www.toplinegameslab.com), the parent company of DailyMVP.
Here is a transcript of that interview:
Gambling 911: How does your fantasy operation work and how is it different from the many other fantasy leagues out there? What states and countries are you legal in and how do you stop players who are not in those locations from joining? And what is the age limit to join and how do you verify that?
David Geller: The biggest differenciator is that we don't offer a salary cap game. The format for playing our games is inherently vastly different from DraftKings and FanDuel. Our model is designed to be more conducive to mobile and more conducive to casual players who don't have time to complete a full salary cap roster. Our model is also different from any of the other non-salary cap games that are out there in that we provide projections for how every player in each sport will do on a given day and the user can pick anybody performing that night, using skill in finding players who are undervalued. For example, if we say that LeBron James will score 40 fantasy points tonight, that's what we project, and another player is projected to score 20 points, and you take LeBron and I take the other guy, then I will receive 20 points before the contest starts to equalize the fact that you chose a heavily favored player vs. one who is not. It's like a handicap in golf. No one else does that. And we have a patent pending on how the equalizer works in our fantasy games. And the games are optimized for play on mobile, but can also be played on a regular computer. The states in which we are currently not operating are Arizona, Arkansas, Louisiana, Montana and Washington. If you're in one of those states you can't play our contests which have a fee and you can win a cash prize, but you can play in our free games. To verify what state a player is in we look at the billing zip code on their credit card and also use geolocation. Under our terms of agreement, the age limit is 18 for most states but 19 for a couple of states.
Scroll Down for More..
G9: How much does it cost to join and what do you get for your money?
DG: It's entirely free to play. We retain a contest management fee for every premium contest that's entered at around 10 per cent, so if you enter a contest for a dollar the contest management fee would be ten cents. That's the cost for us operating the game. We have contests for the four major pro sports--football, baseball, basketball and hockey, and we're planning to add golf.
G9: How did you get into the fantasy sports business? Can you tell us about your personal background?
DG: I oversaw the global fantasy sports division at Yahoo for over six years. Yahoo is the largest fantasy sports provider. I had been at Yahoo for over eight years when I joined the sports team at Yahoo which ran the sports fantasy business. I later left Yahoo for Dream Works Animation and in April of 2013, I left Dream Works to launch TopLine Game Labs. I'm 46. I am originally from Chicago, went to college at the University of Michigan and got an MBA from UCLA.
G9: Where are you based?
DG: We are in Los Angeles, near Malibu.
G9: What has been the growth rate of your business since last year and what is the driving force behind that growth?
DG: It's been really good. We have not done a lot of marketing. We did partner with Steve Nash and Tom Brady for brand awareness marketing. We shot two short videos with them promoting DailyMVP, which you can see at the DailyMVP YouTube channel.
G9: Getting Tom Brady to promote your company is quite a coup, especially now that's he's won another Super Bowl. Did the fact that both of you went to the University of Michigan help you in signing him?
DG: It probably helped.
G9: How did the signing come about?
DG: His agent is in Los Angeles so I had met with him several times first. Then I went out to Boston at the beginning of last season and met with Tom and explained what we were trying to do. He was very enthusiastic.
G9: Did you meet with him at the Patriots complex in Foxborough?
DG: No, we met at an office in Allston, a suburb of Boston.
G9: Can you tell us what you're paying Brady to endorse your fantasy sports league? He's supposedly worth over $100 million so he can't come cheap--was it six or seven figures?
DG: I really can't comment on that. It definitely wasn't seven figures. We're not Pepsi or Gatorade.
G9: What is the most money anyone has earned playing with you?
DG: We had a contest in which a player won $1,000. That's the largest single payout we had.
G9: How many customers do you have?
DG: We're not as big as FanDuel. It's in the thousands.
G9: Do you have many female players? What percentage of your customer base is female?
DG: We do have a lot of female players, but we don't have the ability to detect who is a female player and who is not. So I can't really say with certainty how many female players we have.
G9: Can't you just look at their names to determine that?
DG: You don't give us your name when you sign up to play, you only give us your email address and we assign you a user name.
G9: What about when somebody wins, you have to send them a check, don't you?
DG: No, we usually credit back their credit card or use PayPal. Occasionally someone wants a check.
G9: So people use credit cards to sign up with you?
DG: Credit cards or PayPal.
G9: Then you have the names on the credit cards, don't you?
DG: No, we don't store any of that credit card information, that's passed directly to the payment processor.
G9: Is that because you don't need it, or because you worry about being hacked?
DG: Both. We don't need it, and it's also a privacy issue. We don't store any personally identifiable information as it relates to their payment instrument.
G9: What is the basic demographic of your paying customer? If it mirrors the demo of the average American sports bettor, it would be white and male with a high level of education and income, although the age for fantasy players would be lower on average than the age for sports bettors. How accurate is that assessment?
DG: Based on surveys we've done it is a 25- to 40-year-old male who is a sports fan.
G9: Where do you expect your company to be a year from now?
DG: We certainly hope to be a lot bigger. If we can continue to have double-digit growth on a monthly basis we'll be very happy. We also license our software to other companies so they can offer our games. 
G9: Finally, your last name is Geller, so we are wondering whether you are related to Uri Geller, the famed Israeli psychic and spoon-bender?
DG: I am not.
By Tom Somach
Gambling911.com Staff Writer