Billion Dollar Wakeup Call For Las Vegas
Published on:
Dec/18/2008
Glenn Haussman of Hotel Interactive spells it out:
"For the first time ever, the casino gaming industry is discovering they're subject to the same immutable laws as the rest of the hotel business. In what was widely proclaimed to be a recession-proof industry, casino gaming executives are suffering through a wake-up call of billion dollar proportions."
The numbers are staggering.
Haussman points out that in October alone (the most recent stats available) severely steep declines were reported.
"Nevada gaming revenues cratered 22.3 percent year over year, while revenue on the Strip crumbled 25.8 percent. According to the Nevada Gaming Commission, statewide gaming revenues were $905.0 million, while on the Strip the gambling take was $475.0 million. For the year, gaming revenues in Nevada are down 18.2 percent. These resorts typically make about 40 percent of their income from the casino, a percentage that has steadily declined during the last decade as the properties added tons of other amenities such as world class dining and entertainment."
One of the primary problems is not so much that people aren't coming to Vegas - they still want to gamble - they are just not spending as much.
Restaurants report that more people are splitting appetizers and club goers are opting to buy one or two bottles at about $350 a pop rather than three or four.
Another way to gauge how troubling the economy is in Vegas:  Ask the taxi drivers.
"Cab drivers reported they were getting about 40 percent of normal business (even when compared to the traditionally slow month of December) as people opt to stay at one resort or hoof it between properties.," Haussman writes.
And hoofing they did Wednesday night....in more than 3 inches of snow.
Advertisement: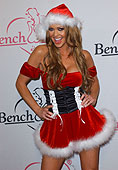 Play multi-player blackjack online with Gambling911.com's very own Carrie Stroup at the Players Only Online Casino - Claim your free cash bonus.  Part of the Sportsbook.com family, the largest online sports betting group catering to the North American market.  Why freeze in Vegas when you can play in the comfort of your own heated living room. 
Jagajeet Chiba, Gambling911.com