Can I Bet the National Anthem Super Bowl Prop on FanDuel?
Published on:
Feb/06/2023
State regulated sportsbooks in the US are not permitted to offer a prop bet strictly on the length of the National Anthem, but there are other great options, including our friends at BetOnline.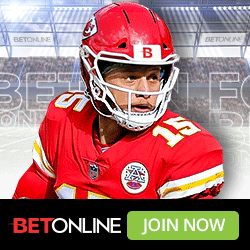 The National Anthem prop bet is one of the most popular in any Super Bowl.
This year's National Anthem will be performed by country recording artist and Grammy Award winner Chris Stapleton.
He went solo in 2015, releasing the critically acclaimed studio album titled Traveller.  Stapleton's biggest hits include "Tennessee Whiskey" and "Drink You Away".
He has co-written six number-one country songs for other artists including Kenny Chesney's "Never Wanted Nothing More", Josh Turner's "Your Man" and George Strait's "Love's Gonna Make It Alright".
BetOnline National Anthem Prop Bets
Rot     Length of US National Anthem by Chris Stapleton     Moneyline
20101     Over 125 Seconds         -155
20102     Under 125 Seconds         +115
Bet US's Decision Is Final. From Start Of 1st Word Sung To End Of Last Brave Sung.
Rot     US National Anthem Any Word Omitted     Moneyline
20111     Yes         +850
20112     No         -3000
Bet US's Decision Is Final.
Rot     Length Of Last Brave Of US National Anthem Sung by Chris Stapleton     Moneyline
20121     Over 5 Seconds         -220
20122     Under 5 Seconds         +155
Bet Us's Decision Is Final. From Start of Last Brave of End Of Last Brave Sung By Chris Stapleton.
Rot     Any Scoring Drive Less Time Than Anthem Duration     Moneyline
20131     Yes         -280
20132     No         +185
Bet US's Decision Is Final. From Start Of 1st Word Sung To End Of Last Brave Sung.
Rot     Length Of America The Beautiful by Babyface     Moneyline
20153     Over 109 Seconds         -140
20154     Under 109 Seconds         Ev
Bet US's Decision Is Final. From Start Of 1st Word Sung To End Of Shining Sea End.
Rot     Chris Stapleton Primary Color of Hat     Moneyline
20171     Black         +350
20172     Any Other Color         -600
BetUS' decision is final. Wagers placed after information becomes public knowledge will be void.
Rot     Who Will be Shown 1st During Anthem?     Moneyline
20201     Patrick Mahomes         -140
20202     Jalen Hurts         Ev
Bet US's Decision Is Final. From Start Of 1st Word Sung To End Of Last Brave Sung.
Rot     Who Will be Shown 1st During Anthem?     Moneyline
20203     Andy Reid         -115
20204     Nick Sirianni         -115
- Don Shapiro, Gambling911.com