(Reuters) - Slot-machine maker Bally Technologies is exploring a bid for online poker game developer 3G Studios, in what would be the latest deal to combine online gambling and casino gaming on social media, said two sources with knowledge of the talks.
One source said several Bally Technologies executives were scheduled to visit 3G's offices in Reno, Nevada on Tuesday to determine whether to make a formal bid.
Bally had no immediate comment. Abbi Whitaker, a spokeswoman for Reno, Nevada-based 3G Studios declined comment but acknowledged the company recently hired Wedbush Securities as its financial adviser.
Another source familiar with the matter said 3G, which helped develop a mobile version of the music video game Rock Band for Harmonix Music Systems, had been talking with others about a potential acquisition or partnerships.
"3G is holding initial talks with potential buyers," said that source, mentioning video game maker Activision Blizzard, slot-machine maker International Game Technology and video game giant Electronic Arts as potential buyers or partners.
A sale of 3G could range between $60 million and $100 million, the source said.
Scroll Down For More...
Advertisement:  Learn more about Camasino.com's proprietary webcam online poker platform.  Play online poker for FREE or REAL MONEY (where applicable)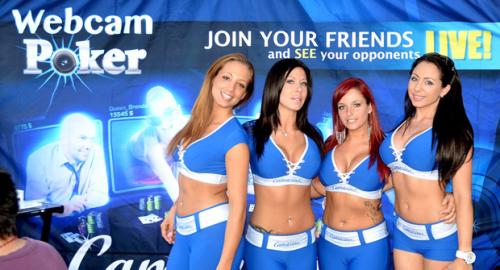 Activision Blizzard had no immediate comment, while IGT and Electronic Arts declined comment.
In August, 3G Studios applied to the Nevada Gaming Control Board for an online gaming license, and it is scheduled to start an online poker site called SlotALot with casino operator Eldorado Hotels in the spring. It also makes a free game available on tablets and smart phones that is played for virtual currency.
Other slot makers have made moves to enter social gaming, which they view as a way to market to younger gamblers as well as tap a potentially lucrative market for online market that generates revenues by charging users to pay for virtual chips.
Several U.S. casino operators are teaming with online game developers as they gear up for the Internet gambling market which is expected to reach $10 billion in bets a year by 2017.
Market leader IGT paid $500 million in January for DoubleDown Interactive, which makes free slots, poker and other games for Facebook. DoubleDown produced $35.8 million in fourth-quarter revenues, IGT said, a 20 percent hike from the third quarter.
"The social gaming business is up for grabs. I think we're in a space where we'll see deal activity, largely on the technology side. For casinos, social gaming content is king right now," said Carlo Santarelli, analyst with Deutsche Bank.
Online gambling is now legal in Nevada and Delaware, while Wisconsin, New Jersey, California, and nine other states are moving towards legalization after the Justice Department ruled last year that only online betting on sporting contests was unlawful.
According to the American Gaming Association, about 85 countries have legalized online gambling and an estimated $35 billion is being bet worldwide online each year, including by millions of people in the United States.
Slot maker WMS Industries Inc said in October it expected to announce partnerships to provide online game platforms to land-based casino operators.
Both IGT and Bally have been granted online gaming licenses in Nevada, which allows them to partner with Nevada's casinos to provide online poker and other games through their machines.
Social gaming company Zynga, a market leader with 34 million online users of its virtual currency poker title on Facebook, has said it plans to move into real money gambling.
But some industry executives see Zynga as an attractive takeover target with its stock price hoving just above $2 a share down from a 52-week high of $15.91.