Australian Gambling News: Congrats to Crown Casino's James Packer
Published on:
May/14/2011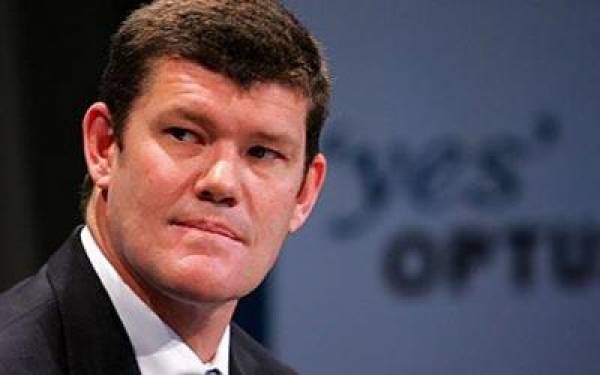 It's been a big week for Australian gambling news, both down under in Australia, as well as Aussie gambling entities making waves overseas. Plus we're got the IGT VS Aristocrat legal update, Australian gambling and media stock price updates and loads more. Media Man and Gambling911 with what's news...
Media Man, Gambling911, Casino News Media, Media Man News, Property News Media and Global Gaming Directory team up to deliver this jam packed news update, with some help from friends at Fairfax Media, Google News and wires.
Credit To Gambling Companies And Players Where Credit Is Due...
Congrats to Crown's James Packer for his ongoing development of Crown Limited, creating employment opportunities for thousands of Australians, in addition to continuing to assist GenerationOne, focused on sustainable solutions for Aboriginal Australians, which employment and welling being key aspects. Bwin.Party Digital Entertainment's PartyCasino has snatched another Media Man 'Online Casino of The Month' award too, and Vegas gambling tycoon Steve Wynn has gotten himself married, and invited some of Australia's most notable citizens, including you guessed it - The Packers. We also thank Fairfax Media, The Daily Telegraph and The New York Times for their responsible reporting on the gaming and gambling industry, and also well done to Gambling911 and Poker News Daily for their daily colourful stories covering the sector. Life would be more dull around gambling if it wasn't for Chris, Jenny and the team and Gambling911. Media Man of course remains independent, certainly for new media and gaming coverage standards, but once in a while do an official campaign for quality brands and individuals.
Packer Family And Other Aussie Billionaires Attend Wynn Wedding In Las Vegas...
Gambling tycoon James Packer and wife, Erica, Wolverine Hugh Jackman and his wife, Deborra-lee Furness, billionaire truck driver - transport entrepreneur Lindsay Fox and his wife, Paula, retail big wig Solomon Lew and wife, Rosie, were the Australian guests at casino king of the kids Steve Wynn's extravagant wedding. The Aussies enjoyed themselves big time at the ball that went for 3 days, which featured a swag of entertainment including Lionel Richie and Garth Brooks. Clint Eastwood was best man. Wynn married his Pommie sweetheart, divorcee Andrea Hissom, and the lovely couple have been named by the press "duke and duchess of Vegas". Wynn first met Hissom during a trip to the French Riviera circa 2008. Wynn aged 69, and Hissom, understood to be in her 40s, got married at the cost of $US5 million ($4.7 million), with 500 guests from around the globe. Other guests included Donald Trump, Sylvester Stallone and Celine Dion. The super A-list guests were flown in for a poolside "white" party on the day prior to the elaborate wedding. A "Grand Celebration" was housed in Wynn's Encore Ballroom...was put together by Michael Jackson's ex musical - events et al genius Kenny Ortega. Brunch was held on the Sunday morning. Wynn's ex wife, Elaine, was not on the list. She's mum to Steve's two kids. Last year the ex was awarded one of the largest divorce settlements in US history - $US741 million in stock in Wynn Resorts. It's understood the Packers enjoyed napoleon of tuna with caviar and roasted turbot with red wine sauce and cauliflower puree. The Wynn's are understood to be delighted at the way everything went down, and the Australia's were equally delighted we understand.
Bwin.Party Digital Entertainment's PartyCasino Wins Media Man 'Online Casino Of The Month'
PartyCasino has once again won the Media Man 'Online Casino Of The Month Award'. The well known and respected online casino brand has won the Media Man awards over a dozen times in the past three years. The award is given out based on a number of factors including gameplay, portfolio of games, customer services, affiliate partners offerings, value for money, innovation and overall customer service. Richard Branson's Virgin Casino has also won the award, but Branson's brand doesn't accept Australians which has held back the firm in recent years. PKR Casino and Captain Cooks Casino have been Media Man semi finalists over the years, but PartyCasino looks like a safe bet to maintain it's stranglehold on the title for now. Well done Party.
Las Vegas Live at Burswood Theatre...
When: Friday 20 May...Take a trip to Las Vegas without the airfare or expenses. Viva Las Vegas has all the razzle dazzle and glitz of the entertainment capital of the world, and is coming to Burswood for one night only! The show combines sensational song and dance numbers with exciting specialty acts. Viva Las Vegas will take viewers on a spellbinding journey to Las Vegas, without leaving their seat. Show-goers will witness the gorgeous Vegas Showgirls in spectacular costumes and dazzling choreography, plus the remarkable illusions of Magic2. Audiences will also experience the best celebrity impersonators, Tom Jones tribute artist and world class Elvis impersonator Rick Charles performing together with a live band. This is 90 minutes of spectacular Las Vegas entertainment, a fabulous night to be remembered forever.
UK Gaming Giant Keen On Centrebet...
Alice Springs-based online gaming - gambling giant Centrebet International has confirmed a London-listed company is proposing a takeover bid. A spokesman for Centrebet says discussions are being held with Sportingbet. The UK gaming company is proposing to acquire shares and performance rights for starters. The spokesman says no agreement has been reached as yet. He says the Centrebet licence would most likely remain in Alice Springs if a takeover bid is successful.
MP Wilkie Keen To Discuss Poker Machines With Victoria...
Federal independent MP Andrew Wilkie says he is happy to talk to Victoria about its concerns regarding his planned poker machine changes. Wilkie is insisting on a compulsory scheme where pokie players will have to pre-set how much they are willing to lose or play on machines, which will only accept $1 bets. Victoria opposes a mandatory scheme and says Mr Wilkie should see the voluntary scheme it is putting in place. Mr Wilkie, who is threatening to bring down the Federal Government if he does not get his way, says he is happy to speak with the Victorian Government. "But I want to make one thing perfectly clear: it is not an option for Victoria to be exempted from these national reforms. It is as simple as that," he said. "There will be mandatory pre-comittment on these high-intensity poker machines, full stop."
Aussie Lottery Winners Unlucky With Love Life...
They used to be a couple whose relationship would not endure for love or money - not even $3 million bucks. They split up a year after the woman bought a winning lottery ticket, and the Federal Magistrates Court had to decide how to divide the fortune. Known by the pseudonyms Ms Kneen and Mr Crockford, the pair - aged in their 20s - had lived together on and off for a while. In September 2008, after spending much of the year in women's shelters, Ms Kneen moved back in with Mr Crockford. A month later she bought a Powerball ticket at a Canberra newsagency and was stunned when she learnt she had won $3 million. Establishing the facts was not easy; the federal magistrate who determined the property settlement, Stuart Lindsay, said both parties were "very poor witnesses" who lied to help their own case. Kneen claimed she was the only one who bought lottery tickets and that Mr Crockford was "dismissive of her buying tickets and encouraged her not to". ''She said that she always referred to the tickets as her tickets,'' Mr Lindsay said. ''She said that she had only ever won small amounts … and that she always kept those winnings for herself.'' But Mr Crockford said they both played Powerball or Lotto every week and each contributed to the tickets, on the understanding that "whoever bought it, it was a joint ticket and that they would share the winnings," Mr Lindsay said. After the $3 million windfall, they bought three properties. The pair flew to Melbourne together to claim the winnings and Ms Kneen was with Mr Crockford when the cheque was made payable to his account, Mr Lindsay said, suggesting a relationship where the money would likely "be regarded by them both as having been jointly won". Mr Lindsay allocated $100,000 to Ms Kneen because she earned less than her former partner, but split the rest equally. (Credit: www.smh.com.au)
One.Tel Legal Case Against James Packer And Lachlan Murdoch Dismissed...
The New South Wales court has dismissed a civil case against James Packer and Lachlan Murdoch in relation to the collapse of phone company, One.Tel. Some of One Tel's creditors appointed a special purpose liquidator, Paul Weston, to investigate why the board withdrew financial support for the company and put it into voluntary administration in 2001.  Mr Murdoch and Mr Packer were directors of the board and companies linked to them were investors. But Justice Julie Ward said the case was stale and the proceedings should be dismissed. Mr Weston has been ordered to pay the costs of the case. The High Court has agreed to hear an appeal by ASIC against the dismissal of civil penalties against former James Hardie directors. In 2009, the Australian Securities & Investments Commission won a landmark court case against the company's former executives and directors for misleading the market about asbestos compensation. James Hardie was fined, and the former executives and directors were fined and disqualified. The case was partially overturned on appeal and the former directors had their penalties quashed. The local share market ended higher after a volatile day. The All Ordinaries Index rose 11 points, or nearly 0.25 of a per cent to 4,787. Spot gold is higher at just over US$1,510 an ounce. West Texas Crude oil is at US$98.97 a barrel. The Australian dollar is nearly $US1.07. Congrats to 'Our James' and 'Our Lachlan'.
- Greg Tingle, Special Contributor to Gambling911.com and Head of Media Man International