AFL Tired Of Gambling On Punter Fevola
Published on:
Feb/19/2011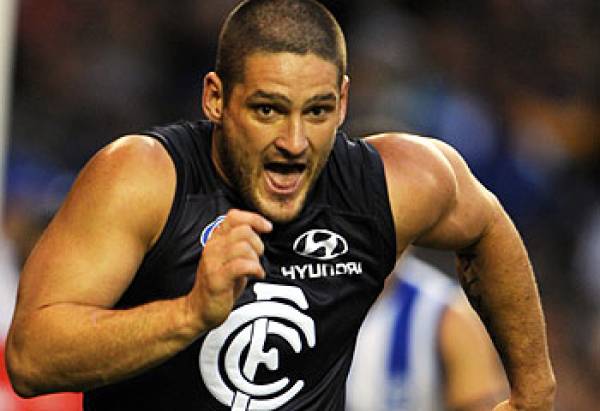 G'day punters, sports nuts, AFL top brass and footy players...one and all. AFL's Brisbane Lions are tired of gambling on 'Punter Fev' and we understand the decision has been made to remove him from the team, for the good of the team, despite his enormous off field talent. Media Man http://www.mediamanint.com and Gambling911 ever so gently lay the boot in as we kick off with this Aussie style footy fun and games report...
AFL footy great - The bad boy...the king of NRL sin - Brendan Fevola's short lived and roller coaster contract with the Brisbane Lions is understood to being a whisker away from being over.
Even coach Michael Voss stated that the former (soon enough) forward's on-field ability would not determine his what lays ahead for his future with the club, with a crystal balls and brass balls, high on priority.
The forthright statement by coach Voss at a club family day in Melbourne yesterday came after the AFL Players' Association advised it was still seeking details about a termination package.
Fevola's career is in the balance after the club held high-level talks about him at AFL headquarters on Friday. Folks, who would you like your potential future or lack there of to the the subject of a meeting.
When quizzed if the dual Coleman medallist's talent would be considered by the club's hierarchy when it meets to determine his fate, Voss said in straight shooter style "It's not about that any more. It's not about what skill component he brings or talent he brings. We've seen over a point in time that that's been unquestioned … It's much more complex," he said.
The AFLPA has supported the club's handling of the situation during Fev's lucky or not 7-week rehab at a Brisbane clinic, where he was treated for personal problems following a New Year's Day arrest for being drunk and disorderly.
The 30-year-old's treatment has also focused on gambling issues, which he admitted to in the wake of his drunken Brownlow Medal night antics in 2009 when his night action was caught on film via CCTV, later circulated in national newspapers and all over the internet, forums, the lot.
Brisbane placed the veteran on indefinite suspension while he underwent rehab.
"We've been pleased with how the Lions have conducted the process to date," said AFLPA spokesman Ben Hart. "In terms of the contractual issues around letting him go, that's something we couldn't comment on until we have more details."
The league confirmed it would use its discretion to relieve the club's salary cap woes by spreading Fevola's 7-figure payout over 2 years, so the story goes.
"Obviously there's a lot of speculation about spreading payments over two years and what kind of compensation would be offered, but until we get the details, it wouldn't be prudent to make any further comment,"  Hart said.
The ex-Carlton star was traded at the end of 2009 after the Blues' hierarchy grew tired of his odd off-field behaviour.
Under the terms of his 3-year deal with the Lions, Fevola is due to earn at least $1 million bucks season from the club and $100,000 from Carlton. He was contracted in 2012 for about $400,000.
Injury restricted Fevola to just 17 games last season and he had post-season surgery to repair a damaged groin. Some quarters question the injury's timing, but maybe only Fev knows for sure, and he feels his pain - no one else can possible feel the pain like the man himself.
He was dragged into more mess in September after a female alleged he exposed himself to her at a community get together gig in Bris Vegas - yeah, Brisbane up Banana Bender way. It's not good PR for bananas, we know, but maybe readers partners might take a liking to the banana, perhaps as seconds following passionate Valentines Day win, chockies and flowers et al. Fev might be looking to mend a relationship or two with the fairer sex, down in Melbourne. Oh, we should mention that 'The Fev' was cleared by police, our mates...'the boys in blue' of those sexual allegations.
The Lions are now poised to divorce with the 2-time Coleman medallist and settle with payment of roughly $1.2 million and insiders tip the package may go as high as $1.5 million.
It's understood 'Punter Fev' will likely return to Melbourne in a attempt to rebuild his life, but some knockers reckon he's getting ready for an overseas trip to the U.S, with Las Vegas, Atlantic City and Florida squarely in his sights, with maybe a few days in Macau also. We will know soon enough so don't change your dial.
Take the time to research and learn games before placing down money
Media Man http://www.mediamanint.com Casino News Media and Gambling911 are website portals. Not casinos as such, however are recognised as world leading websites that cover the sector and act as central points to games, news, reviews and more.
Readers... er, punters, how did you like our report? Tell us in the forum. 
If you have a bet, please bet with your head, not over it, and for God's sake, have fun.
*Greg Tingle is a special contributor for Gambling911
*Media Man http://www.mediamanint.com is primarily a media, publicity and internet portal development company. Gaming is just one of a dozen sectors covered