'I'm Not a Sore Loser' Says Man Suing Casino That Let Him Lose $500k Drunk (Video)
Published on:
Mar/07/2014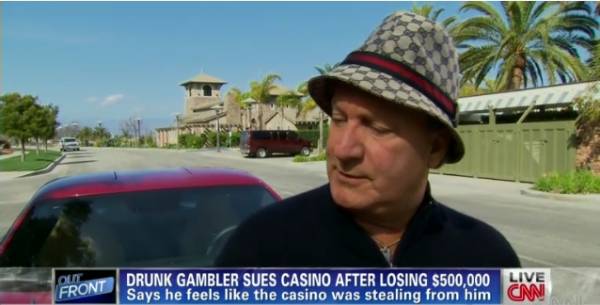 "Just picture a drunk walking the street and he's drunk, and someone pickpockets and takes his money from him. That's how I characterize it," Mark A. Johnston said in an interview with CNN. "I feel like it's the days of old Vegas, the way they've been extorting me with letters and attorneys."
Johnston is referring to a lawsuit he filed against the Downtown Grand Las Vegas Hotel & Casino for letting him lose $500,000. 
The case has garnered national attention thanks to Johnston's assertion that casino staff provided him with an endless supply of free alcohol over a 17-hour period, which he claims led to the losses.
Does he have a case?
After all, in a typical bar, a patron would be cut off if he or she appears inebriated (at least in theory).   But does the individual who just got charged with a DWI have a right to sue the bar that got him in that let him get behind the wheel?
"I am not a sore loser. I've lost half a million. I've lost 800,000. I've lost a lot of money. This has nothing to do with that," the 53-year-old retired gambler said. "Obviously I can afford what I lost.
"This is about you almost killing me," Johnston said. "What if I had gone to bed that night, with all those drinks in me, and I threw up on myself and I choked and died?"
Johnston does take some responsibility for his consuming in excess of 20 drinks and admits he had 10 alcoholic beverages prior to even stepping foot in the casino.
"My responsibility is, look, I had some drinks at the airport, on the plane. At some point, that's my responsibility," Johnston said. "The unfortunate part about it for them is, they have a bigger responsibility than I do."
And the Nevada Gaming Control Board is now investigating the Downtown Grand, which opened its doors just a few months ago. 
The suit contends: "Mr. Johnston, an experienced gambler, was dropping chips on the floor, confusing chip colors, and slurring his speech badly, and he was unable to read his cards or set his hands properly."
The suit makes reference to a female host who had invited Johnston to the casino.
"To her shock, after sleeping for seven to eight hours, (Johnston's female friend) found Mr. Johnston still gambling at the blackjack table, and still heavily intoxicated, late in the afternoon of January 31, 2014," the suit said.
- Jagajeet Chiba, Gambling911.com