'The Outsider' Details Tennis Great Jimmy Connors $1 Million Bet on Himself
Published on:
May/20/2013
Tennis great Jimmy Connors has released his autobiography "The Outsider" detailing a $1 million wager he once placed on himself in a 1992 matchup with Martina Navratilova.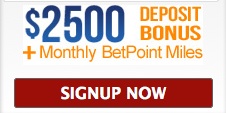 His wager had Navratilova beaten in straight sets and that he would lose no more than eight games.  Ultimately he would go on to win the bet
"Betting on myself was the ultimate gambler's high," Connors writes in the book. "I was out of control and I didn't realize it, though that bet should have been a big-assed hint."
When asked by ESPN whether he would feel sick knowing the loss of $1 million was a possibility, Connors responded: "No. But that's the feeling I was looking for. I was trying to find that daily thrill especially after I quit playing, even if it was just three seconds. And then it doesn't always happen. So then you just chase more. ... Whether it was watching a basketball game or a football game, or laying cards or rolling dice or whatever."
- Gilbert Horowitz, Gambling911.com