AceSportsbook.com has just released betting odds on NCAAF regular season win totals for 2014 available here.
Some of the payouts can be substantial.
Alabama was expected to win 11 games during the 2014 College Football regular season, however, the OVER was coming in at +160 with a payout potential of $16 for every $10 bet.
Oklahoma is a favorite to win 10.5 regular season games either OVER or UNDER priced at -115.
Auburn is widely expected to make it into the first ever College Football playoffs and oddsmakers have them winning 9 regular season games, both the OVER and UNDER priced at -115.
Oddsmakers at Ace have FSU winning the most games at 11.5.  The OVER/UNDER was priced at -115 either way.
Scroll Down For More...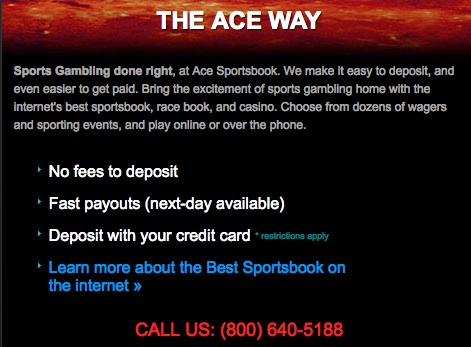 NCAAF - REGULAR SEASON WINS - Jul 27

WAGER IS FOR REGULAR SEASON GAMES ONLY

TEAM MUST PLAY EVERY REG SEASON GAME FOR ACTION

2014 NCAA Regular Season Wins - Regular Season Wins

 
 

Jul 27

35001

ALABAMA RSW

 

o11+160 

 
 

12:00 PM

35002

ALABAMA RSW

 

u11-200 

 

2014 NCAA Regular Season Wins - Regular Season Wins

 
 

Jul 27

35003

ARIZONA RSW

 

o7-115 

 
 

12:00 PM

35004

ARIZONA RSW

 

u7-115 

 

2014 NCAA Regular Season Wins - Regular Season Wins

 
 

Jul 27

35005

ARIZONA STATE RSW

 

o7½-115 

 
 

12:00 PM

35006

ARIZONA STATE RSW

 

u7½-115 

 

2014 NCAA Regular Season Wins - Regular Season Wins

 
 

Jul 27

35007

AUBURN RSW

 

o9-115 

 
 

12:00 PM

35008

AUBURN RSW

 

u9-115 

 

2014 NCAA Regular Season Wins - Regular Season Wins

 
 

Jul 27

35009

BAYLOR RSW

 

o9-115 

 
 

12:00 PM

35010

BAYLOR RSW

 

u9-115 

 

2014 NCAA Regular Season Wins - Regular Season Wins

 
 

Jul 27

35011

BOISE STATE RSW

 

o9-115 

 
 

12:00 PM

35012

BOISE STATE RSW

 

u9-115 

 

2014 NCAA Regular Season Wins - Regular Season Wins

 
 

Jul 27

35013

CLEMSON RSW

 

o8½EV 

 
 

12:00 PM

35014

CLEMSON RSW

 

u8½-130 

 

2014 NCAA Regular Season Wins - Regular Season Wins

 
 

Jul 27

35015

FLORIDA STATE RSW

 

o11½-115 

 
 

12:00 PM

35016

FLORIDA STATE RSW

 

u11½-115 

 

2014 NCAA Regular Season Wins - Regular Season Wins

 
 

Jul 27

35017

GEORGIA RSW

 

o9½EV 

 
 

12:00 PM

35018

GEORGIA RSW

 

u9½-130 

 

2014 NCAA Regular Season Wins - Regular Season Wins

 
 

Jul 27

35019

GEORGIA TECH RSW

 

o7EV 

 
 

12:00 PM

35020

GEORGIA TECH RSW

 

u7-130 

 

2014 NCAA Regular Season Wins - Regular Season Wins

 
 

Jul 27

35021

IOWA RSW

 

o8½EV 

 
 

12:00 PM

35022

IOWA RSW

 

u8½-130 

 

2014 NCAA Regular Season Wins - Regular Season Wins

 
 

Jul 27

35023

LSU RSW

 

o9-115 

 
 

12:00 PM

35024

LSU RSW

 

u9-115 

 

2014 NCAA Regular Season Wins - Regular Season Wins

 
 

Jul 27

35025

MICHIGAN RSW

 

o8-115 

 
 

12:00 PM

35026

MICHIGAN RSW

 

u8-115 

 

2014 NCAA Regular Season Wins - Regular Season Wins

 
 

Jul 27

35027

MICHIGAN STATE RSW

 

o9-120 

 
 

12:00 PM

35028

MICHIGAN STATE RSW

 

u9-110 

 

2014 NCAA Regular Season Wins - Regular Season Wins

 
 

Jul 27

35029

MISSOURI RSW

 

o7½-115 

 
 

12:00 PM

35030

MISSOURI RSW

 

u7½-115 

 

2014 NCAA Regular Season Wins - Regular Season Wins

 
 

Jul 27

35031

MISSISSIPI RSW

 

o8½EV 

 
 

12:00 PM

35032

MISSISSIPI RSW

 

u8½-130 

 

2014 NCAA Regular Season Wins - Regular Season Wins

 
 

Jul 27

35033

NEBRASKA RSW

 

o8-115 

 
 

12:00 PM

35034

NEBRASKA RSW

 

u8-115 

 

2014 NCAA Regular Season Wins - Regular Season Wins

 
 

Jul 27

35035

NORTH CAROLINA RSW

 

o8½+105 

 
 

12:00 PM

35036

NORTH CAROLINA RSW

 

u8½-135 

 

2014 NCAA Regular Season Wins - Regular Season Wins

 
 

Jul 27

35037

NOTRE DAME RSW

 

o8-115 

 
 

12:00 PM

35038

NOTRE DAME RSW

 

u8-115 

 

2014 NCAA Regular Season Wins - Regular Season Wins

 
 

Jul 27

35039

OHIO STATE RSW

 

o10½-115 

 
 

12:00 PM

35040

OHIO STATE RSW

 

u10½-115 

 

2014 NCAA Regular Season Wins - Regular Season Wins

 
 

Jul 27

35041

OKLAHOMA RSW

 

o10½-115 

 
 

12:00 PM

35042

OKLAHOMA RSW

 

u10½-115 

 

2014 NCAA Regular Season Wins - Regular Season Wins

 
 

Jul 27

35043

OKLAHOMA STATE RSW

 

o8-115 

 
 

12:00 PM

35044

OKLAHOMA STATE RSW

 

u8-115 

 

2014 NCAA Regular Season Wins - Regular Season Wins

 
 

Jul 27

35045

OREGON RSW

 

o11+110 

 
 

12:00 PM

35046

OREGON RSW

 

u11-140 

 

2014 NCAA Regular Season Wins - Regular Season Wins

 
 

Jul 27

35047

SOUTH CAROLINA RSW

 

o9½+105 

 
 

12:00 PM

35048

SOUTH CAROLINA RSW

 

u9½-135 

 

2014 NCAA Regular Season Wins - Regular Season Wins

 
 

Jul 27

35049

STANFORD RSW

 

o8½-115 

 
 

12:00 PM

35050

STANFORD RSW

 

u8½-115 

 

2014 NCAA Regular Season Wins - Regular Season Wins

 
 

Jul 27

35051

TENNESSEE RSW

 

o6-115 

 
 

12:00 PM

35052

TENNESSEE RSW

 

u6-115 

 

2014 NCAA Regular Season Wins - Regular Season Wins

 
 

Jul 27

35053

TEXAS RSW

 

o7½-115 

 
 

12:00 PM

35054

TEXAS RSW

 

u7½-115 

 

2014 NCAA Regular Season Wins - Regular Season Wins

 
 

Jul 27

35055

TEXAS A&M RSW

 

o7-150 

 
 

12:00 PM

35056

TEXAS A&M RSW

 

u7+120 

 

2014 NCAA Regular Season Wins - Regular Season Wins

 
 

Jul 27

35057

UCLA RSW

 

o9½-115 

 
 

12:00 PM

35058

UCLA RSW

 

u9½-115 

 

2014 NCAA Regular Season Wins - Regular Season Wins

 
 

Jul 27

35059

USC RSW

 

o9+105 

 
 

12:00 PM

35060

USC RSW

 

u9-135 

 

2014 NCAA Regular Season Wins - Regular Season Wins

 
 

Jul 27

35061

VIRGINIA TECH RSW

 

o8-115 

 
 

12:00 PM

35062

VIRGINIA TECH RSW

 

u8-115 

 

2014 NCAA Regular Season Wins - Regular Season Wins

 
 

Jul 27

35065

WISCONSIN RSW

 

o9½-115 

 
 

12:00 PM

35066

WISCONSIN RSW

 

u9½-115 

 

2014 NCAA Regular Season Wins - Regular Season Wins

 
 

Jul 27

35067

LOUISVILLE RSW

 

o8-130 

 
 

12:00 PM

35068

LOUISVILLE RSW

 

u8EV 

 

2014 NCAA Regular Season Wins - Regular Season Wins

 
 

Jul 27

35069

MIAMI FLORIDA RSW

 

o8½+105 

 
 

12:00 PM

35070

MIAMI FLORIDA RSW

 

u8½-135 

 
 
- Ean Lamb, Gambling911.com