You can bet the Super Bowl online from Southern California with a wide variety of top international sports betting websites eager to take your bet.  Many of these companies have been in business up to 20 years, longer than some Vegas sportsbooks. SCROLL DOWN FOR MORE...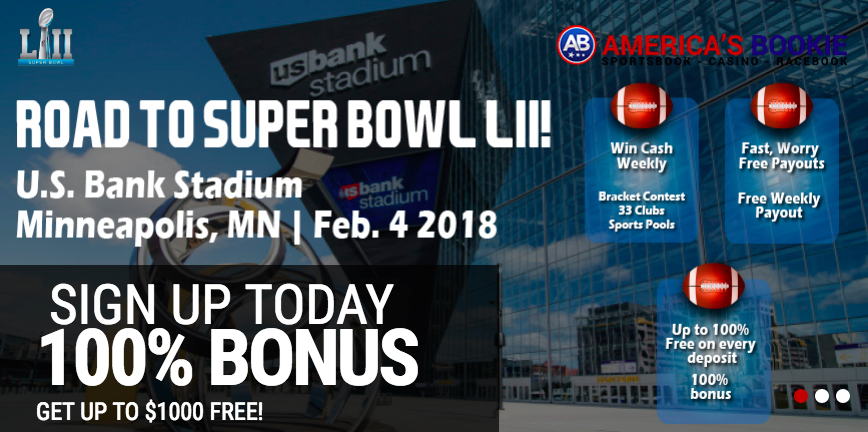 The Super Bowl is the single most wagered event in North America with many folks who have never placed a wager opting to do so for the very first time in their lives.
WHERE TO WATCH
San Diego - Bootlegger - 804 Market Street, San Diego, CA 92101 - This East Village staple has 43 taps and endless bottles of the sudsy stuff. Add in our 13 TV's, a huge projector, an awesome staff, and you've got one of the best places to catch the Super Bowl!   Instead of selling tickets this year, we will have table minimums for sale, as well as selling barstools to guarantee your spot at Bootlegger. When picking your table please note that the cost of the table is a minimum spend. You can view the tables on the map and see how many seats come with each table. You can also choose tables next to each other for a larger party.  $25 to $300 depending on seating selection.
San Diego - McFadden's - 731 5th Ave, San Diego, CA 92101 - Have as many of their delicious wings and crisp draft beers as you would like from kick-off to game's end! With 40 HD TVs throughout our bar there isn't a bad seat in the house.
San Diego - Park 101 - 3040 Carlsbad Blvd, Carlsbad, CA 92008 - Family-friendly Park 101 will offer football food specials on both smoked meat platters and wings. Order one-pound of wings for $9 or three pounds for $25, with a choice of house barbecue, park buffalo or dry sweet heat rub sauce. Drink specials will also be offered throughout the day while the game plays on a giant outdoor projector.
San Diego - Searsucker - 611 Fifth Ave, San Diego, CA 92101
La Jolla - Nautilus Tavern - 6830 La Jolla Blvd #103, La Jolla, CA 92037 - Recently opened in La Jolla, Nautilus Tavern is hosting their version of a Super Bowl house party, which will start around 1:30 p.m. In addition to a nacho bar, there will also be barbecue and drink specials such as jungle juice, Jell-O shots and buckets of beer. Laid-back neighborhood hangout plating New American eats & drinks in a mod, indoor-outdoor space. Reservations are suggested.
Carlsbad and La Jolla - Draft Republic - 5958 Avenida Encinas, Carlsbad, CA 92008  and 4282 Esplanade Ct, San Diego, CA 92122 - Draft Republic's 100" projection screen in La Jolla or on one of their 50 flat screen TVs in Carlsbad will both be showing the big game. Both locations will be offering extended happy hour all day long.

Santa Monica - Sonny McLean's -2615 Wilshire Blvd, Santa Monica, CA 90403 - No cover
Venice - Surfside - 23 Windward Ave, Venice, CA 90291 - This Venice Beach sports bar that opened in the old Danny's Venice Deli Space last fall has TVs at every turn for your viewing pleasure and will be amping up the food and drink deals.
Burbank - Tony's Darts Away - 1710 W Magnolia Blvd, Burbank, CA 91506 - This well-known Valley sports bar is hosting Tony's Super Bowl House Party with its regular menu available, freebie bar snacks during the game, $2 dips, and four beer tickets for $24 available before the first quarter. The bar will also be doing raffle drawings at the end of each quarter with gift certificates, (more) beer, and merchandise among the prizes; you'll get two tickets if you show up before game time, and one if you get there after 3:30pm kickoff.
LA Downtown - Brack Shop Tavern - 525 W 7th St, Los Angeles, CA 90014 - The old-school pricing we've been looking for. This laid-back bar will have 50-cent wings on offer along with $15 pitchers of Bud and Goose Island IPA for the entire game. Reserve a table, which seats three to 12, for $50 and includes 40 wings and two pitchers. If you're not into the game or don't feel like watching Justin Timberlake dancing around at half-time, head to the bar's game room for ping-pong, darts, and Pac-Man.
LA Downtown - Ayara Lūk - 8740 S Sepulveda Blvd, Los Angeles, CA 90045 - This Sunday, find unlimited Thai wings along with other bottomless Thai fare, plus endless Singha beer and soft drinks at Ayara Lūk, more… Tickets are $60 in advance and $75 at the door, but children 5 and under get in for free
LA Downtown - 5052 York Blvd, Los Angeles, CA 90042 - Highland Park area - Not a sports bar but will have projection screen for big game.  VEGAN FOOD
Marina Del Rey - Brennan's - 4089 Lincoln Blvd, Marina Del Rey, CA 90292
Hermosa Beach - Laurel Tavern - 220 Hermosa Ave, Hermosa Beach, CA 90254
Many local bookies opt to utilize offshore Pay Per Head services in order to run their business outside of the state and their business should see explosive action during the big game.
Aggravated gambling is considered a misdemeanor in the Golden State.
- Aaron Goldstein, Gambling911.com