West Virginia vs. Clemson Orange Bowl Spread
Published on:
Jan/04/2012
The West Virginia vs. Clemson Orange Bowl spread was coming in at -3 in favor of the Tigers just hours before game time.  Be sure to bet this game at Sportsbook.com and receive up to $250 in FREE CASH today. 
Sportsbook.com Line & Total: Clemson -3 & 64
Opening Line & Total: Tigers -3.5 & 61
West Virginia brings a three-game winning streak to Miami to face ACC champion Clemson in Wednesday's Orange Bowl.
Because this figures to be a tight game led by two highly-talented offenses, the closeness of the score will more suit West Virginia. The Mountaineers have played five straight nailbiters, finishing with a final margin of 10 points or less in each. Meanwhile, Clemson only played in close games against bad teams they were supposed to demolish (8-point win over Wofford, 11-point win over Maryland, 3-point win over Wake Forest), with the one exception being a gutty five-point win versus Florida State, which was way back in September. WVU has been the more consistent offense, and was one of only two teams to score 21+ points against No. 1 LSU this year.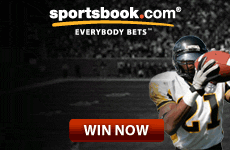 Everything fell in place for West Virginia to be the Big East champion, but the Mountaineers have shown their courage, overcoming fourth-quarter deficits in each of the past three games, all wins by a field goal or less. Clemson, on the other hand, has played in three straight blowouts, losing by 24 and 21 before crushing Virginia Tech 38-10 to capture the ACC crown. This matchup showcases two dynamic quarterbacks with Clemson's Tajh Boyd (275 pass YPG, 31 TD, 10 INT) and WVU's Geno Smith (332 pass YPG, 25 TD, 7 INT). Each player should be able to thrive against defenses allowing a ton of points.
Smith likely has more pressure to perform with the team's top RB Dustin Garrison (777 rushing yards, 6 TD) out with a torn ACL. But Smith, a native of Miami, has been consistently excellent all year, throwing for at least 215 yards in every game, including multiple TD passes in eight of those 12 contests. Smith also has bowl experience, although he hasn't been great during two defeats, completing just 30-of-54 passes for 288 yards (5.33 YPA), 1 TD and 1 INT. But WVU ran into a tough NC State defense in last year's 23-7 loss in the Champs Sports Bowl, the same NC State schools that crushed Clemson 37-13 three games ago. The Tigers don't pose nearly the same threat to the Mountaineers' high-powered spread attack under Dana Holgorsen. In the past seven games, the Tigers have surrendered 31.9 PPG and 399 total YPG (including 209 passing YPG). Smith's talented receivers, Stedman Bailey (1,197 rec yds, 11 TD) and Tavon Austin (191 all-purpose YPG, 2nd in nation) will both be difficult to contain.
Clemson is 1-4 ATS in its past five games, due largely to 12 turnovers. Boyd has thrown 7 INT over this span after tossing just three picks in his first eight games this season. Boyd was unable to lead his team to a bowl victory last year, completing 13-of-23 passes for 112 yards (4.87 YPA), 2 TD and 1 INT in a 31-26 win over South Florida. But he looked great in the season finale against Virginia Tech, completing 20-of-29 passes (69%) for 240 yards, 3 TD and 0 INT. Do-it-all WR Sammy Watkins had 80 receiving yards and 55 rushing yards (11.0 YPC) in the win over the Hokies and scored the 12th touchdown of his freshman season. Like Watkins, TE Dwayne Allen was picked as an AP All-American, racking up 577 receiving yards and 8 TD, including three in his past two games. RB Andre Ellington also played big in the ACC Championship game, rushing for 125 yards (6.3 YPC) and a touchdown, his first 100-yard effort since mid-October. He'll get plenty of action against a WVU team surrendering 520 yards (173 YPG) on 4.0 YPC in the past three contests. The Mountaineers will also look to take away the football after racking up 10 defensive turnovers in the past five games.
- Carrie Stroup, Gambling911.com Senior Reporter