Vikings vs. Lions Betting Line Week 1
Published on:
Sep/03/2013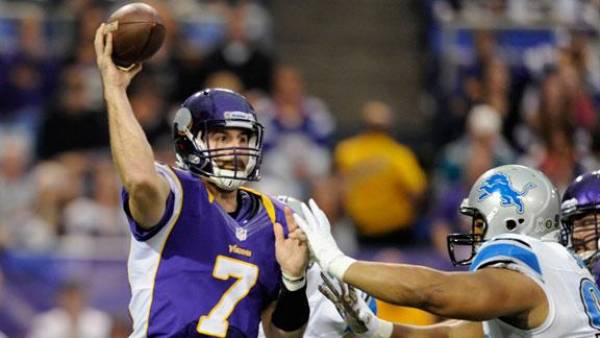 The Vikings vs. Lions betting line for Week 1 of the 2013 NFL season had Detroit at -4.5.  You can bet this game at SportsBettingOnline.com, which rewards customers with up to 10 percent weekly money back on both losses AND wins PLUS a 25 percent FREE PLAY for a limited time only.  NOW ACCEPTING BITCOINS. 
Minnesota swept this series last year.  They have either won or covered the current spread in 8 of the last 10 of this series.
The Lions are 2-8 Against The Sperad in their last 10 vs. NFC North.  They are 0-4-1 ATS in their last 5 games in September.
So with all things pointing to a potential Minnesota cover, what might stop us from placing a bet on the Vikings in this game?
J'Marcus Webb is certainly a nice late addition to this Vikings squad but they have lost Percy Harvin while the Lions gain Reggie Bush.
But alas Minnesota still has Adrian Peterson. 
Most of the experts agree the Vikings are not likely to carry on the success of last year, but we shall see….
Here are all your Week 1 NFL odds courtesy of SportsBettingOnline.com. 
| | | | | | |
| --- | --- | --- | --- | --- | --- |
| Sep 05 | 451 | BAL RAVENS | +9-110 | o48-110 | +320 |
| 8:30 PM | 452 | DEN BRONCOS | -9-110 | u48-110 | -400 |
| Sep 08 | 453 | NE PATRIOTS | -10½-110 | o49½-110 |   |
| 1:00 PM | 454 | BUF BILLS | +10½-110 | u49½-110 |   |
| Sep 08 | 455 | TEN TITANS | +7-110 | o42-110 | +275 |
| 1:00 PM | 456 | PIT STEELERS | -7-110 | u42-110 | -335 |
| Sep 08 | 457 | ATL FALCONS | +3EV | o54-110 | +145 |
| 1:00 PM | 458 | NO SAINTS | -3-120 | u54-110 | -170 |
| Sep 08 | 459 | TB BUCCANEERS | -3-115 | o40-110 | -165 |
| 1:00 PM | 460 | NY JETS | +3-105 | u40-110 | +140 |
| Sep 08 | 461 | KC CHIEFS | -3½-110 | o41½-110 | -190 |
| 1:00 PM | 462 | JAX JAGUARS | +3½-110 | u41½-110 | +162 |
| Sep 08 | 463 | CIN BENGALS | +3-110 | o41½-110 | +135 |
| 1:00 PM | 464 | CHI BEARS | -3-110 | u41½-110 | -155 |
| Sep 08 | 465 | MIA DOLPHINS | PK-110 | o41½-110 |   |
| 1:00 PM | 466 | CLE BROWNS | PK-110 | u41½-110 |   |
| Sep 08 | 467 | SEA SEAHAWKS | -3-120 | o45-110 | -170 |
| 1:00 PM | 468 | CAR PANTHERS | +3EV | u45-110 | +145 |
| Sep 08 | 469 | MIN VIKINGS | +5-110 | o46½-110 | +189 |
| 1:00 PM | 470 | DET LIONS | -5-110 | u46½-110 | -225 |
| Sep 08 | 471 | OAK RAIDERS | +9½-110 | o46½-110 | +335 |
| 1:00 PM | 472 | IND COLTS | -9½-110 | u46½-110 | -425 |
| Sep 08 | 473 | ARI CARDINALS | +4½-110 | o41-110 | +182 |
| 4:25 PM | 474 | ST. LOUIS RAMS | -4½-110 | u41-110 | -215 |
| Sep 08 | 475 | GB PACKERS | +4½-110 | o48-110 | +182 |
| 4:25 PM | 476 | SF 49ERS | -4½-110 | u48-110 | -215 |
| Sep 08 | 477 | NY GIANTS | +3½-120 | o48½-110 | +160 |
| 8:30 PM | 478 | DAL COWBOYS | -3½EV | u48½-110 | -185 |
| Sep 09 | 479 | PHI EAGLES | +3+105 | o51-110 | +150 |
| 7:00 PM | 480 | WAS REDSKINS | -3-125 | u51-110 | -175 |
| Sep 09 | 481 | HOU TEXANS | -3½-110 | o43½-110 | -185 |
| 10:15 PM | 482 | SD CHARGERS | +3½-110 | u43½-110 | +160 |
- Tyrone Black, Gambling911.com