Tim Tebow Odds of Which Team Will Play at Next
Published on:
Mar/21/2012
Carrie Stroup here and, while Sportsbook.com has not officially released Tim Tebow odds as to which team he will be signed with, they anticipate doing so soon so check back at their website regularly here. 
Gambling911.com has suggested that the Jacksonville Jaguars should be favored, followed by the Miami Dolphins.  
The New York Jets are now in the hunt. 
ESPN.com is reporting that one league source claims the Dolphins are not likely to deal for Tebow while two other sources said on Tuesday night "the Jets' interest in Tebow has intensified".
Denver is not likely to give up on Tebow that easily, so Sportsbook.com will probably offer very long odds he will stay there for the upcoming season.  The Broncos, however, are expected to shed the former University of Florida standout sooner than later.  Denver is in desperate need to help compensate for the five-year, $96 million signing of former Indianapolis Colts quarterback as its starting quarterback.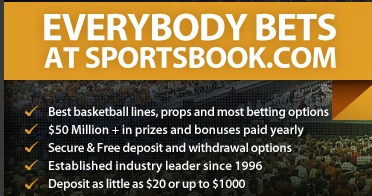 The Green Bay Packers are said to be in the hunt for Tebow as a backup to Aaron Rodgers should the starter end up injured.  However, with Green Bay only offering a seventh-round pick in exchange for Tebow, his chances of ending up that far north seem highly unlikely.
For now, Jacksonville would be somewhere around -200 odds when it comes to the hunt for Tebow while both the Dolphins and Jets would range between +250 and +500. 
- Carrie Stroup, Gambling911.com Senior Reporter