Thunder vs. Spurs Betting Line
Published on:
Mar/25/2015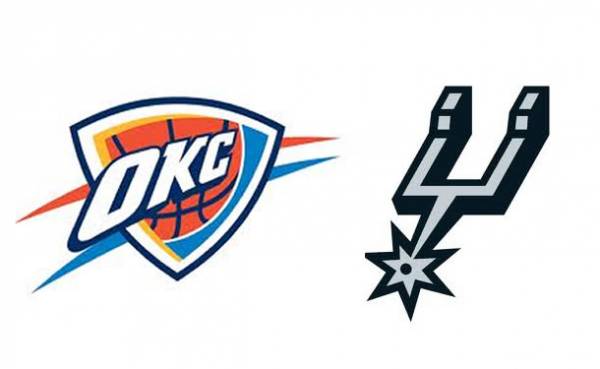 Carrie Stroup here with your Thunder vs. Spurs betting line was available at Sportsbook.ag.
Sportsbook.ag Line: San Antonio -7.5, Total: 215
The Thunder will be going for a fifth straight victory when the team heads to San Antonio and takes on the Spurs Wednesday.
The Thunder went to Los Angeles on Tuesday and came away with a 127-117 victory over the Lakers as 9.5-point road favorites. Oklahoma City has now won four straight games SU and six of its past seven. The team has covered in six of those seven games also.
The Spurs, meanwhile, lost 101-94 as 3.5-point favorites in Dallas on Tuesday. San Antonio had won-and-covered in three straight games before that loss, so the team should still be feeling good about the way it's playing. These two teams have met just once this season and the Thunder won that game 114-106 as 6.5-point underdogs in San Antonio. Over the past three seasons, Oklahoma City is 9-6 SU and 9-5-1 ATS in this series. The Spurs are 5-3 SU and 4-3-1 ATS when hosting the Thunder in that time.
Place your 1st bet, get your 2nd bet free
Oklahoma City is an impressive 17-3 ATS after scoring 110 points or more this season. San Antonio is 20-7 ATS in March games over the past two seasons. SG Andre Roberson (Ankle) is out for the Thunder, who are already without PF Nick Collison (Ankle), SF Kevin Durant (Foot) and PF Serge Ibaka (Knee) indefinitely. PF Aron Baynes (Ankle) is questionable for the Spurs.
The Thunder have continued to play well even with a number of injuries depleting their roster and PG Russell Westbrook (27.5 PPG, 8.7 APG, 7.2 RPG, 2.2 SPG) is the biggest reason that they have been able to do so. Westbrook has been absolutely dominant for this team, averaging 27.0 PPG, 12.8 APG, 6.8 RPG and 3.2 SPG over the past five games. He's finding his teammates in the right spots and attacking the rim ferociously. In his one game against the Spurs this season, Westbrook had 34 points, 11 assists, five rebounds and five steals. He'll need to outplay Tony Parker by a wide margin or his team will not be able to win in San Antonio Wednesday.
C Enes Kanter (14.8 PPG, 8.5 RPG) has also played very well for the Thunder lately, averaging 26.0 PPG, 14.0 RPG and 1.0 SPG over the past two games. Kanter has struggled in two games against the Spurs though, averaging just 8.0 PPG, 8.5 RPG and 1.0 BPG in 26.0 MPG. He will, however, be a much bigger focal point on offense than he was in those games and will need to hold his own against a tough San Antonio frontcourt.
C Steven Adams (7.8 PPG, 7.4 RPG, 1.2 BPG) is also going to need to play tough inside. He's been playing alongside Kanter in the starting lineup out of necessity and is averaging 13.4 PPG and 11.4 RPG over the past five games. Adams must be active on the glass and finish at the rim when called upon.
SG Dion Waiters (11.2 PPG, 2.0 APG, 1.1 SPG) is going to be a major factor in deciding who wins this game. Waiters has had 23+ points in two of the past three games but had just 10 in the other. He'll need to score the ball effectively in this game or the Thunder will have trouble beating this relentless Spurs team.
The Spurs are coming off of a loss to the Mavericks and now look to turn things around quickly with a win over the Thunder. SF Kawhi Leonard (16.0 PPG, 7.4 RPG, 2.5 APG, 2.3 SPG) had 19 points, nine rebounds, four steals and three assists in the loss to Dallas. Over the past five games, Leonard is averaging 17.6 PPG, 6.6 RPG, 3.0 APG and 3.2 SPG. He finally is looking like he is completely healthy and should continue to play well moving forward. This game features a good matchup for him because the Thunder are weak at the small forward position.
PF Tim Duncan (14.0 PPG, 9.3 RPG, 3.1 APG, 1.9 BPG) played just 24 minutes against the Mavericks last game and finished with six points, seven rebounds and two blocks. Duncan had 15 points, six boards, five assists and a block the first time he faced the Thunder this year and will need to hold his own against a frontcourt that has been thriving lately.
PG Tony Parker (14.8 PPG,4.9 APG) also struggled against Dallas, finishing with eight points and three assists in 26 minutes. Parker must be at his absolute best in this game or Russell Westbook will make sure that the Thunder runs Parker's team off the floor.
SG Danny Green (12.1 PPG, 4.6 RPG, 1.3 SPG, 1.1 BPG) is averaging 16.0 PPG, 5.5 RPG and 1.5 SPG over the past two games. He's 7-for-11 from three in those contests and must keep up his hot shooting against a Thunder team that has been putting up a lot of points recently.
- Carrie Stroup, Gambling911.com Senior Reporter