Gambling911.com has your Super Bowl 50 wide receiver and tight end prop bets for receptions and receiving yards.
Ad: Hundreds of Super Bowl Props and Claim Up to $1000 in Free Bets
Most of the prices range from 100 to -150 and include the 1st reception, the longest reception, total receiving yards and total receptions.
Scroll down for all tight end and wide receiver prop bets.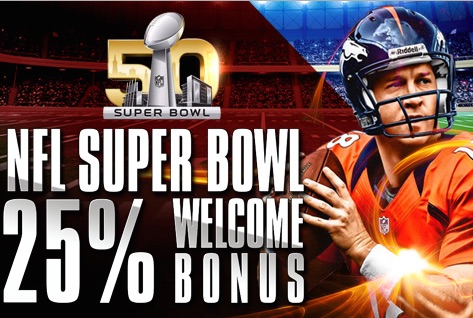 Sunday, Feb 07, 2016

Wide Receiver Props

1st Reception by Cody Latimer (DEN)

06:30 PM

5326

Over 3½ Yards

 

+110

 

5327

Under 3½ Yards

 

-140

 

Wide Receiver Props

1st Reception by Corey Brown (CAR)

06:30 PM

5215

Over 10½ Yards

 

-115

 

5216

Under 10½ Yards

 

-115

 

Wide Receiver Props

1st Reception by Demaryius Thomas (DEN)

06:30 PM

5307

Over 9½ Yards

 

-115

 

5308

Under 9½ Yards

 

-115

 

Wide Receiver Props

1st Reception by Devin Funchess (CAR)

06:30 PM

5221

Over 11½ Yards

 

+100

 

5222

Under 11½ Yards

 

-130

 

Wide Receiver Props

1st Reception by Emmanuel Sanders (DEN)

06:30 PM

5315

Over 9½ Yards

 

-120

 

5316

Under 9½ Yards

 

-110

 

Wide Receiver Props

1st Reception by Jerricho Cotchery (CAR)

06:30 PM

5227

Over 7½ Yards

 

-130

 

5228

Under 7½ Yards

 

+100

 

Wide Receiver Props

1st Reception by Jordan Norwood (DEN)

06:30 PM

5322

Over 7½ Yards

 

-115

 

5323

Under 7½ Yards

 

-115

 

Wide Receiver Props

1st Reception by Ted Ginn (CAR)

06:30 PM

5207

Over 12½ Yards

 

-125

 

5208

Under 12½ Yards

 

-105

 

Wide Receiver Props

Longest Reception by Corey Brown (CAR)

06:30 PM

5213

Over 20½ Yards

 

+100

 

5214

Under 20½ Yards

 

-130

 

Wide Receiver Props

Longest Reception by Demaryius Thomas (DEN)

06:30 PM

5305

Over 20½ Yards

 

-115

 

5306

Under 20½ Yards

 

-115

 

Wide Receiver Props

Longest Reception by Emmanuel Sanders (DEN)

06:30 PM

5313

Over 27½ Yards

 

-125

 

5314

Under 27½ Yards

 

-105

 

Wide Receiver Props

Longest Reception by Jordan Norwood (DEN)

06:30 PM

5321

Over 11½ Yards

 

-130

 

5322

Under 11½ Yards

 

+100

 

Wide Receiver Props

Longest Reception by Ted Ginn (CAR)

06:30 PM

5205

Over 24½ Yards

 

+105

 

5206

Under 24½ Yards

 

-135

 

Wide Receiver Props

Total Receiving Yards by Andre Caldwell (DEN)

06:30 PM

5324

Over 6½ Receiving Yards

 

+100

 

5325

Under 6½ Receiving Yards

 

-130

 

Wide Receiver Props

Total Receiving Yards by Bennie Fowler (DEN)

06:30 PM

5328

Over 10½ Receiving Yards

 

-105

 

5329

Under 10½ Receiving Yards

 

-125

 

Wide Receiver Props

Total Receiving Yards by Corey Brown (CAR)

06:30 PM

5209

Over 40½ Receiving Yards

 

-110

 

5210

Under 40½ Receiving Yards

 

-120

 

Wide Receiver Props

Total Receiving Yards by Demaryius Thomas (DEN)

06:30 PM

5301

Over 65½ Receiving Yards

 

-105

 

5302

Under 65½ Receiving Yards

 

-125

 

Wide Receiver Props

Total Receiving Yards by Devin Funchess (CAR)

06:30 PM

5217

Over 21½ Receiving Yards

 

-135

 

5218

Under 21½ Receiving Yards

 

+105

 

Wide Receiver Props

Total Receiving Yards by Emmanuel Sanders (DEN)

06:30 PM

5309

Over 69½ Receiving Yards

 

-115

 

5310

Under 69½ Receiving Yards

 

-115

 

Wide Receiver Props

Total Receiving Yards by Jerricho Cotchery (CAR)

06:30 PM

5223

Over 22½ Receiving Yards

 

-125

 

5224

Under 22½ Receiving Yards

 

-105

 

Wide Receiver Props

Total Receiving Yards by Jordan Norwood (DEN)

06:30 PM

5317

Over 17½ Receiving Yards

 

-115

 

5318

Under 17½ Receiving Yards

 

-115

 

Wide Receiver Props

Total Receiving Yards by Ted Ginn (CAR)

06:30 PM

5201

Over 47½ Receiving Yards

 

-115

 

5202

Under 47½ Receiving Yards

 

-115

 

Wide Receiver Props

Total Receptions by Corey Brown (CAR)

06:30 PM

5211

Over 2½ Receptions

 

-160

 

5212

Under 2½ Receptions

 

+130

 

Wide Receiver Props

Total Receptions by Demaryius Thomas (DEN)

06:30 PM

5303

Over 5½ Receptions

 

-110

 

5304

Under 5½ Receptions

 

-120

 

Wide Receiver Props

Total Receptions by Devin Funchess (CAR)

06:30 PM

5219

Over 1½ Receptions

 

-155

 

5220

Under 1½ Receptions

 

+125

 

Wide Receiver Props

Total Receptions by Emmanuel Sanders (DEN)

06:30 PM

5311

Over 5 Receptions

 

-140

 

5312

Under 5 Receptions

 

+110

 

Wide Receiver Props

Total Receptions by Jerricho Cotchery (CAR)

06:30 PM

5225

Over 2½ Receptions

 

-120

 

5226

Under 2½ Receptions

 

-110

 

Wide Receiver Props

Total Receptions by Jordan Norwood (DEN)

06:30 PM

5319

Over 1½ Receptions

 

-125

 

5320

Under 1½ Receptions

 

-105

 

Wide Receiver Props

Total Receptions by Ted Ginn (CAR)

06:30 PM

5203

Over 3 Receptions

 

+100

 

5204

Under 3 Receptions

 

-130

 

Sunday, Feb 07, 2016

Tight End Props

1st Reception by Greg Olsen (CAR)

06:30 PM

5257

Over 12½ Yards

 

-115

 

5258

Under 12½ Yards

 

-115

 

Tight End Props

1st Reception by Owen Daniels (DEN)

06:30 PM

5267

Over 9½ Yards

 

+100

 

5268

Under 9½ Yards

 

-130

 

Tight End Props

1st Reception by Virgil Green (DEN)

06:30 PM

5271

Over 2½ Yards

 

-130

 

5272

Under 2½ Yards

 

+100

 

Tight End Props

Longest Reception by Greg Olsen (CAR)

06:30 PM

5255

Over 23½ Yards

 

-115

 

5256

Under 23½ Yards

 

-115

 

Tight End Props

Longest Reception by Owen Daniels (DEN)

06:30 PM

5265

Over 14½ Yards

 

-115

 

5266

Under 14½ Yards

 

-115

 

Tight End Props

Total Receiving Yards by Ed Dickson (CAR)

06:30 PM

5259

Over 6½ Receiving Yards

 

-115

 

5260

Under 6½ Receiving Yards

 

-115

 

Tight End Props

Total Receiving Yards by Greg Olsen (CAR)

06:30 PM

5251

Over 67½ Receiving Yards

 

-120

 

5252

Under 67½ Receiving Yards

 

-110

 

Tight End Props

Total Receiving Yards by Owen Daniels (DEN)

06:30 PM

5261

Over 29½ Receiving Yards

 

-125

 

5262

Under 29½ Receiving Yards

 

-105

 

Tight End Props

Total Receiving Yards by Vernon Davis (DEN)

06:30 PM

5269

Over 5½ Receiving Yards

 

+155

 

5270

Under 5½ Receiving Yards

 

-185

 

Tight End Props

Total Receptions by Greg Olsen (CAR)

06:30 PM

5253

Over 5½ Receptions

 

-140

 

5254

Under 5½ Receptions

 

+110

 

Tight End Props

Total Receptions by Owen Daniels (DEN)

06:30 PM

5263

Over 2½ Receptions

 

-140

 

5264

Under 2½ Receptions

 

+110

 
- Ean Lamb, Gambling911.com